How to tackle vague requests from journalists
While the ResponseSource Journalist Enquiry Service enables the UK media to send out targeted requests to PR and comms professionals, sometimes exact detail on what would be most useful to them isn't included.
If you've received a vague but intriguing request from a journalist, here is how to approach it.
1) Check all of the information that is available to you
When filling in the Journalist Enquiry Service form, a journalist has space to add plenty of detail on what they're looking for in the 'Query' field but, like PRs, journalists are often working to set deadlines and might not have time to include everything. That can occasionally mean a short and slightly vague description of what they want coming to your inbox.
However, there will be useful detail included in the request. Enquiries sent out via the Journalist Enquiry Service have to include certain details before they're distributed to the PRs signed up to receive them – giving you a good start on determining their relevance to you, even without a lengthily-written Query section.
When a journalist fills out the form, they will have picked out what they're 'Looking for':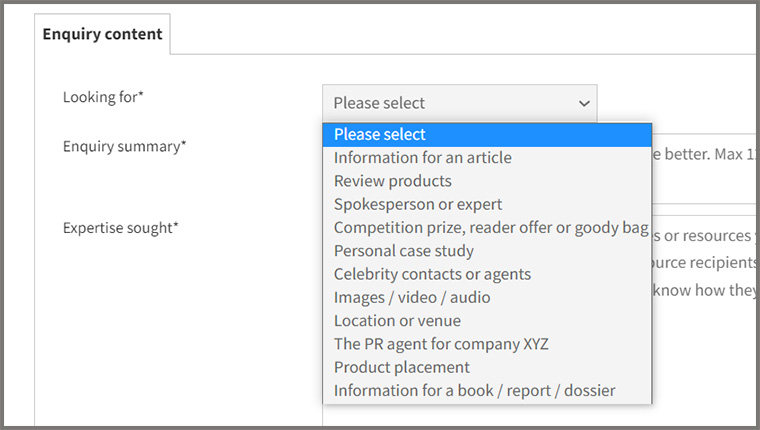 They will also have picked from the 'Select categories' section, choosing which PR sectors they want to receive contributions from for the request (which will be decided by the sectors and topics they're writing about as well as the audiences their content is being written for – meaning you'll know if their audience is also likely to be yours):
If you've received the request, there's a good chance you can help, but there are other elements to check first:
Don't: Pitch news about products, even if you think it might be related to their topic. Quotes and expertise are what is being asked for here – they aren't working on a product piece this time.
Do: Offer time with a person who can offer expertise, obviously, but you could also send over a recent press release with information about a related project your expert is working on, with how journalists can get in touch.
2) React to their deadline
Dreaded deadlines – everyone working in the creative industries has them. And as in comms, the research that goes into the writing/filming/production of a piece or project for a journalist has its very own timeline, separate from the filing of the finished piece, and its sharing with the wider world.
The deadline a journalist adds to a request distributed via the Journalist Enquiry Service will be for the research gathering part of their piece – not for the filing or the finishing. That doesn't mean you have extra time to play with when collaborating with them.
Don't: Offer something you won't definitely, absolutely be able to provide in time for the journalist to finish and file their piece with their editor. Check your client is available before you arrange a time to call, make sure you can post a product to the journalist before they need to hit 'send' on their copy. A journalist will remember a PR who has let them down.
Do: Be clear about what exactly you can provide and when, making sure it's before the deadline on the enquiry. 'I might be able to to…' won't work – a journalist isn't likely to take a chance on a lead that won't lead to anything.
3) Use the opportunity to introduce yourself as a useful connection – not as a hindrance
The Journalist Enquiry Service is a great first step for creating a connection with media contacts you want to keep working with. Like introducing yourself in person, first impression is important. You might not know at the start exactly what the journalist wants, but be cautious and clever with your introduction.
Don't: One thing to never do is send something only very vaguely connected to the subject the journalist is writing about. It's too much of a long-shot. Rather than be filed away for another day, the irrelevant press release, product info or offer of expertise could get you added to a 'not a helpful PR – possible spammer' list in the journalist's memory bank, or even straight-up blocked from their inbox.
Do: If the journalist is someone you'd love to work with, but this request they've sent just doesn't seem to be for you? Hold back this time – there will be another request you can help with in future.
Not signed up to receive requests from the UK media via the ResponseSource Journalist Enquiry Service yet? Book a demo here, and check out why it might be more effective for you than searching #JournoRequest on social media.
https://www.vuelio.com/uk/wp-content/uploads/2022/02/How-to-respond-to-vague-requests-from-journalists.jpg
430
760
Phoebe-Jane Boyd
https://www.vuelio.com/uk/wp-content/uploads/2023/09/vuelio-logo-200px.png
Phoebe-Jane Boyd
2022-02-07 11:57:05
2022-02-07 13:02:17
How to tackle vague requests from journalists