'In PRCA's 2015 annual report two thirds of PR practitioners were female, which proves there is an overarching male domination of the industry in senior positions'; Farzana Baduel, Curzon PR founder & director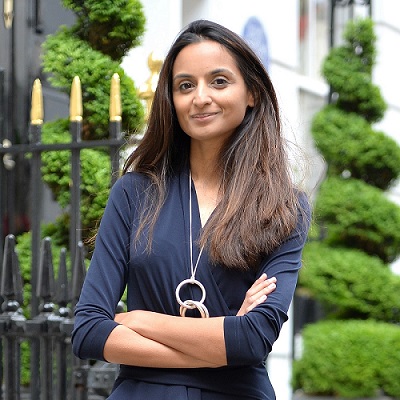 Farzana Baduel is the founder & director of Curzon PR, an award-winning public relations and digital communications agency that works across arts, culture, business and policy. Fresh from her win at the British Muslim Awards where she was named businesswoman of the year, Farzana speaks to us about why she decided to set up Curzon PR, the importance of digital media in marketing PR strategies, and why she is on a mission to diversify the PR industry.
Why did you decide to set up Curzon PR? I have always had an entrepreneurial spirit. The first business I set-up was in 1999. Having previously worked as vice chair of Business Relations for the Conservative Party, I used the skills gained in that role and combined it with my passion for communications to create Curzon PR.
What's new at Curzon PR? Due to our focus across developed, emerging and frontier markets we're currently planning the launch of our Delhi office and building teams in Dubai and New York. It's going to be a very exciting year.
How important is digital media in your communications and PR strategy? Digital media is crucial to our communication and PR strategies. Our industry is fast-paced and constantly evolving – it is clear digital media is spearheading the change. Information can be instantaneously shared across the globe, with different types of multimedia content (video, images, text). This has given brands and organisations reason to adapt in order to reach their target audience. Without a focus on digital media, a PR agency simply could not survive.
What changes are you looking to make to your communication and PR strategy this year? I am keen to highlight the importance of a fully integrated approach and champion the merits of the PESO model to our clients. Paid, Earned, Shared and Owned media is the new PR matrix that is being adopted. The model incorporates all of the modern-day aspects that need to be examined in a PR campaign. From paid Twitter advertising to earned media relations to creating a shared Instagram account to an owned expert review, PESO is dynamic and works in parallel with brand journalism. Curzon has expanded its strategy to meet aspects of the PESO model; we now have a content marketing team as well as a graphic design team. Another specific feature I will look to add to our PR outreach is to increase our use of video content. As editorial budgets in traditional media are being cut, journalists are gravitating towards working with brands to create content that can inform, entertain and influence. In 2016 we will see more brands investing in video content to convey their brand messaging and engage with their target audience. We have started to work with a press release distribution service that presents our client's content in a superior way. Now we can share galleries of hi-res images and video content within the click of a button.
It was recently revealed that 90% academy voters are white and more than 70% are male which many say influences the lack of diversity in this year's Oscar nominations. Do you think there is a similar problem in the PR industry, in terms of there being a lack of diversity in positions of power and how this impacts the makeup of the PR industry? Yes. I have strong views regarding diversity within the PR industry. The latest CIPR report states only 9% of PR professionals are from BAME backgrounds, and discrimination is still rife. We have to embrace diversity. I work with an initiative called Creative Access which places graduates of BAME ethnicities into paid creative media jobs. It's great to know initiatives like these exist. Similarly, the same CIPR report stated the industry gender pay gap is now £12,591 in favour of males, for the same job position. In PRCA's 2015 annual report two thirds of PR practitioners were female, which proves there is an overarching male domination of the industry in senior positions. These problems are being openly debated in the PR industry and I'm hopeful that we will start seeing changes sooner rather than later.
Every year there is talk about increasing diversity, what are the practical steps PRs can take to address the problem? Hire a diversity consultant to carry out an audit of your business and train staff against unconscious bias. Alongside this, the recruitment process is key to ensuring diversity, therefore initiatives such as Creative Access and the Taylor Bennett Foundation are effective starting points when contemplating increasing diversity.
What arts and cultural things do you like to do outside of your job? I love visiting gardens especially 18th century landscapes by English gardeners like Capability Brown and Humphry Repton along with reading gardening books by Vita Sackville-West.
What has been your most successful campaign and why? A campaign for an Oscar-winning film called Saving Face. The documentary followed plastic surgeon, Dr. Mohammad Jawad as he went back to Pakistan to help the recovery of acid-attack victims. We began the campaign before the documentary was nominated for an Oscar. Through the campaign we achieved global media coverage which supported its win as well as pushing the Pakistani government to bring in legislation to punish perpetrators of acid-attacks. The campaign also acted as a catalyst for a surge in donations for a charity that helped support victims.  Creating this legacy was such a fulfilling experience and demonstrated how positive social change can occur from PR.
https://www.vuelio.com/uk/wp-content/uploads/2016/02/Farzana-Baduel2.jpg
400
400
Jake O'Neill
https://www.vuelio.com/uk/wp-content/uploads/2019/09/vuelio-logo.png
Jake O'Neill
2016-02-01 13:58:11
2016-02-01 13:58:11
'In PRCA's 2015 annual report two thirds of PR practitioners were female, which proves there is an overarching male domination of the industry in senior positions'; Farzana Baduel, Curzon PR founder & director