Industry bodies respond to CCHQ's factcheckUK stunt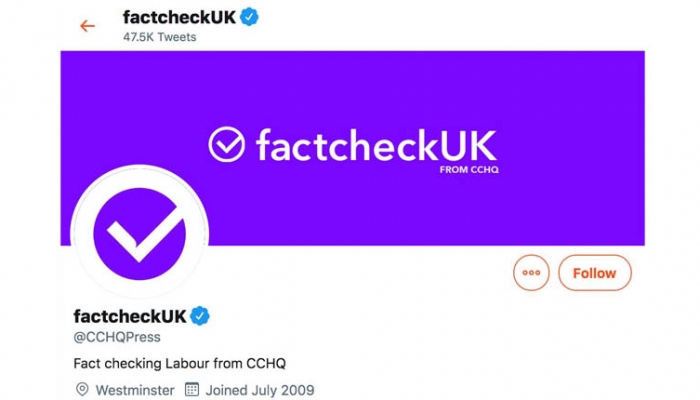 An attempt to mislead the public during a time for big decisions, or a light-hearted but badly thought out PR stunt? Whatever your opinion on the Conservative Party's rebranding of its @CCHQPress account to factcheckUK for yesterday's live TV debate between Jeremy Corbyn and Boris Johnson, ramifications are likely to be felt through the political realm as well as in PR teams and social media spaces across the country.
Twitter hasn't yet appeared to have taken any action over the incident but has vowed to take 'decisive corrective action' if something similar happens in future using its platform.
'Twitter is committed to facilitating healthy debate throughout the UK general election,' a spokesperson for Twitter said. 'We have global rules in place that prohibit behaviour that can mislead people, including those with verified accounts. Any further attempts to mislead people by editing verified profile information – in a manner seen during the UK Election Debate – will result in decisive corrective action.'
Placing responsibility for the factcheckUK name change on a party digital team within his remit, Conservative Party chairman James Cleverly has defended the rebrand. This hasn't curtailed concern from the PR industry.
Koray Camgoz, head of communications and marketing at the PRCA said: 'PR professionals have a duty to fight disinformation, not purvey it. The PRCA Code of Conduct, to which all members are bound, is explicit in this regard.
'PR professionals must not disseminate false or misleading information. Doing so damages trust in our industry and in this case – the political process. We urge communications professionals to be mindful of their ethical responsibilities, particularly during a period of national importance.'
The CIPR also has concerns for the ethics involved in the stunt, with its chief executive Alastair McCapra urging honesty and fairness as a basic professional standard from the industry: 'This sort of action damages trust, not only in the organisation which carries it out, but potentially in the election itself. Any CIPR members involved in this kind of misleading behaviour face potential disciplinary action under our Code of Conduct.
'It was extremely disappointing to see the Chairman of the Conservative Party, the Rt. Hon. James Cleverly MP defending it on television after the debate. I have written to Mr Cleverly today to make this point.'
https://www.vuelio.com/uk/wp-content/uploads/2019/11/factcheckuk-TORY.jpg
430
760
Phoebe-Jane Boyd
https://www.vuelio.com/uk/wp-content/uploads/2019/09/vuelio-logo.png
Phoebe-Jane Boyd
2019-11-20 14:49:12
2019-11-20 14:49:12
Industry bodies respond to CCHQ's factcheckUK stunt