Influencer Insight: Sian Conway, Ethical Hour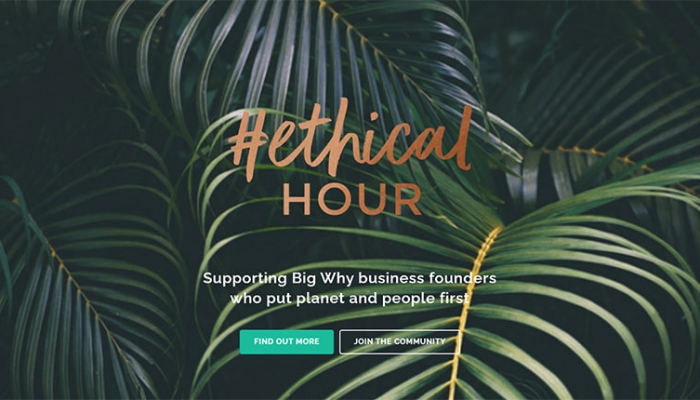 With ethics shaping up to be an even more important consideration for the PR and communication industry in 2021, check out our interview with Ethical Hour's Sian Conway.
Winner in the Best Changemaker/Disruptor and Best UK Influencer categories at this year's Online Influence Awards, Sian shares her passion for helping ethical businesses make a difference in the market space and inspiring big businesses to start thinking sustainably.
How does it feel to win your category this year?
It's a real honour to be named best Changemaker/Disruptor. Working in sustainability, you see just how much needs to change. Everyone in this sector has a strong vision for a better world, and most people understand the urgency of taking climate action now, but sometimes the issues we're dealing with can feel really overwhelming. #EthicalHour has always focused on empowering people to take whatever small steps they can, and to recognise their power as consumers and citizens. It was lovely to hear that the judges liked our focus on practical action!
There's so many amazing changemakers out there, and I know this category had many brilliant entries, so to be named the winner was a real shock and a huge honour! It's spurred me on to keep disrupting and pushing for the change that we all need.
What started your passion for your subject?
When I first started, I really didn't know much about sustainability or ethical living. A trip to Cambodia inspired me to start making some changes in my life – starting with breaking my fast fashion addiction and shopping more mindfully, with products that are better for people and planet. The blog began as a way of holding myself accountable to that commitment, but as I began connecting with small businesses in the ethical space, I quickly realised I could help them. I was working in corporate marketing, and I knew that I could teach ethical businesses to harness the techniques that big corporates use, to sell more and make more impact.
Hearing the stories of the people that make these products, the small business owners who do everything with such passion, and seeing my skills help make a difference in the world really encouraged me. But as I started to learn about the real urgency of the climate crisis, I realised, we all need to take action now – there's so many ways we can do that. I'm passionate about making that information as accessible as possible, connecting people who share these values and helping to create a better world for everyone.
How has the pandemic impacted your work?
Like everyone, it's been a strange year for me! As soon as the pandemic hit, I realised it was going to have a huge impact on our small business community and the suppliers and charity partners they work with. I put a lot of our growth plans on pause and doubled down on the support we were giving them. Finding solutions to their problems, bringing in expert advisors to help and designing social media campaigns which would help spread the word about their work and encourage people to think about how they spend their money.
Every year we spend November focusing on our #ShopEthicalInstead campaign – a positive alternative to all the commercial noise around Black Friday. This year, so many more people are keen to shop small, and in November alone our message reached 1.3 million people! It's been a hard year, but it's been a good reminder of the power of community and collaboration. Long term, I think our community will be stronger for it.
What do you love most about being a blogger/influencer?
I'm trying to create change, but there's so many different ways to live a sustainable lifestyle, engage in activism or get involved in the causes you care about – so I never want to promote my way as the "right" way. I think of myself more as a community connector – bringing people together around their shared values and helping them access the resources they need to make change happen. That's what I love most! I get to spend my days helping people achieve their goals and do work they're passionate about, which also makes a difference, and that's so rewarding.
I've always loved to write – at one point I thought I would be a journalist, so it's great that I've been able to incorporate that into my work, both by running the blog and the other writing opportunities that's opened up for me, in various industry publications, and my upcoming book, which will be released in 2022!
What plans do you have for 2021?
We're finishing the year on a high with this award win and the success of our #ShopEthicalInstead campaign! 2021 is going to be a growth year for us – we've got an amazing line-up of guest experts coming into our community to deliver monthly training sessions for our members, we're launching a brand new community space to make it even easier for small ethical businesses to get the support they need and there's some other exciting developments and collaborations in the pipeline, too!
As always, we'll be using our platform to push for change. At the moment, our focus is on asking the Government to put together a diverse and representative leadership team for COP26 – the important climate change conference at the end of 2021. Currently the UK has an all-male leadership team. Over 2,500 people have added their voice to our petition so far, and we'll be pushing that harder in the new year.
How do you collaborate with brands and which kind of brands do you really like working with?
I'm always looking to connect with small businesses who have high quality products, strong ethical and sustainable credentials and inspiring ways of giving back. One of our core aims is to help good businesses grow, and connect them to our wide-reaching community of conscious consumers – whether that's through our weekly Twitter chat (#EthicalHour, Mondays at 8-9pm UK time), on our @ShopEthicalInstead Instagram platform, or through the support available in our members community. We also do live and virtual events throughout the year, so there's lots of opportunities for brands in our network to showcase what they do and get support!
For PRs looking to work with you, how would you prefer they approach you and with what kind of content?
It's great to build relationships with PRs that really understand our core values and how we work. We don't do sponsored content so we're keen to hear from PRs that think outside the box about how their brands can be represented. Anyone who's interested in building long-term collaborations, rather than short-term content campaigns. The best thing to do is reach out to our team with some initial information about the brands they're representing and their ethical/sustainable credentials, so we can start a conversation from there.
Which other influencers/podcasters do you follow/enjoy?
There's so many amazing influencers in the ethical space. I'm a big fan of podcasts too and always learn so much from them! Outrage and Optimism is a great listen for anyone interested in climate solutions, and for business owners looking to streamline their lives and live with purpose, I'm a big fan of The Simplifiers.
Which other media do you always make time for?
I love a good documentary! Recently, Kiss The Ground really inspired me – I was feeling a bit defeated by the scale of the climate problem and the inaction of our Government, but Kiss The Ground shows what can be achieved and what is already being done, in such a positive and uplifting way. You also can't beat a good book! I love non-fiction for inspiring new ideas and to inform my work, but when I'm relaxing, it's got to be a fictional story I can really lose myself in.
https://www.vuelio.com/uk/wp-content/uploads/2020/12/Ethical-Hour.jpg
430
760
Phoebe-Jane Boyd
https://www.vuelio.com/uk/wp-content/uploads/2023/09/vuelio-logo-200px.png
Phoebe-Jane Boyd
2020-12-18 15:09:04
2020-12-18 15:09:04
Influencer Insight: Sian Conway, Ethical Hour