PR Interview: Darren Caveney, comms2point0, on helping the communications industry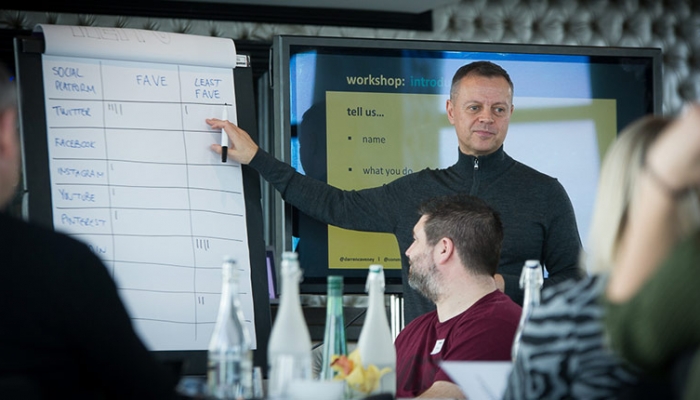 'I wanted to fly a flag for communicators and recognise the amazing work they and we do each week, each month, and each year' – Darren Caveney shares the catalyst for launching comms2point0 (highly recommended in the PR and Comms category at this year's Online Influence Awards) over nine years ago and his big plans for celebrating and supporting the PR and comms industry in 2021.
How does it feel to be highly commended in your category at the Online Influence Awards this year?
comms2point0 has been my baby and passion for more than nine years now. But I felt like the recognition was more for the 500+ comms pros who have written posts and case studies and shared insights in that time, and everyone else who has supported the comms2point0 community and its events and initiatives. It really is the best community.
What started your passion for your subject?
Well the real start point was joining the PR degree course at Leeds Business School back in 1993 with the great Anne Gregory.
Back in 2011, I felt there was a gap for where comms and PR professionals could share lessons, experiences and work examples, especially across the public sector, and as a way to support one another. We're often all doing very similar work, and I felt there was an opportunity for us to be smarter, so I created a free online resource for the community to make use of, be a part of and add to.
I also wanted to just generally fly a flag for communicators and recognise the amazing work they and we do each week, each month, and each year.
How has the pandemic impacted your work?
First off, I'm lucky that neither me, my loved ones or friends have been impacted health-wise by COVID-19. And if 2020 has taught us anything it's to be grateful for what we do have.
My consultancy – Creative Communicators Ltd – had a full five to six months of work, training and events lined up when Lockdown 1 hit in March. Watching much of it get cancelled in a matter of days was a really weird experience. And I won't lie, I had been so busy for the previous five years that initially the rest was quite nice. But after two weeks of sitting drinking coffee I grew bored and fortunately the work began to return, albeit a little different to what had gone before. Now it was about very tailored consultancy and training requests to support very specific needs of organisations. For example, helping lockdown councils reframe their communications strategies so that it recognised the demands and impacts of COVID-19 and gave them at least a chance of protecting their mental health and wellbeing in what, was becoming clear, was a long-term crisis.
Much of my work previously has been face-to-face training, consultancy and events so of course it's bound to be reduced by COVID. But I've been busy and felt like I have really been able to support teams and individuals during a really difficult year for them.
What do you love most about being a blogger/influencer?
Well, I've never thought of myself as an influencer – my kids would mock me mercilessly if I ever claimed to be. But I think the comms2point0 website has had influence within the public sector communications community over time. The stats, growth, reach and traffic back this up. But also, the work requests which come in to me.
The site has over 1.5k blog posts on it now and it's an absolute treasure trove of comms and PR learning. And other free resources – such as my essential comms planning guide, which has had over 5k downloads – make it a good place for comms pros to look to support their own work and development.
What I love most are the very personal posts that shine a light on important topics such as mental health, bullying and equality in our profession. I've lost count of the number of people who have contacted me to thank me for hosting these posts and for the positive impact they've had on them in realising that they are not alone in sometimes struggling with these issues.
How do you like to work with brands and PRs?
I have a trusted set of brands and companies I have worked with on projects such as The UnAwards over a number of years. I think of them more as partnerships and collaborations and we can learn so much from good industry suppliers, and the skills, knowledge and resources they bring to the table.
After 25-years in the industry I'm very clear on the values and ethos which are important to me – this includes always trying to do the right thing for the right reason, rather than trying to just make a quick buck.
I'm open to new collaborations if the products and services are of genuine value to the comms community. And I love a new project and initiative – I love to create new things which can support the industry and the people in it so if you think we have some aligned ambitions and values, then shout me.
What plans do you have for 2021?
Big ones. I'm incredibly excited about my plans for the 7th annual UnAwards to take place in the summer of 2021. And that is a chance for new partners to come on board. Following that will be the winner's masterclass too, where attendees can, for free, hear from the winners, their lessons and their insights.
I'm rolling out a new series of training workshops for 2021 – everything from supercharged social media and strategy surgeries, through to podcast training and how to engage with Generations Z and Alpha with a couple of leading fellow consultants.
I look forward to helping deliver the brilliant Comms Unplugged event which will take place in Dorset in September. It's another thing I'm really proud of and has aimed to push mental health and wellbeing much higher up the agenda and equip us all with the skills and knowledge and deal with the growing problem in an effective way. It's more of an experience than an event and we think it's pretty unique in our industry. Come along, I promise you'll love it.
I'll continue to mentor a number of comms pros, which is something I've done for a decade now and really enjoy.
I set up a consultants group during Lockdown 1 as a place for small business owners in the industry to have a place to check-in with like-minded people. We have a lunchtime coffee chat via Zoom each Monday and it's become a special group and we'll look to develop that in 2021, and even get to that much anticipated face-to-face meet-up.
And of course I'll continue to deliver strategic comms consultancy for organisations across the UK.
Which other influencers/podcasters do you follow/enjoy?
All of the people who write guest blog posts for comms2point0. That's a weekly treat to see those come in.
My friend Sally Northeast produces the lovely CU on the Air podcast, and pal Adrian Stirrup the fun Talking Comms Pod, which I help with.
I really like the weekly email from The Joy of Work author, Bruce Daisley (who, incidentally, is our keynote speaker for next year's Comms Unplugged), and the research he shares around the changing dynamics of the workplace especially as we battle through COVID-19.
Which other media do you always make time for?
There are so many. For my factual news fix and update I tune in to the brilliant James O'Brien show on LBC whenever I'm free. It's stripped of opinion and uses those old-fashioned skills of research and evidence, and boy do we need more of that. I love Marina Hyde in The Guardian for her humorous take on the week's big events. In a similar vein, I love the work of Birmingham artist Cold War Steve.
I'm a proper film and TV nerd so there are too many to name here. But rest assured I have worked my way through Netflix and Amazon Prime's finest during 2020.
I have really missed the cinema in 2020 and can't wait to remedy that next year.
https://www.vuelio.com/uk/wp-content/uploads/2020/12/comms2point0-Darren-Caveney.jpg
430
760
Phoebe-Jane Boyd
https://www.vuelio.com/uk/wp-content/uploads/2019/09/vuelio-logo.png
Phoebe-Jane Boyd
2020-12-18 12:14:49
2020-12-18 12:15:36
PR Interview: Darren Caveney, comms2point0, on helping the communications industry