INFOGRAPHIC: What does Twitter think of HS2?
The High Speed Two rail project is rarely out of the news, with the latest reports suggesting that Boris won't back the current plans and the new project chairman is seeking cross-party support. With its continuous news presence, HS2 is unsurprisingly a hot topic on Twitter.
Using Cision Social Media and our in-house data scientist Terry Adeagbo, we've analysed the sentiment of HS2-related tweets from around the country over the last month. We've used an automated sentiment tool so all of the usual disclaimers apply.
Click to enlarge.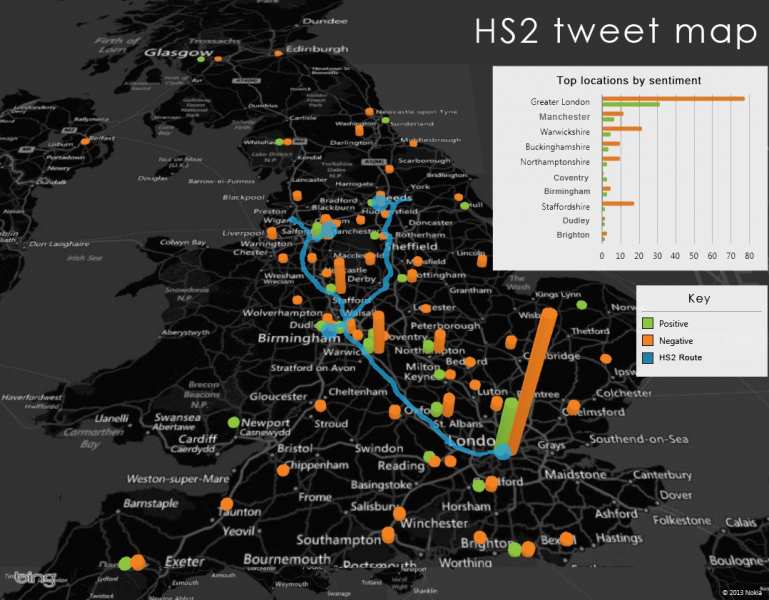 The tweets generally cluster around the HS2 route with more on the Phase 1 route (London to Birmingham). There are over three times as many negative sentiment tweets as there are positive, with London, Warwickshire and Staffordshire expressing the most negativity about the project.
The data was gathered through Cision Social Media and Terry Adeagbo. The map was made in Excel.
Priyanka Dayal
https://www.vuelio.com/uk/wp-content/uploads/2023/09/vuelio-logo-200px.png
Priyanka Dayal
2013-09-27 14:02:26
2013-09-27 14:02:26
INFOGRAPHIC: What does Twitter think of HS2?