Interiors Blogger Spotlight: Cate St Hill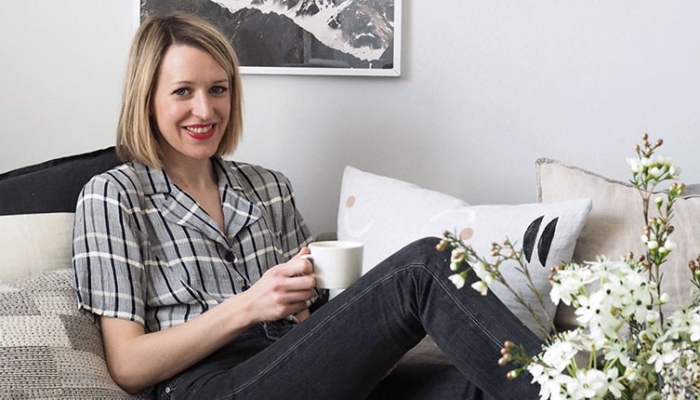 'I really believe there's a strong connection between our wellbeing and our surroundings,' says interiors blogger Cate St Hill. If your surroundings aren't quite right for your wellbeing right now, read on for some advice on changing things up from one of the top ten interior design bloggers in the UK.
How did you originally get started with writing about interior design?
I was working as a journalist for an architecture and design magazine and could see the tide turning towards the digital world. The print world was shrinking and I couldn't see much progression for me. I wanted to create an online space that was completely my own, where I could write about my own passions for interior design and share a more personal insight into the house I was slowly transforming into a cosy home.
What's your favourite thing to post about and why?
I really enjoy writing about the little DIY projects and changes I make in my own home. My home is where I'm most creative and where I can express myself – I really believe there's a strong connection between our wellbeing and our surroundings. That doesn't mean I'm constantly changing things up according to the latest trend, I prefer to take a slower, more considered approach, so that my home can evolve with my mood or the seasons. I want to show that it doesn't take much to make a calm sanctuary – good design should be accessible to all.
How have you had to change your approach to blogging during the COVID-19 crisis?
It hasn't changed too much really. As people are spending more time in their homes, I hope that they might turn to blogs like mine for inspiration on how to make the most of their surroundings. I've been focusing on creating uplifting content for those slow moments at home, for instance, with soothing playlists and a design quiz.
What are some small things people can do to change up their interior decor while on lockdown?
I think it's a great opportunity to have a declutter and get organised. I've been cleaning out my kitchen cupboards and reconsidering the things in my wardrobe – it doesn't take much, but it feels so good once it's done and everything is in its place. Reassess how items and objects make you feel, and think about how a space could be refreshed to work better for you – it might be as simple as moving the furniture around slightly or restyling your bookshelves. When a big project like redecorating a whole room feels overwhelming, it's good to start with the little things.
What have been some of your favourite interior design shows?
I was obsessed with Changing Rooms and Grand Designs when I was younger, I think that's probably where my love of interiors first developed as a young teenager! Now I'm probably more likely to be following people's renovations on Instagram than watching TV.
Any particular houses/rooms/furniture from film/TV/real-life that you covet?
The house in I Am Love, a film set in Milan by Luca Guadagnino starring Tilda Swinton. It's a real house called Villa Necchi Campiglio and it's normally open to the public for visits. It has this beautiful, botanical glass room with a curvaceous green sofa and a perfect little swimming pool outside.
Which home décor trends from the past do you hope will make a comeback?
I keep an eye on trends but I don't tend to adhere to them too closely, I prefer to create spaces that are timeless and can stand the test of time. I think you've got to think carefully about what will work for you, not just what looks good in a magazine.
How do you collaborate with brands and which kind of brands do you really like working with?
I collaborate with brands to create inspiring content in the simple setting of my own home. I like to show how a product can fit into a pared-back, minimalist home and share styling tips that my followers can apply in their own home. I love working with like-minded brands who value sustainability and design built to last.
For PRs looking to work with you and your blog, how would you prefer they approach you and with what kind of content?
A friendly email introducing themselves and the brand in clear, simple terms is always a good start. It's easy to miss an Instagram message. I prefer building up long-term relationships with brands that I really connect with. This might be a series of blog posts or Instagram posts over a period of months or even years. It helps build an element of trust between both the blogger and the brand, and the blogger and their audience. For instance, I've been working with IKEA for the past three or so years, they're always really open to ideas and happy for me to take the creative lead.
What other blogs do you check out regularly (whether interiors-related or not)?
I've recently discovered The Good Trade, which is focused on sustainable living. I also like Jessica Rose Williams for minimalist tips, The Frugality for affordable style and frugal living, Coco Lapine Design for dreamy interiors, Hannah Bullivant for styling tips and floral inspiration and Canadian blogger Lee Vosburgh of Style Bee for simple outfit inspo.
https://www.vuelio.com/uk/wp-content/uploads/2020/05/Cate-St-Hill.jpg
430
760
Holly Hodges
https://www.vuelio.com/uk/wp-content/uploads/2019/09/vuelio-logo.png
Holly Hodges
2020-05-22 10:39:49
2020-05-22 10:39:49
Interiors Blogger Spotlight: Cate St Hill