Interview with top cycling blogger Peter Linsley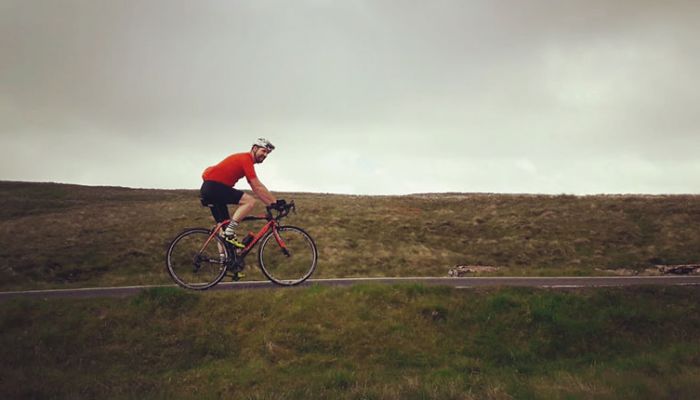 Peter Linsley is the man behind ragtime cyclist, the blog that was recently ranked in the Top 10 UK Cycling Blogs. Writing about everything cycling, including the best snacks and his own humorous take on races . We chatted to Peter about the best bike he's ever ridden, his favourite cycle route and whether bloggers need their own industry association.
What makes your blog unique?
I zero in on the detail.
If I write about a bike ride you won't get route descriptions and practical advice, but descriptions of the mid-ride flapjack and the way, in a certain light, that my riding partner looks like Gareth Southgate.
What's the cycling blogging community like to be part of?
Generally, it's great. Here in the UK, cycling has become such a huge cultural phenomenon and many of us are still a bit wide-eyed with surprise at the way it nudges the mainstream from time to time.
Also, cyclists are funny, handsome, and smart. Even wearing Lycra. Don't let anyone tell you any different.
What's the best bike you've ever ridden?
Like many cyclists I have a slightly ridiculous and almost emotional attachment to my current best bike: a Wilier Triestina Zero 9. However, if I'm honest, the Raleigh Burner I got for my eighth birthday takes some beating.
How many bikes do you own?
Just two. A Wilier Zero 9 for the summer months, and a Pinarello Angliru for the winter. Never got into mountain biking. Not too bothered about cyclo-cross.
Maybe I should buy another road bike?!
What's the best cycle route in the world?
Ahh, that's a tough one.
I can highly recommend basing yourself at Barcelonette in the Southern French Alps. From there, you ride the Three Cols: up the Col d'Allos, over the Col des Champs, and back via the Col de la Cayolle, for a total of 120 kilometres and 3500 metres of vertical climbing.
It's a big day on the bike, and not for the faint-hearted, but the chance to head above 2000 metres in altitude three times in a single day is worth every pedal stroke.
What will be the next big thing in cycling?
Oh man, who knows?
With the benefits around ride comfort, improved rolling resistance, and a promise of fewer punctures, I have a feeling the time is right for tubeless tyres to finally take off. Obviously, the "puncture fairy" might have one or two things to say about that!
The cycling world – professional and amateur alike – has been resistant for years, but with tubeless ready rims now available from tons of manufacturers we might be just be on the cusp of change.
What one thing should PRs know about you?
For the right collaboration I've even been known to cancel a bike ride. That's how committed I am.
What is the best campaign you've collaborated on?
It's a secret!
I worked with one of the world's top bike brands to develop a convincing "voice" for a new range of their products, and my lips are contractually sealed. The chance to see how they work at that level of the industry was hugely impressive.
Also, it was nice little reminder that the big-boys do care what goes on in the blogging world – I took it be a little respectful tip of the hat!
Do bloggers need their own industry association?
Blogging is peculiar in that it's almost exclusively an amateur pursuit, which encroaches on the professional world (of journalism). Perhaps an industry association could legitimise the standards bloggers hold themselves too, and are held against? It might help those bloggers who take it seriously, be taken seriously. Where do I sign?!
What other blogs do you read?
I get my pro cycling fix from INRNG.com – an absolute authority on the sport.
I also like humancyclist.wordpress.com for his take on everyday cycling. He has a great turn of phrase, and a really genuine bitter/sweet love/hate thing going on.
I still read Velominati.com. Is that a blog? Whatever – it's funny, and inspires me to write!
Peter and ragtime cyclist are both listed on the Vuelio Influencer Database along with thousands of other bloggers, vloggers, journalists and opportunities.
https://www.vuelio.com/uk/wp-content/uploads/2018/07/Peter-Linsley.jpg
430
760
Merryn Williams
https://www.vuelio.com/uk/wp-content/uploads/2023/09/vuelio-logo-200px.png
Merryn Williams
2018-07-25 11:00:13
2018-07-25 13:25:53
Interview with top cycling blogger Peter Linsley