Jeremy Clarkson's 'punch' breaks the internet: a social media analysis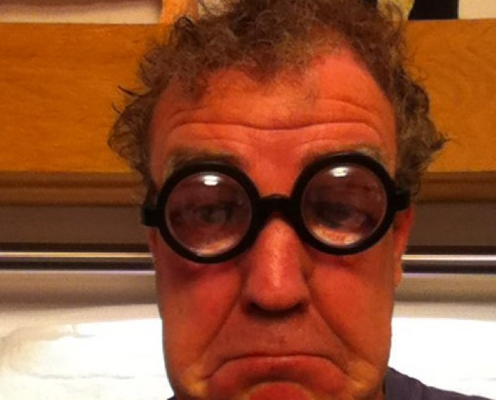 Never mind Kim Kardashian, the news of BBC's suspension of controversial Top Gear presenter Jeremy Clarkson has quite literally broken the internet with news, reactions, jokes and even petitions to #BringBackClarkson ruling online conversations on news sites and social media.
Clarkson was suspended and the remainder of the current series of Top Gear were scrapped following allegations that he punched one of the producers of the show after filming on location in Newcastle last week.
According to a Cision Social Media analysis, Twitter dominated discussions online.
The conversations surrounding Clarkson online include some strong and controversial words, such as: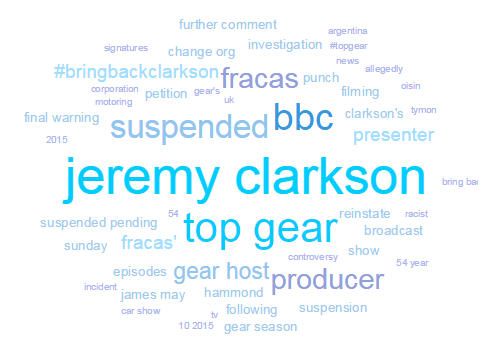 An online petition calling for the BBC to "reinstate" Clarkson has been backed by over half a million people as of mid-afternoon on Thursday. It was started on Tuesday afternoon by Paul Staines, author of the UK's number one political blog, Guido Fawkes.
503,000! #BringBackClarkson Hits Half A Million Signatures: http://t.co/472s78TjlL pic.twitter.com/qtqW72ZB65

— Guido Fawkes (@GuidoFawkes) March 11, 2015
Below are a few examples of how Twitter has reacted to the news of Clarkson's suspension – some positive, some not and many just complaining of their clogged newsfeeds.
My timeline is currently full of Jeremy Clarkson supporting wazzocks.

— Matt Haig (@matthaig1) March 12, 2015
Keep Top Gear, axe #Clarkson. If you get a flat, you don't send a petition to Michelin complaining about the road. You replace the wheel. — craig stone (@craigstone_) March 12, 2015
I'm reliably told a senior BBC exec so narked with #Clarkson he suggested giving job to piers morgan. Surely in jest — Tom Leonard (@tomleonard78) March 12, 2015
Now the news from the BBC: Jeremy Clarkson Jeremy Clarkson Jeremy Clarkson Jeremy Clarkson Jeremy Clarkson Jeremy Clarkson Jeremy Clarkson

— NeilMackay (@NeilMackay) March 11, 2015
Now that Cameron has weighed in saying Jeremy Clarkson shouldn't be fired I'd like to know what the PM thinks of Kim Kardashian's new hairdo

— NeilMackay (@NeilMackay) March 11, 2015
@JeremyClarkson how can @BBC not show the remaining episodes of Top Gear, cant this be resolved without making the fans suffer

— Nathan Badcock (@nathbadco) March 10, 2015
https://www.vuelio.com/uk/wp-content/uploads/2015/03/Clarkson-on-Twitter.png
499
496
Priyanka Dayal
https://www.vuelio.com/uk/wp-content/uploads/2019/09/vuelio-logo.png
Priyanka Dayal
2015-03-12 12:26:17
2015-03-12 12:26:17
Jeremy Clarkson's 'punch' breaks the internet: a social media analysis