Today's advent blogger is Luke Westaway, editor of CNET's Crave. Earlier this year, Luke won Digital Editorial Individual 2013 at the AOP Digital Publishing Awards.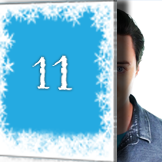 As for all the advent bloggers, we asked Luke two very special seasonal questions:
What is the worst Christmas present you have ever received?
The worst Christmas gift I ever received was a compact umbrella. The brolly itself was nice, but I've never been keen on umbrellas in general. They don't keep you dry and you have to carry them around all day soaking wet. There must be a better way.
What's your new year's resolution?
It's a cliché, but I'd like to get in better shape. The world of tech journalism isn't known for its muscle-building qualities, so I'll be trying to hit the gym to compensate for all that trade-show junk food.
Luke has previously taken part in a Journalist Spotlight discussing how his relationship has developed with PRs throughout his blogging career. Luke also revealed that he's really interested in dinosaurs and has been compared to Daniel Radcliffe…
Congratulate Luke on his inclusion in the 2013 Advent Calendar on Twitter @lukewestaway, and check out his advent calendar entry here.
Priyanka Dayal
https://www.vuelio.com/uk/wp-content/uploads/2019/09/vuelio-logo.png
Priyanka Dayal
2013-12-11 09:30:06
2013-12-11 09:30:06
#JingleBlogs: Crave