Journalist Spotlight: Sarah Marshall
Sarah Marshall, technology editor at Journalism.co.uk, talks to Cision about lean journalism, getting out and about, and working with PRs.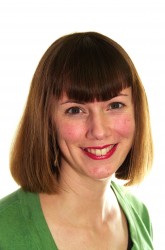 Sarah started her journalistic career in radio before moving to print newspapers and then online. She joined Journalism.co.uk almost two years ago; immediately before, Sarah worked on a start-up video project in Morocco which she described as, 'still journalism but in a completely different place'.
Though she started out in local news, and still believes this gives a good grounding for any journalist's career, Sarah's specialism in online reporting about the digital news industry and technology journalists use is where her heart is. She said: 'It's one of those areas that is moving so quickly and is so accessible'.
What do you like to write about?
It's still old fashioned journalism. I went out just to meet a contact of mine for coffee and our plan was to just have a coffee but I actually came back with a podcast interview. She'd done a project about mobile reporting in Sierra Leone, using old Nokia phones, so I got a great interview which I used on a podcast, then wrote a feature about it which was picked up by another contact of mine at Al Jazeera and someone on the BBC World Service. That all started with a face-to-face meet – journalism is still about that – actually talking to people face-to-face or over the phone and not just rehashing a press release or something on Twitter.
What's it like working in a small team?
I do a bit of everything; in a small organisation you're your own sub, you do bits of SEO and your own picture research. We've actually changed what we do at Journalism.co.uk; this time last year we tried to cover everything that was going on in the journalism news space and it was actually when we were trying to keep on top of the Leveson Inquiry, we thought: 'Why are we doing this? Everyone is reporting Leveson. Let's just focus on original stuff'. Even though we're putting out fewer stories our hits for each story have gone up – doing less to do more seems to be a better approach when you haven't got many hands.
Between the editor Rachel McAthy and me, we write an average of four stories a day. I wrote a piece called 10 things every journalist should know in 2013 which took a day so I didn't publish any other stories, but it brought in a lot of traffic, more attention and Twitter followers. I don't think you should just chase traffic, but obviously if you see that a story's doing well it's nice.
Where are you based?
Journalism.co.uk is based in Brighton. When I came back from Morocco I started working there. Two months ago I moved to London. Being in Brighton, it's always that hour's journey if you want to come and meet someone so I sold the idea to my boss that London isn't just the heart of UK media, it's the heart of European media. I go down to Brighton once a week, but meetings can all be done online. I'm probably out and about two days a week.
And do you meet PRs?
I do meet PRs but generally at specific events. When PRs are at different events, you get to know them and they're good contacts that I can call with ideas and requests. I have been dealing with the comms people at the Guardian for two years but I hadn't met them, so when I moved to London one of the first things I did was meet them for a coffee.
I don't think, unless it was somebody from a key organisation that I was really trying to get to know that I'd be able to meet with them, I'd probably usually combine it with another meeting – when I met the people at the Guardian, I was already at another event. Because time is precious in a lean newsroom, it would need to be more specific with a purpose.
How are your relationships with PRs?
Mixed. When I was in a local newspaper/radio newsroom, the relationship with PRs generally wasn't that good; it felt like I was trying to do stories and they were trying to stop me. Now in the technology field it's completely different. I've been very careful all along not to always be positive to get freebies or invites to events and I've tried to keep that at the forefront of my mind. I now realise PRs are very useful – for example I wanted to interview Vadim Lavrusik soon after he was appointed journalist programme manager at Facebook. I contacted him and the UK PR for Facebook – Emily Clarke at Nelson Bostock – contacted me and has since fed me little tip offs about Facebook and invited me to things. I couldn't have that dialogue with anyone in the company because Facebook UK doesn't work like that, but now I have someone to contact about news:rewired or check facts.
I was thinking before we spoke about who had really shone as a good PR. Joel Brown, senior press officer at CNN, knows we only do original journalism so won't pitch anything counter to that. He's very good at his job and will call to say 'I've got this correspondent, they're just back from Syria, he's going to be doing a Google+ Hangout, I thought you could peg something on – do you want to speak to him?' He knows who our audience is and what will do well.
The ones that don't do so well think: 'She's a technology journalist she must be interested in writing about the new Galaxy tablet or whatever', but I'm not because I'm writing about a very niche area of technology that journalists can use. If a PR has a journalism instinct and thinks: 'Will this story work for that site, or that title, or radio station?' then they're helping the journalist. Quite frankly, I don't want stories that other people have got. I want to be given an exclusive, the same goes for all journalists – they don't want to rewrite a press release, they need something different. I think especially with online journalism, a lot of people are only doing original news stories and what's the point of using a press release because a lot of other people will have it too.
One of my big bugbears is that PRs don't seem to have caught on to the fact that Creative Commons is ten years old. I've been at events where I can see there's a photographer there, the event organiser wants me to write about the event – that's why I am there – I'm struggling for a picture. If they uploaded a picture under CC I could use it and attribute it properly. Working online, you want things quickly, you want things now; if you're doing a story about a product make sure there's easy access to a picture. 
Take Five
What will be the biggest journalism tech aid in 2013? 
Further development in terms of mobile journalism. I would like to be able to easily record phone calls on my mobile when I'm interviewing someone in a coffee shop.
Do you have any New Year's resolutions?
I've half made one. I've got a book which is a couple of years old now, called Thirty Runs in London and my plan is to do all 30 of them. They're all kind of between 4 and 8 miles and I don't know if I'm going to manage it because that's not the sort of run you can fit in before work and if you have to get on a tube to go to North London that'll take up too much time.
Do you have any surprising hobbies or interest?
Either camper vanning – Dolly the camper van is very much in the forefront of my life (I've got some inner hippy) – or learning Arabic. I'm kind of intermediate but it's a nice language to learn. It's purely to indulge my interest in the Arab world.
What would your super power be?
Teleporting. Even though I do enjoy the journey, sometimes you just want to be somewhere quickly and rather than looking out of the window of a bus or train I wish I was there.
Who would play you in a film?
There's a film called Forgetting Sarah Marshall and I can't remember the name of the actress in the film but she's the ex of Russell Brand in it and it definitely wouldn't be her.
Editorial information on Sarah Marshall, Journalism.co.uk and thousands of other media contacts, can be found in the CisionPoint media database.
Priyanka Dayal
https://www.vuelio.com/uk/wp-content/uploads/2023/09/vuelio-logo-200px.png
Priyanka Dayal
2013-01-14 11:19:09
2013-01-14 11:19:09
Journalist Spotlight: Sarah Marshall