Journalists are changing the way they use social media – and this affects PRs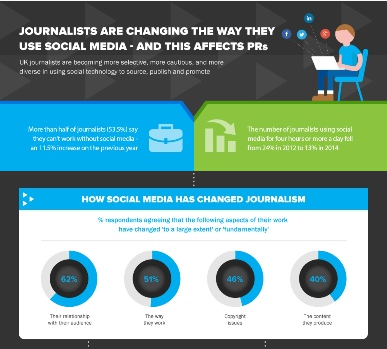 Annual survey of UK journalists' social media habits confirms that the technology remains central to their work even as their approach becomes more selective
While the majority of UK journalists now use social media for their work, they actually spend less time using the technology than they have in the last two years.
The latest Social Journalism Study from Cision and Canterbury Christ Church University concluded that the apparent paradox reflected an increased selectivity – and a growing caution – in the way journalists use social media. The journalists often said that the technology had changed the meaning of their work, as well as the way that they approached it – but there was for the first time in five years a significant expression of concern about cyber security, as well as social media's threat to professional values.
Among the key findings were
The majority of UK journalists use social media as a professional tool. However, the percentage of journalists using social media regularly, for four hours or more a day, has declined during the last three years, from 24% in 2012 to 13% in 2014, indicating a level of saturation in its use
Over half (53.5%) of UK journalists said they cannot carry out their work without social media, an increase from 42% of journalists last year
Twitter (75.1%) continued to be the most popular social networking app for journalists followed by Facebook (56.7%) – while a strong showing for Google+ (41.2%) reflected the now-redundant importance of Google Authorship for search engine optimisation
PR professionals are the most important sources for journalists, followed by experts/academics and then other journalists and media outlets
While journalists tend to perceive the impact of social media on their work as generally positive, there are growing concerns about privacy, data security and journalistic values

"There is no doubt that social media continues to play a key role in all areas of a journalists' work," said Kristine Pole, who co-authored the Study.  "Over half think they couldn't do their work without it and the same number think it has improved their productivity.   What is noticeable is that journalists feel using social media is an additional aspect to their work rather then relieving them of other tasks as over half think their workload has not decreased."
Cision Europe and Canterbury Christ Church University conducted an online survey about the behaviours and attitudes and the uses and perceptions of social media among journalists.  Respondents were taken from Cision's media database of more than 1.5 million influencers globally. The United Kingdom report is based on 466 responses from journalists and media professionals collected during July – September 2014. Throughout the survey the term 'journalist' is used to include all media professionals, e.g. researchers, editors, etc., who took part.
Download the full version of the 201 5 Social Journalism Study.
https://www.vuelio.com/uk/wp-content/uploads/2015/01/SJS-blog.png
349
387
Priyanka Dayal
https://www.vuelio.com/uk/wp-content/uploads/2023/09/vuelio-logo-200px.png
Priyanka Dayal
2015-01-28 12:59:09
2015-01-28 12:59:09
Journalists are changing the way they use social media - and this affects PRs