Influencer Spotlight: Kevin McAulay
With over twenty-three thousand followers under his belt, Kevin McAulay is a bonafide Instagram Influencer. Although he doesn't see himself as being 'instafamous' he does admit to being recognised in the street on a regular basis. His rise to success represents a new generation of young people who have moulded themselves into brands as a result of having thousands and sometimes millions of followers on social media. After joining Instagram four years ago, Kevin used the app to post pictures about the physical transformation his body was undergoing. It was this journey that struck a chord with his devoted followers, helping him to become a health and fitness influencer. Having recently left his nine to five job to fully concentrate on his career as a social media influencer, Kevin chats to us about the next stage of his journey which includes modelling for a healthy burger chain, and being selected as a social media ambassador for a new gym brand.
Why did you start using Instagram? What was the attraction? I started using Instagram four years ago as at the time it was just the next social media fashion (for me, Twitter never gelled). Like much of my generation, I am a very visual person so Instagram was a social media platform that really fit the bill. Upon posting my first couple of pictures it was apparent that unlike the other social media platforms Instagram seemed to have a certain freedom. People could send messages, comment and follow without having to search for you or being in any way connected which is a huge part of what I find attractive about it. I was coming out and I lived in a small town – that's a nerve-racking time for a teenager. I used Instagram as a way to test the water and interact with people outside of my postcode! The feedback I received gave me so much confidence.
Did you ever expect that you would end up with over 22k followers? I never did. I remember when I reached my first 1000 followers and I couldn't believe it, at the time people would ask how I did it and I had no idea. I wasn't working with brands or endorsing anything at the time and I didn't hashtag much at all.
What was your reaction when you found out that the influencer app Takumi categorised you as an influencer in health and fitness?
The Takumi app has been a great tool for me as an influencer, it pairs influencers with brands in their category and we have the freedom to accept or decline.
Previously, in the category I was in before I saw more campaigns than I do now, however I accepted less too. On an average I do one or two Takumi posts a month, the rest or my branded posts are sourced through brand relationships which I always love to manage and nurture.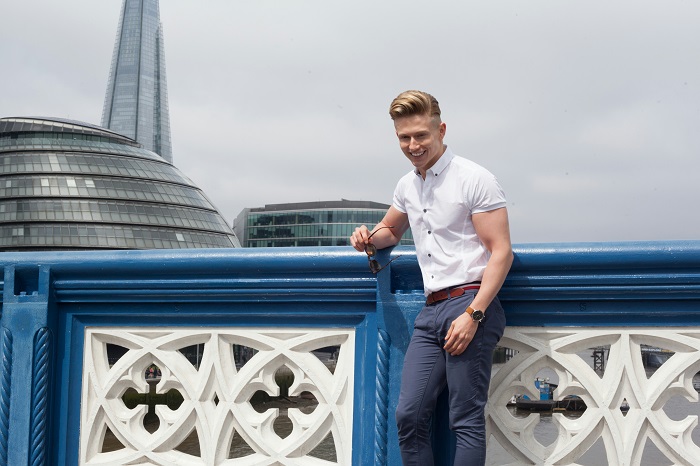 Do you consider yourself to be 'instafamous'? I wouldn't say so! A handful of times I've been approached in clubs and bars by people who follow me but that's about it! Or occasionally I get a message from a follower telling me they saw me strolling in London (usually in a world of my own!) It's always lovely to hear this but I always ask people to come and say hello next time! I love to chat and meet new people.
What are some of the personal challenges that come with being an 'influencer'? In my experience sometimes it can take a bit of a toll on relationships. It's no secret I love to post a topless selfie which in the past has caused a tiff (or two!). The thing is, I love fitness and I definitely have a cheeky side, it's just me and I wouldn't change for anyone. Other than that I have been really lucky, everyone on my Instagram has been so supportive and positive that I can't be anything but lucky and grateful.
Did the fact that you worked in sales and marketing at Universal Pictures help you in terms of being more savvy about how to sell yourself? Not really, I never really try to sell myself as such, I just post what I like to talk about and hope that my followers relate. If I work with a brand, it's always something I have tried, loved or something I already used. I wouldn't work with a brand that wouldn't fit into my lifestyle.
What has been your experience of working with brands? Nothing negative!
I noticed a lot of influencers have gripes with working with brands but I can honestly say I have always had such nice experiences.
It's a really honest and simple collaboration. If a brand doesn't have a budget for a project then it's always nice to keep in touch as they may have in future. Even without a budget, sometimes it's nice just to try something new and if its amazing content for my social media. I have got to try a lot of products and experiences through working with brands and have made some fantastic relationships.
How do you balance your responsibilities with your followers and the brands you work with? I just keep everything really honest, if I don't like a brand I won't work with them. Never in a negative way but for example, I work very hard on my fitness and my diet is a huge part of that. I couldn't collaborate with a doughnut brand if I haven't eaten doughnuts in a decade! It would be deceptive and it wouldn't help my followers achieve their goals.
List three things PRs could do to build better relationships with influencers? I think that personability is something many PR companies lack. I find that when a representative is approachable and perhaps less formal, you are both more likely to work with each other again.
Influencers are not like working with an advertisement agency or a contractor. They are just people who have a passion for social media with a relatable or appealing personal brand.
I think you just have to know your audience!
You've been quoted as saying that growing up you felt 'insecure about your body' and 'coming out' but that working with brands on social media has helped you to become more confident. How so? Instagram is a very vocal app and people behind keyboards are perhaps more confident than they would be in life. This for me has been a hugely positive experience. When I started going to the gym it was due to my insecurities, I didn't feel comfortable with myself and with the gym I could see the light at the end of the tunnel. It was via Instagram that people would notice the changes in my body; they sent a load of positivity my way. The more I bettered myself the more vocal they would be – this is perhaps something that isn't a commonplace face to face. As I got more advanced and passionate about my fitness people started to ask for help on their diets and fitness routines, I was able to offer all of that which felt amazing. I had come a long way and now I was able to point people in the right direction who felt like I once did.
Do you see yourself moving into vlogging? I would love to, my followers have sent me some really positive encouragement to start a blog but I just haven't found my avenue yet. I love health and fitness but I also have interests in grooming and fashion. It's definitely something on the cards, and soon!
What has been your career highlight as an influencer? Recently I have become a yes person, and I started to accept opportunities I wouldn't have dreamt of a year ago. I am now signed to a modelling agency and building up a portfolio as well as working with some amazing brands as a dual purpose model and influencer. My highlight is now!
What will be big in the up and coming months on your Instagram? I am working on some great things at the moment including a healthy burger chain and a gym brand to name a couple! My most exciting projects yet. Influencing has kept me so busy and now becoming a model and getting to work with brands I am much happier with my situation. I can officially admit that I will be leaving my desk job and concentrating on what I love.
Take 5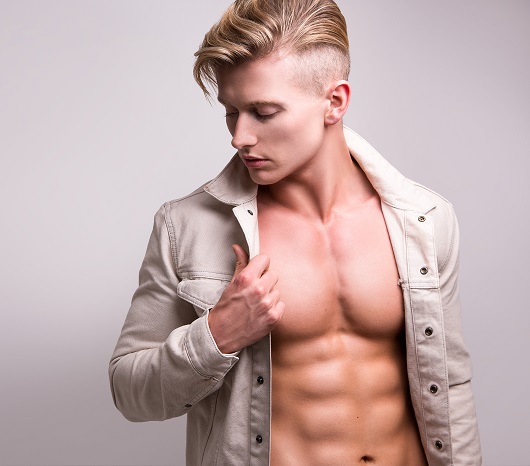 Can you tell us a surprising fact about yourself? I did a lot of schooling! Growing up I was unsure what was achievable in my life so I just studied. I had a Masters degree by the time I was 22 (in International Marketing and Management) and had already graduated my BSc while studying mandarin Chinese for 3 years.
What's the biggest misconception about you? Some people assume I have had a really cushioned upbringing and spend all my time travelling but my parents always taught independence to my siblings and I, we aren't from a particularly affluent background. I think that has made me a more motivated person but more careful in my decisions as I don't have any safety nets. I have supported myself a hundred per cent since my first day of university (with some interesting jobs!) and I've never asked my parents for money.
What makes you happy? There isn't a single sad song on my playlist. I need to feel like part of the world, nothing makes me more miserable than sitting in front of a computer all day, but that's just me. If I am posting on Instagram, trying new things or out on a shoot I feel as though I'm making my own little impact and that's what makes me happy.
How do you create balance in your life? That is something that takes up a huge amount of my time and probably the hardest obstacle in my career. Juggling the gym, influencing, modelling and planning your next moves along with a full-time job can be menacing. I am completely independent so it's a lot of pressure to get it right. Usually, I stick to a routine, go to the gym and try and work my passions around it.
What motivates you? My biggest motivation is the most simple – life is too short. If you aren't happy, make a change. If you want something, strive towards it and what I'm learning at the moment is that in order to reach your goals and dreams you have to take risks to make them come true.
https://www.vuelio.com/uk/wp-content/uploads/2016/10/Kevin-Mcaulay-Vuelio-Spotlight1-1.jpg
414
700
Jake O'Neill
https://www.vuelio.com/uk/wp-content/uploads/2019/09/vuelio-logo.png
Jake O'Neill
2016-10-06 11:01:00
2016-10-06 11:01:00
Influencer Spotlight: Kevin McAulay