PR Spotlight: Valentina Kristensen, OakNorth
Working in PR has been a life long dream for Valentina Kristensen, who is head of comms at OakNorth, a bank for entrepreneurs. Valentina cemented her place within the industry after winning the CIPR outstanding young communicator award in 2015. In this Spotlight Valentina speaks to us about why PR is not just about media relations and getting coverage, why increased smartphone and internet penetration in developing countries will open up new markets for media professionals, why public relations is going to be the driver of reputation in business, and the important role CIPR schemes play in helping to develop young PRs.
Can you talk a little bit about your professional background? I think I've known that I wanted to work in PR since I was about sixteen! I was always very interested in the way that brands are created and developed – at university as part of my business degree, we studied marketing and communications and I was fascinated by it. At the time, I'd really only considered consumer PR and hadn't really thought about the fact that banks and insurance companies need PR and reputation management too. Therefore, most of the work experience I gained throughout my university years was in consumer PR. In 2010 however, the BP oil spill happened and that, coupled with the ongoing financial crisis, made me want to pursue a career in corporate and financial PR. I had just graduated and was on the cusp of finishing a three-month internship when I heard of an opening for a trainee executive position at Lansons. I went for it, fortunately got it, and the rest is history!
What do you most like about your job as the Head of PR and Marketing at OakNorth Bank? And what are the challenges? I think one of the great things about working for OakNorth generally is that I'm working for an entrepreneurial, disruptive brand that I feel is genuinely doing something different. An amazing opportunity – but also a challenge – lies in building the brand from scratch. Unlike many other new banks in the market, we didn't have an existing brand or a number of physical retail outlets to capitalise on, but we also benefit from being new and therefore avoid being painted with the same brush as many of the larger, high street banks.
Being given the opportunity to establish a press office, help build a brand from scratch and lead a comms programme is a huge step for me and a chance to challenge myself more than I've ever done before. I report directly into the co-founders, Rishi Khosla and Joel Perlman, and they're very involved in all marketing and PR activity, which is great as it means all decisions are being considered at a board/C-suite level in line with business strategy.
One of the other elements I really enjoy is the team – and I don't just mean those who work on the marketing and PR side of things – I mean everyone from risk and compliance, to business management, HR, product development and IT. Everyone works together and it's a really friendly, fun environment. Most of the time, I don't really feel like I'm working for a "bank"!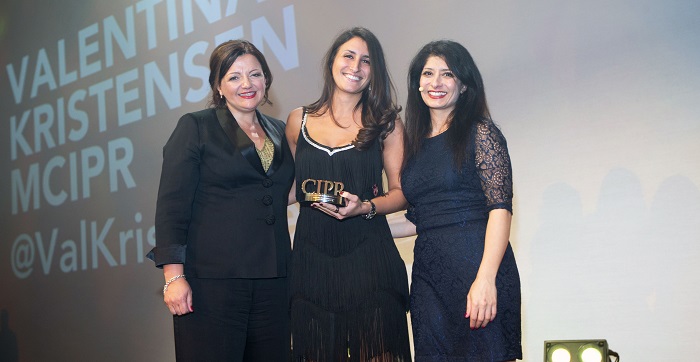 In 2015 you won the CIPR Outstanding Young Communicator Award, what does that mean to you? It was such an honour to win the award and it came as a real surprise. I was so nervous in the interview that I thought I'd completely buggered it up! So when I heard my name called on the night, I honestly couldn't believe it. Since then, it's opened so many doors for me; for example being given the opportunity to join the editorial board of Influence – the CIPR's member magazine – which has been a valuable and eye-opening experience. It's also meant that I've had the chance to meet fellow Young Communicator Award-winners and share experiences and lessons with them. One of the benefits I hadn't considered was the huge confidence boost it gave me and the chance to prove to other young practitioners that they can do it to regardless of their age or gender.
CIPR schemes such as CPD have been designed to create a higher standard for practitioners in the industry, why do you think this is important for the new generation of PRs and what impact do you see it having? I think is CPD is extremely important for two main reasons: the first is that the industry and our roles are constantly changing and we need to stay on top of those changes. Throughout my working week, I come across a number of challenges I hadn't anticipated and I find myself needing to develop a new skill or learn about a new sector with very little time. CPD provides me with a valuable platform to obtain guidance and materials that help me develop these skills and understanding.
The second reason is that our industry is professionalising and CPD is a huge part of driving that. Having a professional development qualification, similar to those that lawyers, accountants and financial advisers have in their respective industries, is a huge step up for our profession.
After decades, we are finally being given the chance to have a seat at the table, C-suite marketing and communications roles are appearing on the boards of every major company in the world, and we're being taken seriously. For me, CPD helps prove the importance of our role and demonstrate that PR is not just about media relations and getting coverage!
During your time at Lansons you benefitted from a scheme called Career Management which partners senior staff with those earlier in their careers. How did this help you in your professional development? The Career Management scheme at Lansons is extremely effective – having a senior person to talk to, bounce ideas off and be able to go to with any questions or queries is so helpful, not just in the early days of your career but throughout. Even board directors at Lansons have career managers and career partners. My first ever career manager at Lansons was a brilliant PR practitioner, Fiona Kehilly, who has since moved on to join the in-house team at Henderson. I learned a huge amount from her and will still drop her a line every now and again when I need advice or have a PR friend who's keen to move into asset management.
Lansons has a very open-door policy so even beyond the Career Management scheme, I always felt like I could go to different people in the agency for advice and support. Bev Aujla and Louise Marriott, both board directors at Lansons, have helped me out so much in my career – they were two of the first people I called for advice when I was considering the role at OakNorth. So you almost end up with an amazing PR support system that you can draw upon even when you've left Lansons!
What future trends will have an impact on PR in the near future? There are so many – increased smartphone and internet penetration in developing countries (which will open up whole new markets for media professionals to reach and target); changes to legislation such as the Right to be Forgotten; social media, but one that sticks out for me is corporate governance. Recent headlines have thrown corporate governance issues at the likes of BHS, Volkswagen, and Sports Direct into the spotlight. The accountability of senior executives is becoming an increasingly hot topic on the news agenda which means we, as public relations professionals, have our work cut out for us. 10 years ago, the C-suite could have hidden behind their media teams, deflecting questions with "no comment" but today, that won't fly.
The rise of social media and public-led content means there's nowhere left to hide (not even on a yacht in the Mediterranean!) – if you don't respond, the public will draw you out. I think this trend towards an increased demand for corporate governance, accountability and transparency will continue and as a result, good public relations will become even more vital.
You've been quoted as saying that public relations is going to be the driver of reputation in business, can you elaborate on that?
Essentially, I think that when it comes to business, most people care about more than just the financials. They want to know about the non-financials too – what is your business' impact on society? What role is it playing in the local community? What's the diversity of the board? – and that is where PR and communications can play a key role.
What top tips would you give to a young person wanting to pursue a career in PR?
Believe in yourself: I know this sounds like such a cliché but it's so important. If you're constantly second-guessing yourself and worried about making a mistake, you'll never have the confidence to speak up in meetings, put your ideas forward, or challenge yourself as much as you could. These are all the things that help you advance in your career and present new and exciting opportunities that you may not have otherwise come across.
Seek advice as often as you offer it: one of the great things about our industry is that you can never stop learning. There's always another skill you could develop and so many experts who are keen to share their knowledge. The Career Management scheme at Lansons works so well because everyone gets the chance to be mentored and to mentor someone else. Teaching others, and offering advice and support, is one of the responsibilities I enjoy most about my role.
Network like your life depends on it: So many of the opportunities that have presented themselves to me over the years have been from attending industry events and proactively getting to know new people. Having a network I can draw ideas and insights from, as well as connect to others who may be able to help, has been so valuable to me throughout my career. I've been fortunate enough to work with some amazing networkers – Sarah Pinch (founder of Pinch Point Communications) and Clare Parsons (co-founder and Chairman of Lansons) – both of whom have provided me with amazing advice, support and opportunities over the years.
What's been your career highlight? Oh gosh that's hard…I don't think I can pick just one! Okay, here are my top five:
Helping arrange a Young Women in Media event at Lansons – myself and another trainee at the time (who's now one of my best friends) put forward an idea to host an event at Lansons focused on networking. It turned out to be a great event and it taught me a valuable lesson about the benefits of putting myself out there and not being afraid to suggest new ideas.
Establishing the International Exchange Programme at Lansons – this definitely has to be one of the key highlights of my career. It's led to a number of people from agencies all around the world being given the opportunity to spend time at Lansons and experience first-hand how the agency gets works done. It's also given a number of people from Lansons at all different levels, the chance to visit agencies in other cities and markets, and learn from them. I myself, was given the  chance to spend time with four agencies in New York City as part of the Programme.
Winning the CIPR Young Communicator of the Year Award – obviously!
Being on the CIPR's editorial board has been a fantastic experience so far – being able to see the first edition of Influence land on members' doorsteps after months of deciding on the layout, format, content, etc. was just so gratifying and very humbling as it gave me a new-found appreciation for the work journalists and editors do!
Breaking even – we've just celebrated reaching break even here at OakNorth. It's a huge achievement for a business that's been operating for less than a year and we're the first new bank in the UK to do this, so I'm really proud and grateful that I've been able to be a part of it.
 What motivates you? I have a genuine interest in PR, marketing and communications strategy which certainly helps! I also believe that the industry is changing for the better and becoming more professional. As a result, our role within businesses is becoming increasingly important and I want to help drive that change and be a part of it.
My friends are also great motivators – many of them work in PR too and are all incredibly successful award winners, heads of departments, you name it. Seeing what they've achieved helps keep me motivated and on track. It also adds a sweetener when there's industry events to attend as we all know we'll see each other there!
 What's next for you? Do you have any exciting projects coming up? No new projects that I can think of but if there's one thing my career's taught me so far, it's that you never know what opportunities will be lurking around the corner!
I know I will fortunately be keeping my position on the CIPR's editorial board so will be looking forward to putting together lots of exciting new content for Influence next year. We've also recently rolled out an events programme as part of it, so will be hosting an event each quarter to correspond with the publishing of each issue. We held our first event earlier this month with Mihir Bose, the award-winning journalist and author, as the guest speaker and it was just brilliant.
There will also be plenty more milestones to celebrate at OakNorth so I'll be working with the team to continue building the brand and hopefully one day, we'll be a household name amongst entrepreneurs!
https://www.vuelio.com/uk/wp-content/uploads/2016/09/Valentina-Kristensen-Vuelio-Spotlight-1.jpg
617
697
Jake O'Neill
https://www.vuelio.com/uk/wp-content/uploads/2019/09/vuelio-logo.png
Jake O'Neill
2016-10-06 09:53:27
2016-11-11 16:18:04
PR Spotlight: Valentina Kristensen, OakNorth