Luxury travel spotlight: Bonnie Rakhit, TheStyleTraveller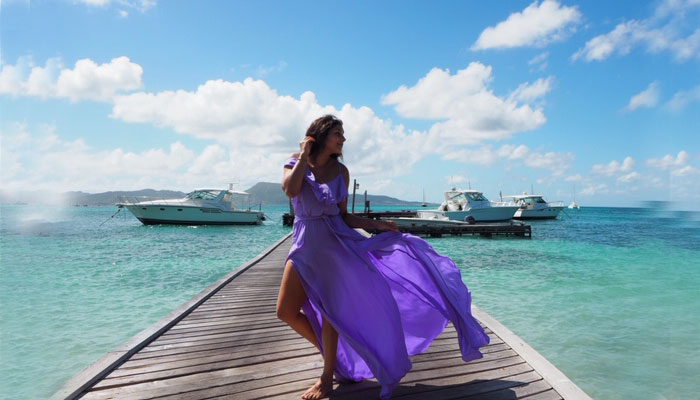 Bonnie Rakhit, former fashion editor at Elle is the fashionable face behind TheStyleTraveller. Bringing plenty of style to our luxury travel blog ranking, TheStyleTraveller couples beautiful photography to spark your wanderlust with fashion tips and hints.
We caught up with Bonnie to find out how she balances visual and written content, her favourite hotel in the world and the best brand collaborations she's worked on.
How do you describe what you do to other people?
It started out as journalism, in that I was the Fashion Editor at Elle Magazine and then it morphed into blogging on my blog, TheStyleTraveller, but over the years particularly due to the changing media landscape it has become so much more. I'm an influencer, a content creator, a writer, a model, a blogger, YouTuber, presenter, I'm not sure where the list ends!
How do social channels work with your blog? Are any more important than others?
They all work together organically. With regards to bringing traffic to the blog Pinterest and Facebook work the best, but with regards to promoting the imagery from the blog Instagram is a great showcase. Now that I'm also doing YouTube I guess they all compliment the brand as a whole.
Do you feel travel blogging is segmented (luxury/standard/local/family/budget etc)?
It can be. People do have specific needs when they travel so it makes sense to have genres and niches. I focus mainly on luxury travel as that's what I love. But essentially everyone is looking out for the best deal they can get.
What's the best balance between visual and written content?
It depends which platform you are on. With the blog I tend to have around 15-20 images per post and balance it with relevant copy. Visuals are very key to my experience when I'm looking at travel inspiration, so I focus on that when putting together my blogs too.
What's your favourite hotel in the world?
There's too many to mention! But I love the Taj Palaces in India, the incredible Belmond hotels in Peru and the cliff side hotels in Santorini.
Which airline is the best (and why)?
Again, each has their own attributes, but I do love flying Virgin to America or if I'm headed to Asia, Emirates and Qatar are great.
How conscious are you of political upheaval and local issues when travelling?
I always check with foreign office websites before travelling to potentially dangerous areas. It's not worth getting into trouble in an unknown country for the sake of a sunny holiday.
Do you accept press releases?
Yes, they are really useful. Particularly ones which showcase the destinations with images. You'd be surprised how many releases I get with no photos of the property or destination, it seems crazy not to include imagery of the places in an email when we live in such a visual age.
What's the best PR campaign/collaboration you've worked on?
I love working with Ferrari (for obvious reasons) and also Laurent Perrier who I've been on a few trips with lately. Clothes-wise I love working with Revolve and this year I plan to venture into beauty more.
What other blogs do you read?
I love my friend Angie Silverspoon for her luxury foodie edits, Sincerely Jules for the fashion and Gypsea Lust for her never-ending wanderlust. 
https://www.vuelio.com/uk/wp-content/uploads/2019/05/bonnie-rakhit-the-style-traveller.jpg
400
700
Holly Hodges
https://www.vuelio.com/uk/wp-content/uploads/2019/09/vuelio-logo.png
Holly Hodges
2019-05-28 11:00:03
2019-05-28 10:41:13
Luxury travel spotlight: Bonnie Rakhit, TheStyleTraveller