Spotlight: Paul Clarkson, The Sun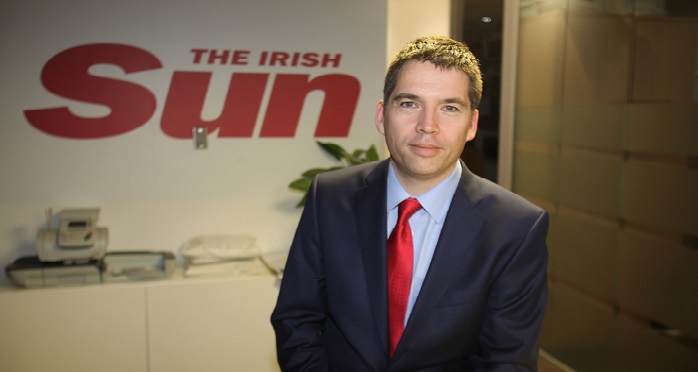 Last week it was announced that the editor of the Irish Sun Paul Clarkson has been appointed as The Sun's new managing editor. He will start his role on the 20th April. He talks to us about why the newspaper is still the pulse of the nation, the challenges of growing revenue across digital platforms, why Facebook and Snapchat want the Sun's content and why the press still has a massive influence on voters.
What are you looking forward to about your move to London? It's an opportunity to work with some amazingly talented journalists for a newspaper that is still, in my opinion, the greatest anywhere.
What are your plans for The Sun paper in 2016? I want to support the new Editor Tony Gallagher in his vision for The Sun. These are challenging times for traditional media. But when has The Sun ever been traditional? We have an exciting challenge to grow reach and revenue massively across all our digital platforms. The Sun newspaper is still the pulse of the nation. More people use The Sun to book holiday's, choose their fantasy football team, catch up with their daily news or get the showbiz and sports gossip than anyone else in Britain. To be able to do that we need to ensure our teams are structured and resourced the right way to exploit all the opportunities for print, digital, commercial and other revenue streams.
What do you see as the main differences between the Irish Sun and The Sun? Is there a part of the Irish Sun "vision" you'll be bringing to the UK paper? The Sun shares the same irreverence, humour and ability to tell a story brilliantly wherever, whenever and however it is published. I think the two titles share the same ethos. What was interesting was how the Irish Sun came through the worst financial crisis in the history of modern Ireland. The Irish Sun's print circulation is now in year-on-year growth most weeks. Commercial revenue has held steady. The Irish Sun tried to bring a real spirit of innovation and clarity of purpose. I was really proud of how our election coverage got to the heart of the debate in a lively, informative and real way. It constantly launched new products, supplements and editorial initiatives. The spirit of collaboration with commercial brought very real results – and gave resources to support better journalism. The Sun is in a very fortunate position. It has a massive presence and amazingly creative people. The opportunity to unite those strands to keep the success story going is very exciting.
What advice do you have for trainee reporters? I've succeeded, have I? I hope you still say that in a few years time! My advice for trainee reporters is to be humble, ambitious and interested in people. A reporter usually succeeds when they care about the story, which means caring about the reader. A thick skin without a cold heart is a good combination. And seize every opportunity with both hands. No one owes you success.
What's the editorial impact of the paywall coming down? It has been encouraging for The Sun's journalists to see their content reach as many eyes as possible, which wasn't always the case when we had the subscription model. The Sun is meant to be at the heart of the national conversation. It is very shareable. So it suits social media and the journalists respond to that. The situation is constantly evolving. The print product continues to be honed for the changing nature of the world. And there are interesting battles between platforms like Facebook, Apple and Snapchat. They all want and need our content, which is the important thing.
Does it mean a shift in the relationship between commercial and editorial? I think there are clear and important distinctions between editorial and commercial and the independence of our journalism will aways remain paramount. But we can offer tremendous opportunities for advertisers across all sorts of platforms. We can give them content that enhances their brand messages and offers more value to customers than advertising alone. One example in the Irish Sun was a column sponsored by and featuring Paddy Power. It is clearly marked as a paid for advertising feature, but retains our production values, and the column is actually a very entertaining read.
The importance of newspapers in shaping voter preferences – where are we with the EU referendum? The Editor Tony Gallagher has been clear that the paper's readers in Britain remain very sceptical about the EU. It is clear the press still has a massive influence on voters. You only need to have a look at the last British General Election for clear evidence of that.
What do you think Stig Abell's (former managing editor of The Sun) tenure will be remembered for? He is a very intelligent, but down to Earth man. He brought a different style of leadership during a tough time for The Sun. He'll be remembered fondly for interesting fashion choices, but also a brilliant grasp of The Sun's rights and responsibilities within IPSO and legal guidelines.
How will you work with Tony Gallagher and Gordon Smart? Closely. Tony's journalistic record is clear. He has such amazing passion for a story and I'm really impressed by his fearless approach to the Establishment in Britain. Gordon has a real feel for The Sun. He did a great job as Scottish Editor after going up from London.
And finally what do you do in your spare time? I've three young kids so I don't have any spare time. I slightly obsess about Tottenham Hotspur.
Take 5:
What's your favourite ice cream flavour?
Not an ice cream fan. I love lemon sorbet though.
If you were a colour in a crayon box, which colour would you choose and why?
White. No one ever uses that crayon, so I'd last a bit longer.
What's the hardest thing you have ever done?
The hardest thing for a journalist is always the death knock. I still remember spending hours with a mother who had lost two identical twin girls in a car crash. But it reminds you of your responsibilities as a journalist and the impact of what you write on the public.
What is something you've always wanted to try but have been too scared to?
Sky-diving. I don't think I'll ever actually jump out of a plane with no more than a glorified duvet cover on my back.
If you could trade lives with one person for an entire day who would it be and why?
Kim Jong-Un. I'd free North Korea. And then get a better haircut.
https://www.vuelio.com/uk/wp-content/uploads/2016/04/paulclarkson.jpg
372
698
Jake O'Neill
https://www.vuelio.com/uk/wp-content/uploads/2019/09/vuelio-logo.png
Jake O'Neill
2016-04-12 13:02:21
2016-04-12 13:20:57
Spotlight: Paul Clarkson, The Sun