London Marathon: 'There are stories to be told and PRs can help,' Telegraph's Hugh Morris
An interview with Hugh Morris, news editor and staff writer at Telegraph Ski and Snowboard. On 13 April, Hugh will take part in the Virgin Money London Marathon, his first (and last) attempt at the race, in memory of his father who died of Leukaemia. Hugh spoke to us about being tired, staying motivated and using the right channels to raise funds for his cause.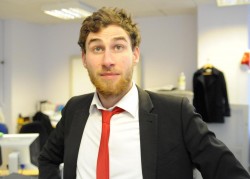 Have you ever taken part in a marathon before?
No, this is my first marathon. I've been down to watch the London Marathon before and the atmosphere has just been incredible and  I've always wanted to be a part of it. There is a certain amount of honour attached to taking part in a marathon as well. When the opportunity presented itself in November last year, I figured it was the best time to do it.
Are you following a training routine? What changes have you had to make to your work-life schedules to prepare for it?
I follow a loose training plan that I found on the Internet.  I run on three days of the week, including once over the weekend. I usually train after work, around Hyde Park. I once tried running to work and felt absolutely awful – like I hadn't woken up. And then I had the whole day ahead of me, so that didn't work.
Training takes up a lot of your time and you have to make sure you leave enough time for and around it. You can't accept some invitations and you don't really want to enter a pub when you know you've got a long run coming up the next day. I like to keep my weekends free to do a long run because when you're finished, you're too tired to do anything else. There is a limit to what you can do in a week when you're training.
What inspires you to keep going then?
When I was nine my dad died of Leukaemia – and I always knew that if I ever did something for charity, it would be for this cause. The charity I'm running for is the Leukaemia and Lymphoma Research and we've already managed to raise £1,000.
I don't enjoy running and there's definitely no fun in training but when it gets tough, then you think of why you're doing this and when you have a reason such as I do, you draw on that inspiration.
How are you going about raising funds for the sponsorship? What media platform has worked best?
It certainly helps to have The Telegraph to write about the sponsorship on! My articles are a personal account of my training experience for the marathon. If you read it, you'll know that I don't find this a particularly fun experience so I've tried to mix it up with a sense of humour along with the human element, which appeals to people.
Wirral Globe, which is a newspaper in Liverpool, where I'm from, ran a piece on me running in memory of my father which has really helped getting the story across.
But other than that I have used social media to spread the word which has worked well in getting people talking – Facebook has been useful as it's easy for people to share the message. I use Twitter a lot daily, and I find it helps keep people updated and is a great platform for me to thank people and plug my sponsorship.
Have your worked with PRs in raising funds for your sponsorship?
It was the PR for Leukaemia and Lymphoma Research that helped get the story in Wirral Globe. But on social media you are your own PR.
What role can PRs play in helping charities find people to sponsor them?
The important thing though is that there are lots of stories to be told behind why people are taking part in the marathon – sad ones, funny ones, celebratory ones. PRs need to dig deeper to get a hold of these people and find a way of telling these stories. I found this charity myself, but I know people who are running but have not been contacted yet – there are stories to be told but it is a case of PRs being bolder and taking more of a chance to find the right ones.
Do you think you'll finish the race?
I hope so. I sprained my ankle a week ago while skiing but I've given it some rest so should be good to go.
Take 5
What is the one thing you're holding off until you finish the marathon?
Giving up running
Do you have any surprising hobbies or interests?
The Schlieffen Plan
What would your super power be?
Time travelling
Who would play you in a film?
Zach Braff
What are your weekends incomplete without?
13 hour sleeps
Priyanka Dayal
https://www.vuelio.com/uk/wp-content/uploads/2023/09/vuelio-logo-200px.png
Priyanka Dayal
2014-04-01 13:15:20
2014-04-01 13:15:20
London Marathon: 'There are stories to be told and PRs can help,' Telegraph's Hugh Morris