Media Spotlight: Friday's Child | Nicky Clarke
A Spotlight of London's latest weekend guide, Friday's Child. We spoke to creator Nicky Clarke, who is a freelance journalist and restaurant PR. He previously had a travel column in the Independent called The Hedonist, and he now works full-time at a PR agency looking after restaurants in the city. He told us why he decided to launch Friday's Child, how PRs can help and his top London recommendations.

Why did you launch Friday's Child?
London's a noisy city: there are so many things going on at once and so many publications shouting about them, it can be hard to know what to do when it comes to the weekend. Magazines tell you what to do, but often the information is out of date by the time it goes to print or you can't remember what you read about in the first place. So you turn to Google, which throws up thousands of websites that are too numerous to get through in any one lifetime.
Then you've got your daily newsletters, which are a condensed edit of what's usually found online. But these are still overwhelming, often span too many topics and there's still too much to read. That's where Friday's Child comes in. With just three picks each week, it's an edit in the truest sense of the word. A recommendation for something to do on Friday, Saturday and Sunday, and that's it. Short, sweet and spot-on.
What should people expect?
Launching the first week of February, once dry January is but a distant memory, Friday's Child will tell Londoners how to spend their two most valuable assets – time and money – during they days they live for: the weekend. It will feature carefully-curated content with a well-informed inside edge – restaurants, bars, hotels, pop-ups and everything in between. But the best bit is that each issue will come with a reader perk; whether that's a round of complimentary cocktails when booking a booth at a bar or a secret, off-menu item when reserving a table at a restaurant.
What plans do you have for Friday's Child in the future?
It is early days, but I'd like to introduce a small amount of content on the homepage itself – perhaps a daily 'editor's pick', for example – and if the concept is successful then roll it out across other cities. If I say anymore, I'll be giving the game away!
How would you like to work with brands and PRs?
It's a bit of a chicken-and-egg situation, but I'd like to feature a PR's clients alongside a perk for my readers; so a complimentary round of drinks when they book and quote Friday's Child, for example. But I realise that this may come more into play at a later stage, once subscriptions start to build. As long as I have one perk for readers per newsletter at the beginning, I'll be happy, but down the line I'd like to have a perk with each story. So three per issue, and additional ones for social media.  
What do PRs do that's bad?
I'm both a PR and a journalist, so I can see both sides, but I hate to be pursued relentlessly. Ping me the email and if I'm interested I'll be in touch; there's nothing more annoying than a follow-up call from a PR, either. A follow-up email does the job just fine!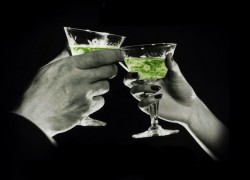 Take Five – London Special
What's your favourite bar in London?
I love the bars at Dean Street Townhouse and Riding House Café. I'm much more into that kind of atmospheric wine-bar feel than the down-and-dirty dives of East London, however cool.  The bar at Dabbous is a slick spot too, and a good way to try the food without the hassle of getting a table reservation. 
What's your favourite restaurant in London?
I'll always choose places with good buzz over those with white tablecloths and tasting menus; a current favourite is Balthazar in Covent Garden for steak frites, but I'll always have a soft spot for the chicken kiev at Bob Bob Ricard in Soho and the wild boar ragu at La Famiglia in Chelsea. Trinity in Clapham is near where I live, so it's a great one for family get-togethers, and its sister restaurant Bistro Union is just brilliant for Saturday brunch. And don't tell anyone, but Circus in Covent Garden is a bit of a guilty pleasure, too. How can you not like a restaurant with trapeze artists overhead?!
What's your favourite place in London?
I absolutely love Abbeville Road near where I live in Clapham; it's middle class to-the-core, with its bistros and boutiques, but it's the perfect place to while away a Saturday afternoon with a chilled pint in the Abbeville and a Scotch Egg from the Ginger Pig.

What super power would you have?  
Transforming dull-as-dishwater weekends into unforgettable ones.   
Who would play you in a film?  
Justin Timberlake. At least that's who I'd like to think.
Friday's Child can be found at www.yourweekendstartshere.com and on Twitter @fri_child. Editorial information on Friday's Child, Nicky Clarke and thousands of other media contacts and outlets, can be found in the CisionPoint Media Database.
Priyanka Dayal
https://www.vuelio.com/uk/wp-content/uploads/2023/09/vuelio-logo-200px.png
Priyanka Dayal
2014-01-14 13:59:37
2014-01-14 13:59:37
Media Spotlight: Friday's Child | Nicky Clarke