Media Spotlight: Hope Street
Hope Street recently launched in print and online as a niche fashion biannual magazine. Covering luxury brands, the magazine also aims to highlight up-and-coming talent and designers. Cision spoke with founder and editor Sara Hill about her magazine's Scandinavian vibe, writing for a global audience and her fashion icon Vivienne Westwood.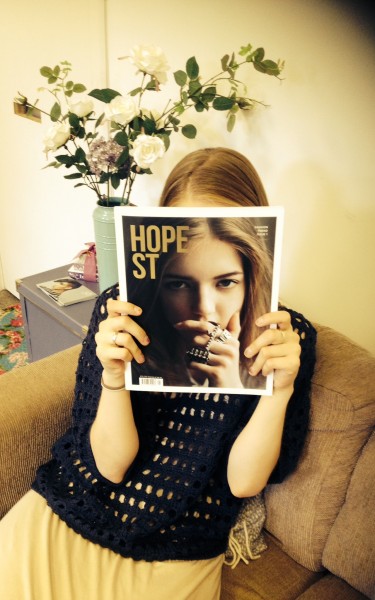 Why did you decide to predominantly launch in print?
I have always loved print; I never wanted to create an online magazine because it wasn't something I personally read. I'm old fashioned – I love the feeling of the texture of a printed magazine. I've been in the fashion industry for about 16 years and I'm a total lover of all magazines – I spend a fortune on them every month.
Also, as the first issue is predominantly funded with my own money – I know, I must be crazy! – it gave us the freedom to just do what we want, which was great. Next issue, don't get me wrong, as many advertisers as possible would be lovely.
How was the design affected by that freedom?
We wanted to create something that was quite soft and feminine but also had a little bit of a quirky edginess to it. The photo editor Anette Schive (pictured) is from Norway and I feel she gives Hope Street that lovely, slightly Nordic vibe to the magazine. We were inspired by Dansk and Bon magazines and wanted to bring their style to the UK.  
Scandinavian magazines are clean, minimalistic, beautiful and not very aggressive with their imagery. There is something quite dreamlike about them, which is a quality I think Hope Street shares. We've got an amazing designer who has, again, worked for a number of Nordic titles and loves typography. We feel that clean crisp look is what we're aiming for and we will keep it through every issue.
Who is your target audience?
Predominantly people in the fashion industry, but also people who love luxury, want the latest thing and to keep on trend. And because it has an eclectic mix of editorials that are dreamlike, I think it will attract artists and people in the creative industries as well.
Because Pineapple Media is our distributor we're now across the world. We're in Japan, America, Canada, Australia, New Zealand and all across Europe. We've also had emails from China, who love it and want to take the next issue. I write with this global audience in mind. I'm from Glasgow and so I like to highlight countries that are not necessarily within the fashion capitals and have a look and see what they're doing.
Is there a language issue when creating a global magazine?
Not really because the magazine is ridiculously image heavy. I'm such a page flicker and I basically wanted to create something that was for me. The first issue has 149 pages and there's only about ten pages with editorial on them. There is also only three ads in it, so it's really a big beautiful book of dreams. It has a bit of a coffee-table vibe really, people can flick through and look at the pictures. It's what I like and my friends agree (that was really the extent of my market research).
How does the website work with the print mag?
The magazine was made in about six weeks and the website was kind of an afterthought. Over the next few months it will become a bit more interesting and we've currently got some interns sourcing content for it. We're also on Twitter @hopestmagazine, Instagram and Facebook. There's so much to do, it's crazy. I don't have a big entourage, so everyone is working really hard.
How do you work with PRs?
I believe in building connections with people and I think PRs do a great job within the fashion industry, I have a great respect for them. I'm definitely interested in connecting with showrooms and PRs for Hope Street and building those relationships.
I will always stay true to what we initially came out with and not get too carried away. If we start losing that we'll lose our integrity. For me, each image is a piece of art – as soon as anyone tries to play around with that it's not going to work.
Take Five
Who is your fashion icon?
I love Vivienne Westwood. I want to look like, no, be her when I'm older. She's fab. 
What one item of clothing could you not live without?
I've got a beautiful coat by a designer called Katy Clark who made it for me. She came fourth in a young designers of the future ceremony in Berlin. I love the coat and I will wear it until the day I die.
What superpower would you have?
I'd love to fly. Time travel or flying – I don't know, I've thought about this for a while. Flying would be good, I love travelling and hate public transport, so it's perfect. Time Travel as well, can I have two?
Who would play you in a film?
She looks absolutely nothing like me but Anjelica Huston because she's totally bad ass, I love her. Angelica Huston and Vivienne Westwood, I'm going to sound like an absolute fruit loop – all the PRs are going to be terrified of me.
Editorial information on Hope Street, Sara Hill and thousands of other media contacts and outlets, can be found in the CisionPoint Media Database.
Priyanka Dayal
https://www.vuelio.com/uk/wp-content/uploads/2019/09/vuelio-logo.png
Priyanka Dayal
2013-10-09 13:04:36
2013-10-09 13:04:36
Media Spotlight: Hope Street