Media Spotlight: Liberty London Girl
Liberty London Girl is a digital lifestyle platform, founded by Sasha Wilkins, on the success of her eponymous blog. Sasha spoke to Cision about working with brands, the value of blogs and racing cars.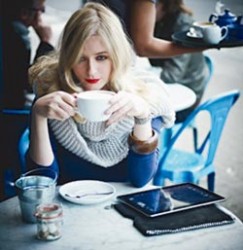 How would you describe Liberty London Girl?
At the heart of the business is the Liberty London Girl blog. It is a lifestyle blog, although I'm often called a fashion blogger, because I used to be a fashion editor I think that's lazy, because I cover beauty, food, dogs, cake, travel and hotels, and events around the world, as well as still writing an online diary of my life. All the content on the site is generated by me: we don't ever run news stories, re-write press releases, or use external imagery or video.  All the content is experiential,  (i.e. I have tried out everything for myself – be it product, event or destination.) This goes for advertorials/sponsored posts too, which are always are created in-house. 

How do you work with digital?
Well, LLG is a digital business, so it's at the heart of everything that we do. Of course LLG is on Pinterest, Twitter, Instagram, Vine, Facebook, YouTube and Tumblr, but I don't see them as separate platforms, they're all part of an integrated world view.
How do you charge for content?
We are very, very picky about who we choose to work with, and have consistently turned down more offers than we accept.  We never run external campaigns on our platform: everything we do with brands and agencies is bespoke, be it a film, post or event.  I'd rather run one campaign a month that looked beautiful and was brand appropriate, than take the money to plaster my site with crap. When brands see my rate card they may think it is reaching but I can back it up: If you compare our costs with working with one of the small-medium magazine Nast, then you see that you often get more value for money with LLG in terms of visibility, search and long term reach
Do you work with other bloggers?
I made a conscious decision not to join any blogger platforms or agencies, as I have external talent representation with Curtis Brown, and my background in magazines and as an executive fashion editor in London and in New York, working with global brands, meant that I already had the address book and experience to build my commercial business, without needing an agency to broker those introductions, or hold my hand in the marketplace.  That being said, I am very proud to be part of the blogging community, which is a great, supportive world – often quite different from magazine publishing.
How do you work with brands?
We are usually approached direct by agencies or brands I already know to work with them on projects. These are usually multi-platform, and can either be stand alone bespoke advertorial, or advertorial as part of a larger campaign. In that case I will either be attending an external event (Tweeting/red carpet/hosting/broadcasting), or conceiving and hosting an event myself, and the content from those events will then be packaged appropriately and disseminated across my  digital platform. We also create content for the brands at the same time, be it photography, editorial, or digital films, which we make under the aegis of my production company Wilkins & Ross. Because I have extensive broadcast experience, it is helpful that I can film links, record V/Os, present segments or interview talent for clients as part of these projects. I am also often asked to contribute editorial to publications in support of LLG commercial projects by clients: another benefit to brands of my being a trained journalist.
LLG events have become a mainstay of the business, whether trunk shows or dinners at my home, or parties and dinners at external venues. We run everything ourselves, from the floral design to the menu choices – because it's all part of creating the LLG worldview. We also require oversight over the guest list so I can invite pertinent influencers, whether they be an actress, editor, producer or architect, who are brand appropriate for us and for the client.
What's your new fashion blogger award?
I'm working with Haymarket on Clothes Show Live 2013 to launch the Fashion Blogger of the Year award. I'm really passionate about promoting blogging, and feel there isn't anything similar out there. Magazines have blog awards but they can sometimes be seen as a little patronising to the blogging community (a pat on the head, if you like), and the recently launched National Blogging Awards require people to pay to enter, which is hardly a fair or equal platform for a user generated community like blogging. (I think they are a terrible idea). Also I think that for people working in media, it's easy to be London-centric and as Clothes Show Live takes place in Birmingham it gives the judges a chance to meet other bloggers and promote the blogging community outside of the capital..
Who is your target audience?
I don't really have one because I only write the blog for me. I started it seven years ago as an anonymous diary and didn't expect anyone to read it. Sure, I'm a journalist and so I had that vague hope someone would read it and think, 'This is the best writing ever, we have to give her a book deal', but I hadn't really seen any other blogs and so I was just writing about things I was interested in. That's why I have to be careful with which brands I work with because it would be easy to lose that integrity. 
We have a female/male split of about 70/30, but I suppose I'd consider my typical reader now to be a woman in her late 30s, either with or without children but definitely with disposable income and a metropolitan attitude. That being said I had an email yesterday from an American lecturer in graphic design who was the mother of a successful beauty industry director, and she said she reads my blog all the time and loves it. The eternal issue brands have with working with bloggers is finding a digital property that has an audience for a more expensive item. My blog isn't just for 20-somethings that aspire to luxury goods, and so high-end brands can come to me confident that they're reaching a suitable audience, who have the income to support their aspirations. But I cannot reiterate this enough: I don't create any content for brands unless it is a product or service I would be writing about anyway.
What advice would you give to PRs?
The same as anyone, I guess I'd say read the media you want to work with. If everyone read my website before pitching to me then I would have 90% fewer emails. (No, I don't run news; no, I don't run external content; no, I don't cover openings; no, I absolutely won't consider your dazzling opportunity to run your video for free etc etc etc)
I'm surprised I don't get more specific content pitches – the best pitch I had was from a PR who knew I liked to cook and to travel, so she invited me to go down to Cornwall, to  stay in self-catering accommodation,  and choose ingredients to create LLG recipes from the Fifteen Spring Farmer's Market in the accommodation they had arranged. I bit their hand off, it was such a great pitch – I think by the times I had finished burning around the county I had 32 editorial stories from the w
hole trip and managed to cover about eight of the PR's clients. 
Take Five
Which do you prefer, London or New York?
I like them both for different reasons. I like New York's can-do attitude, where you can be and do and say anything. But I'm English, my family is here and so is my dog.   

Who is your style icon?
My grandmother. (We don't do celebrity coverage on the blog, so this is my stock answer, which also happens to be true.)
Do you have any surprising hobbies or interests?
I'm interested in everything. I suppose a surprising one is I like to race classic cars, when my father lets me get near them. So yes, I like driving fast cars very fast. 
What super power would you have?
I think invisibility and mindreading would just get me in trouble. I'd like to be invincible – I'm so clumsy that it would be really handy to be damage-free. 
Who would play you in a film?
Julianne Moore with a blonde wig.
Editorial information on Liberty London Girl, Sasha Wilkins and thousands of other media contacts and outlets, can be found in the CisionPoint Media Database.
Priyanka Dayal
https://www.vuelio.com/uk/wp-content/uploads/2019/09/vuelio-logo.png
Priyanka Dayal
2013-11-08 11:25:20
2013-11-08 11:25:20
Media Spotlight: Liberty London Girl