Media Spotlight: Luke Walwyn, Voir Fashion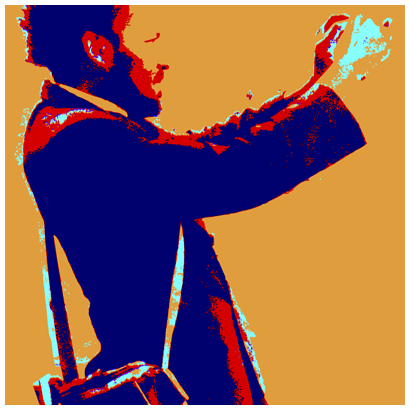 An interview with Luke Walwyn, the photographer and creative director at Voir Fashion, the online boutique magazine that offers an insight into the fashion world, from a highly creative and artistic standpoint. Luke gives us the lowdown on Voir Fashion, it's unique approach to illustrating editorial content, the challenges journalists face with social media and his views on digital-only magazines. 
What is the focus of Voir Fashion? How would you describe the brand and how do you distinguish yourselves from other fashion publications? Voir Fashion Magazine aims to deliver a highly stylish, creative and contemporary blend of editorial fashion, runway looks and hair and beauty trends and features on creatives within the fashion industry. Voir can be described as advocates for contemporary style, design and fashion. Voir is a group of passionate individuals who endeavour to push the boundaries of creativity within fashion, beauty and lifestyle publishing. What makes Voir Fashion Magazine different is its unique approach to its editorial content. We want to sell the romance of fashion or beauty as opposed to the articles. We hint at dreams to imbue a sense of travel in the mind of the reader. The Voir target audience is primarily fashion-savvy females between the ages of 22 – 55.
What was the initial idea behind the publication and how did it first start? Where do you hope to take the publication in the future? The initial idea was to start a publication to showcase not only our personal work [self-styled fashion shoots], but also that of other creatives within the realms of fashion and beauty. We wanted to provide a platform for exceptional creativity whereby artists could submit their latest ideas, and be part of a growing collective of talent. The magazine started after Jyoti (the editor in chief) and myself served a 6 month stint for a local magazine, providing fashion shoots, creative direction, and trend advice. Eventually our creativity outgrew the publication, and it was a natural progression to start our own. The future for Voir Fashion Magazine is to push readership to new and emerging markets. We are interested in compelling stories from other continents, which we can give an artistic perspective to. Also what goes on in fashion outside the main fashion capitals.
Voir Fashion is a digital only publication. How does this differ from print media? What are the advantages/challenges and do you see online only publications as being the future for magazines? With print media, there is always a lead time required from preparing digital files to printing to distribution. This increases the risk that content could be out-of-date by the time the publication is available for reading. The advantages with digital publishing are that the content is instantly available to the reader, and can readily be shared through social media channels. The challenges are that content can easily be replicated and plagiarised, and owing to the sheer volume of content online, digital publishing needs to constantly push the boundaries of creativity in order to sustain interest, in an ever-increasing instant gratification world. I hope that online-only publications do not become the future for magazines. Personally I love to purchase hard-copy magazines and flick through the pages. There is something wholesome about opening a freshly-pressed Italian Vogue or Hunger Magazine. Magazines can be inadvertently left on trains, but I-pads are costly to replace.
What are the trends for fashion and beauty journalism? As far as Voir Fashion Magazine is concerned, we try not to follow the trends in fashion/beauty journalism. We are discovering talent from all corners of the globe, and we tend to work with creatives who demonstrate something exceptional, unique and in a league of its own. If we were to follow so-called journalism trends, we would so easily publish the same content as everyone else, and in the same style. Our approach keeps us (as publishers) on our toes, and retains the secret ingredients of what made us gravitate towards publishing in the first place.
What are the advantages of social media for journalists? Are there any challenges? The main advantage would be that journalists are able to disseminate their portfolios and published work in a smarter and faster way. The main challenge is the excessive competition in the arena. When journalists had to conduct go-sees, they would be met with excitement and willingness on the part of publishers to discuss options, and fit content to their style. In the social media arena, publishers can get access to literally hundreds of watered-down portfolios without even meeting a journalist. So often, it is almost impossible to establish a person's hunger, ethics, direction or character.
How do you work with PRs and brand sponsors? Do you have a good relationship with PRs and what do you wish they did differently? PRs are great for our brand in that they open up ideas for content. We tend to build a rapport first, to help them to understand our ethic and artistic direction. We then retain dialogue to ensure regular content is pushed in our direction. Conversely, we are able to make requests for brand information, to develop ideas for our in-house-inspired content. We try to maintain healthy relationships with PRs to ensure a steady flow of content is kept.
We would like to see PRs obtain full distribution rights before entering into dialogue on content for stories and articles. Often an idea is suggested, then comes a timely wait for content to be signed off by the brand, all at the expense of design, proof-reading and pre-press sign off time.
Take Five 
What is the one fashion item you could not live without?
My camera.
What are your weekends incomplete without?
My children.
What is your motto for life?
To thine own self be true.
Would you go forward or back in time and why?
Back. The richness of the past helps us to shape the future, and the future is only personal to us if we help to shape it.
Who would you like to play you in a film? 
I wouldn't authorise a film about me. My public life is not very interesting. My creative life is spontaneous, fun and private and I would wish it to remain that way.
Editorial information on Luke Walwyn, Voir Fashion and thousands of other media contacts and outlets, can be found in the CisionPoint Media Database.
https://www.vuelio.com/uk/wp-content/uploads/2014/07/luke-photo-blue_orange-11.jpg
410
410
Christina Pirilla
https://www.vuelio.com/uk/wp-content/uploads/2023/09/vuelio-logo-200px.png
Christina Pirilla
2014-07-28 09:06:01
2014-07-28 09:06:01
Media Spotlight: Luke Walwyn, Voir Fashion