Mental Health Blogger Spotlight: Mike Douglas, Mike's Open Journal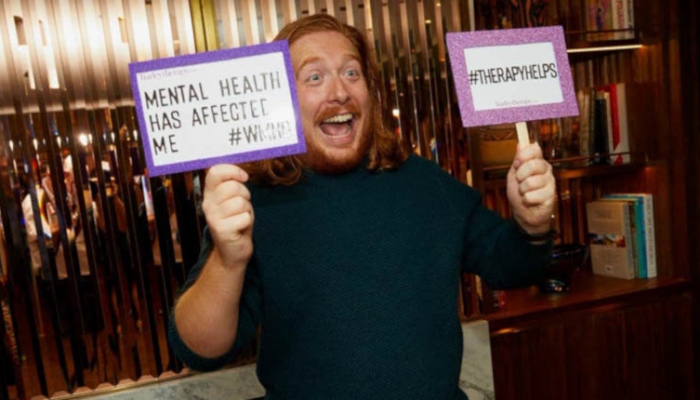 Mike's Open Journal originally started as an outlet for blogger Mike Douglas to write about his own experiences with mental health. It now features an archive of content on lifestyle, health, fitness, dating, and relationships alongside the useful information on mental wellness.
Mike tells us more about how blogging has helped him with his own mental health journey, how it's attracting more attention in society, and some examples for how workplaces can support the mental health of their staff.
How do you describe what you do to other people?
I started to write about my experiences with mental health illness because I was in a particularly bad place with my mental health and needed a healthy outlet. At that time, I could not see a way out of the darkness or how I could continue.
Writing/blogging (and subsequently, podcasting) provided me with an opportunity to express my thoughts and feelings – something I have always struggled with. Though, as a dyslexic male, that may not be a surprise. Fortunately, I am now in a much better place and am delighted to be able to share my experience with mental health (illness and wellness) through the blog and share conversations with guests via the podcast.
Blogging has grown so much in the last five years or so. There is such a huge range of blogs you can follow. Just last year I discovered pet bloggers through Vuelio, so there is definitely something for everyone.
It is a great way to share your experience/thoughts with other people without the limitation of geography or transport.
How much of a community is there around mental health bloggers?
My experience is that there is an ever-growing number of us and creating your own community is increasingly easy to do. For the most part, mental health bloggers are very supportive and are great at signposting to information and relevant material.
Like in any community, there are times when people disagree, there are cliques and closed groups. However, this is true of any 'real life' community and isn't something exclusive to us or blogging in general. I have found the mental health blogging community to be particularly accepting in that we all have our own views and experiences and there is often a very positive non-judgmental environment.
Linked to community, I am so very proud to mention the Mental Health Blog Awards which I founded in 2017. We have held two events focused on providing recognition, sharing resources/supportive tools and growing our own networks. The third annual event will be held in July 2020.
What's the best thing about being a professional blogger (if you consider yourself to be one!)?
I do not consider myself a 'professional blogger', I think because of how I started. Blogging was a coping strategy for me and has grown into being a tool to share, connect, educate (others and myself) and signpost.
Last year I tried to keep to a weekly schedule, this year I have reverted back to posting when I want or need to. That works much more for me. Part of being a blogger is working out what schedule you want to keep to and if that is realistic and worthwhile.
The best thing for me is hearing from people who have found acceptance, recognition, or the confidence to seek support after reading one of my posts. It is a privilege to be able to support other people by sharing my story.
What does the future of blogging look like?
I believe blogging will continue to grow. We have already seen the platforms used expand and evolve. Business websites regularly have a 'see our blog' section, there are Instagram posts with captions longer than some 'traditional blog' posts.
That's all before we talk about the expanding topics, subjects and fandoms.
It seems like mental health is attracting more attention in society recently, why do you think that is?
National campaigns like #TimeToTalk, #GetBritainTalking, World Mental Health Day and World Suicide Prevention Day (there are many more) have raised the public profile of mental health. There is now much more awareness of mental health, illnesses, symptoms and how people can be affected. Slowly people are also becoming aware of the support available.
Campaigns like Heads Together have seemingly provided people with permission to talk about mental health, which is great. It is however important to remember there are still many people who are unaware of how mental ill-health can affect someone and how to support them. Or that mental health is not just about illness, it is also about wellness. So we still need to be prompting these discussions and campaigning for better education (and services).
Are businesses/employers doing enough to support the mental health of their staff?
It depends where you work. Great examples I have seen include:
• Having a Mental Health First Aider
• Having signposting material to a local service – local Mind, Samaritans, wellbeing group(s)
• Including MH as part of staff inductions and training
• Providing opportunities for staff to suggest/feedback on staff wellbeing
• Having a WAP (Wellness Action Plan)
• Making sure staff actually take their lunch break
• Encouraging all staff to listen, support, signpost – you do not need to be an expert
What's the best mental health initiative you've seen?
I am slightly biased as I now work at a mental health charity and have been part of the team developing our Ambassadors project, so I think that's pretty awesome (easthantsmind.org).
Some of the other initiatives I think are great include #DumpTheScales, #AskTwice, #ItAffectsMe and #StopSuicide.
Each of the initiatives has a focus and clear message. They have also worked hard to make their campaigns relevant to everyone.
How do you work with PRs and brands? What advice do you have for PRs looking to get in touch?
Working with brands is something that often affects mental health bloggers less as many just want to share their story/experience. For me, I enjoy bringing mental health/wellbeing to new settings/environments. Some of the brands I have collaborated with were very much with that wellbeing approach in mind. Some examples would be: Go Ape, The Body Shop, Boston Tea Party and local Pride events.
Not every opportunity is relevant to me or to my audience. So it is important to remember and keep in mind the purpose of your blog and what you and/or a brand are bringing to a post. For example, The Body Shop collaboration was a great way for me to talk about relaxation and self-care. I didn't cover other aspects of their stock because that is not an area I have particular knowledge or interest in. It's identifying what works for your/your blog/the brand.
I have a brief media kit available on the website where you can find out a bit more about me. You can also drop me an email at [email protected].
What other blogs do you read?
In the last month I've been reading posts from vickyflipfloptravels.com, irunoffroad.wordpress.com, and lifeoflily.co.uk.
https://www.vuelio.com/uk/wp-content/uploads/2019/10/Mike-Douglas-2019.jpg
430
760
Holly Hodges
https://www.vuelio.com/uk/wp-content/uploads/2023/09/vuelio-logo-200px.png
Holly Hodges
2019-11-01 13:10:31
2019-11-01 13:10:31
Mental Health Blogger Spotlight: Mike Douglas, Mike's Open Journal