Mum Blogger Spotlight: Vicki Broadbent, Honest Mum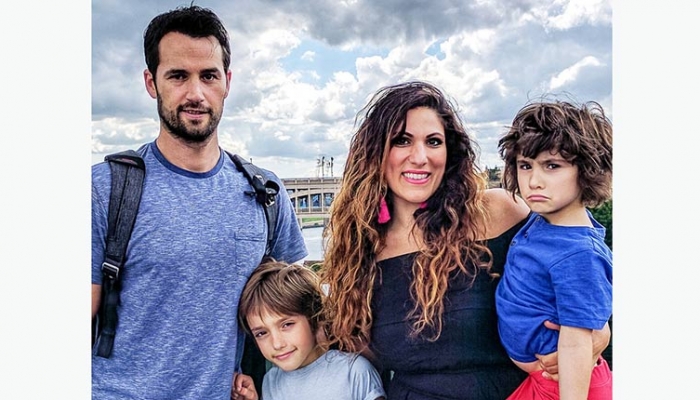 Honest Mum Vicki Broadbent is one busy blogger, having changed career direction from TV and film directing to full-time blogging, book writing and appearing in front of the camera as a parenting expert.
As parents across the globe struggle with their own balancing of work and family duties, Vicki shares her thoughts on the division of parental labour, digital upskilling and the unique pressures of a job online when the world is on lockdown.
'There's never been a period quite like this before where this volume of people have simultaneously been online at any one time.'
How did you originally get started with writing about parenting?
I started Honest Mum while on maternity leave from directing (I worked in the TV and film industry) and had no idea it could be a job. I simply started writing to return to writing (my first love) and help rebuild my confidence after a traumatic birth with my first son. It was 2010 and I distinctly remember having to explain to people what a blog was back then. I returned to directing commercials a few months after hitting publish but soon discovered I could earn the same, and potentially more, blogging than being on set. Working digitally was flexible, so I didn't have to miss out on raising my son, too. 12-hour days are not conducive to motherhood.
What's your favourite thing to post about and why?
That's like asking if I have a favourite child – ha! I don't! I find the personal posts the hardest to write but the most cathartic (my post on my traumatic birth helped many women, and still does). I do love sharing recipes on the blog too, especially because I get to eat my creations afterwards!
How have you had to change your approach to blogging, or your content, during the COVID-19 crisis?
I feel incredibly lucky that my job hasn't been affected and feel for those who have experienced job losses or a decline in work. The digital field has grown rapidly during this period: digitisation has accelerated due to the crisis and automation is coming next. There's never been a period quite like this before where this volume of people have simultaneously been online at any one time. Even more advertisers are working with influencers, particularly with the decline of traditional press.
I have covered the crisis on the blog and my social media channels, sharing expert-led guest content along with my own to help support parents. I made a series of video tips on both home schooling and working from home respectively for Instagram and YouTube and I've consistently and candidly shared the challenges I've experienced juggling work with home school, so other parents feel less alone and more supported.
Will we see more men embracing being stay at home dads in the wake of necessary changes to co-parenting schedules during lockdown?
I think work culture has already changed, with remote working becoming the norm. Employees have proved they can work from home. Employers have discovered how freeing it is and how much time and money is saved. These realisations will hopefully result in more fathers enjoying flexible working, moving forwards.
The inequalities for mothers are still vast and the situation is more dire than pre-lockdown. Women have been impacted the most during the pandemic, and are now even more economically fragile than before due to losing more jobs than men and having to take on more responsibilities at home. Now is the time for mothers to upskill in digital education. I've launched a series of courses under my new company The Working Mother's Academy which does just that.
How would you recommend parents currently struggling with working from home with their family duties deal with the difficulties?
Know that you're not alone. I find implementing self-care continues to be the key to everything, and I'm referring to the basics: making sure you're fed and sleep well so you can be strong for your family. I'm working into the early hours most nights in order to juggle home school and work so know quite how hard life is right now. But I'm meditating daily, even if it's just for ten minutes, and I've been running most days in a bid to keep emotionally and physically well.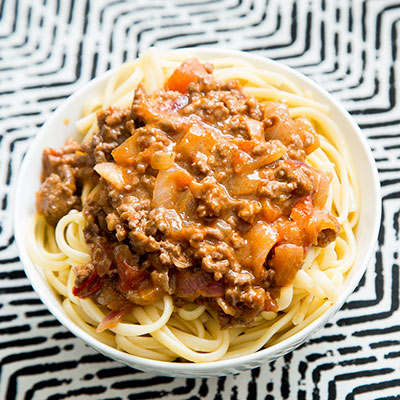 Best no-fuss stress-free family meal for busy times? 
This easy spag bol with hidden veg is always a winner with my kids.
How do you collaborate with brands and which kind of brands do you really like working with?
I work with brands in a variety of ways, from appearing in adverts for them in 360 campaigns across my own platforms and in the press, as with the new MG car ad (which was a collaboration with The Mirror), to writing and filming content for my blog and social media channels, working with brands such as BT, Disney, Coca Cola, McDonalds, Herbal Essences and beyond. I was the first influencer in the UK to become a digital ambassador for an airline. I've also interviewed A-listers like Kim Cattrall Westlife among others to promote new movies and tours.
No day is ever the same, but I've worked with PR agencies since I started blogging (I was offered my first commission six weeks after starting up my blog) and most of my work is repeat business. I only ever work with brands and on campaigns I respect and believe in. I decline the majority of offers so I can focus on creating the greatest quality campaigns.
Agencies often come to me early on and sometimes even before they've won the bid to create the campaign, and we work together on the brief. As a former director, PRs trust my opinion and vision, and I've also consulted for agencies and brands in-house, too.
I regularly feature as a TV Parenting Expert on BBC Breakfast and Sky News, and my book Mumboss receives a 2nd edition release on 20 August and it is published in the US and Canada on 8 September under the new title The Working Mom. I've also spoken about enterprise and maternal rights at the House of Commons.
For PRs looking to work with you and your blog/website, how would you prefer they approach you and with what kind of content?
Emails are best and it's always great when PRs have done their research and are pitching appropriate campaigns that would fit my interests, family and values. As a writer and filmmaker, I write and film my own work but I do interview talent and feature fitting guest posts written by thought leaders and experts, too.
What other blogs do you check out regularly (whether baking-related or not)?
To name just two (as I have so many): Babes About Town and Your DIY Family.
https://www.vuelio.com/uk/wp-content/uploads/2020/07/Vicky-Broadbent-and-family.jpg
430
760
Holly Hodges
https://www.vuelio.com/uk/wp-content/uploads/2023/09/vuelio-logo-200px.png
Holly Hodges
2020-07-08 15:22:07
2020-07-08 16:04:10
Mum Blogger Spotlight: Vicki Broadbent, Honest Mum