Music Blogger Spotlight: Francetta Evans-Anfom, Dats Muzik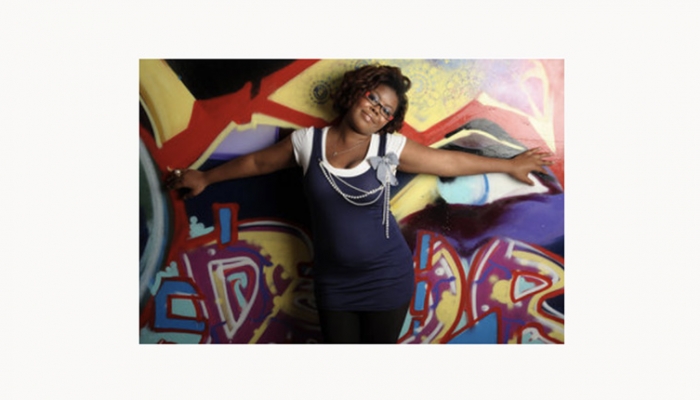 If Afrobeat with hints of House and Reggaeton is your thing when it comes to music, Francetta Evans-Anfom has you covered at Dats Muzik. Discovering a flair for writing at school, Francetta uses her skillset to hype up emerging talent in the music sphere and report on the combination of music with fashion.
Read on for Francetta's take on whether talent shows are more about the contestants or their celebrity judges, if hologram performances are a good idea and what music got her through lockdown.
How did you get started with writing about music?
Music has always been a passion of mine and writing just comes naturally to me. So, I combined the two and started my blog, where I write music reviews, live music reviews and #fashionandmusicunites. I realised that more and more emerging talent, from bands to DJs, were performing locally and needed support with their PR and exposure.
For writing – during secondary school, I won the 'Young Writer's Poetry' competition, for 11-18-year-olds, for South East England. With university and my career I realised I had a skill, as content writing and copywriting were always the roles I got. Nowadays, I write a lot about Afrobeat (with hints of HipHop, Dance/Electro/House, Funk and Reggaeton/New Flamenco) music by emerging talents, as it's one genre that is exploding in the music industry now.
What's your favourite thing to post about on your blog?
I love writing blog posts about fashion and music uniting. Lizzo has just been on the front cover of Vogue, so I'll be writing about that.
Do you think shows like The Voice and Britain's Got Talent are still a good route into the music industry for wannabe musicians?
It's still the quickest route to gaining awareness and becoming an established artist or band but it still takes a long time and is hard work. Little Mix are giving their knowledge and experience to new singers out there with their new show. Good on them, but it's just another PR route – more exposure for them than the singers competing. The same for The Voice – I believe, now, it's more exposure for the judges. Who has become a successful winner? Name one. Becky Hill is still going strong, but she never won.
Britain's Got Talent is brilliant because it allows singers, musicians and DJs from all genres to get exposure. For example, Ember Trio are an Electro, contemporary string trio. They performed on Britain's Got Talent's live shows this year. Will they win the prize of performing at The Royal Variety Performance? Fingers' crossed. That's what makes this show unique, compared to The X Factor, The Voice and Little Mix: The Search. These shows are a good route for wannabe singers, but we need shows for wannabe musicians and DJs. The same process, but for them.
Do you see the increase in the intersection of tech with music as a good thing – VR shows, holograms of musicians who are no longer with us, etc.?
I believe it's a good thing to intersect technology with music but only for iconic artists, who have died e.g. George Michael, James Brown, Whitney Houston, Michael Jackson, Aliyah and Lisa 'Left-Eye' Lopes, etc. Their old fans miss them performing and the new generation will want to experience them performing.
What was the first song/album you bought?
The first song I remember buying on CD was East 17 ft Gabrielle If You Ever. The first album was Spice Girls' Spice World album. I saw the full girl group perform live at the O2 Arena, around 2012. I'm sure these aren't quite the first song and album I bought, but these are the ones I remember.
What music helped get you through lockdown?
Well, Megan Thee Stallion's Savage song. I liked it the first time I heard it, but it stuck in my mind because the whole world was dancing to it on TikTok. A lot of remix versions of old and new songs helped me too, and just listening to my iPod. Does Apple even sell them anymore?!
Favourite song lyric of all time?
'And when we're close, you know I feel passion' – Close by Sub Focus ft MNEK (dance/ house music).
'Fine face like Genevieve, anything you want I go be. I'll be right here I no leave, all my love girl me ah go give' – Kontrol by Maleek Berry (Afrobeat music).
How do you work with PRs and brands?
Some brands have wanted to work with me but I haven't felt they've been right, or they don't follow my ethos or brand philosophy. Dats Muzik is all about showcasing African and multicultural emerging talent, musicians to DJs, festivals and creatives, and the ethos and values are diversity, individuality, acceptance and inclusion. I would love music brands and creative brands that include music to work with me; cultural or unique brands to work with me.
I would love to work with a PR or talent agency that supports music bloggers. Many help fashion or lifestyle bloggers – do you know any that work in music?
For PRs looking to work with you and your blog/website, how would you prefer they approach you?
I would prefer that they DM me via Instagram, then we can communicate via email.
What other blogs do you read (whether music-related or not)?
There aren't many music bloggers, especially black female music bloggers. I read InTheFrow and Zoella's blogs. There is Pitchfork, GoldFlakePaint and We Plug Good Music which I read from time to time but there are still not enough new and upcoming blogs, especially about Afrobeat and Reggaeton music in the UK.
I'm working in a male-dominated industry. Whether you are a producer, stage manager or blogger, the music industry is heavily male dominated – that's why I have to stand out and be unique. Just me writing about Afrobeat and Reggaeton makes me different.
What role do you think music blogs have to play in the recognition of musical genres by the mainstream, like the launch of The Official UK Afrobeats Top 20 last summer?
People should be reading music blogs like they do lifestyle and fashion blogs. Upcoming and fairly established music bloggers should be promoted and become celebrities or get more awareness like Patricia Bright, Naomi Watts, InTheFrow and Alfie Deyes. We don't need to have millions of followers, but we do deserve recognition. Everyone's heard of BBC Music Introducing, whether you're in the music industry or not, but I feel barely anyone knows of music bloggers (maybe I'm wrong).
I was surprised and so excited when I heard of The Official UK Afrobeats Top 20. It made me so happy. I originate from Nigeria and Ghana, so I was like 'finally, this industry sees the best in black African artists'. It's a start!
https://www.vuelio.com/uk/wp-content/uploads/2020/10/Datz-Music.jpg
430
760
Paul Burvill
https://www.vuelio.com/uk/wp-content/uploads/2023/09/vuelio-logo-200px.png
Paul Burvill
2020-10-06 10:35:34
2020-10-06 11:00:17
Music Blogger Spotlight: Francetta Evans-Anfom, Dats Muzik