Nelson Mandela: The World Mourns
Nelson Mandela has died aged 95. The former president of South Africa is being mourned the world over and social media is playing host to an outpouring of grief.
As the news broke, people took to their preferred social networks to share the story and pay their respects. Cision Social Media reveals the story had a peak of nearly 3.5m mentions at 10pm, and has been shared over 10 million times since last night.
Mandela's impact on the world is undeniable and the regional breakdown of the social media mentions covers countries as disparate as the USA, Argentina, Morocco, Thailand, Turkey, China, Iraq and, of course, South Africa. This top level graph is perhaps more of a reflection of how ingrained social media is in each country, rather than how significant the story is to the different nations' people.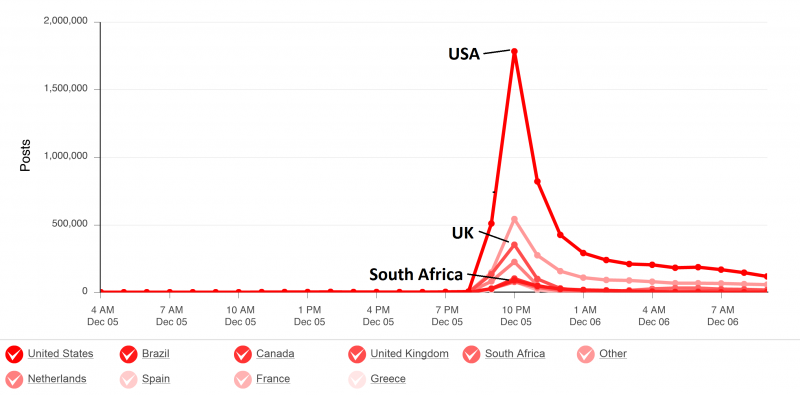 Seen as a driving force behind efforts of world peace, Mandela commanded huge respect both in life and now in death. South African President Jacob Zuma said Mandela's death is, 'the moment of our deepest sorrow'. He continued: 'Our nation has lost its greatest son; our people have lost a father'.
Some politicians took to Twitter to share their thoughts. David Cameron wrote: 'A great light has gone out in the world. Nelson Mandela was a hero of our time'. Ed Balls tweeted: 'Seeing Nelson Mandela walking free is one of the great moments of my life – proving leadership and hope can triumph. Thank-you. RIP'.
Barack Obama tweeted:
President Obama remembers Nelson Mandela: "A man who took history in his hands and bent the arc of the moral universe towards justice."

— Barack Obama (@BarackObama) December 5, 2013
Celebrities have also expressed their grief on the social network from Charlize Theron's:
There will never be words to say what I'm feeling right now. I am saddened to the depths of my soul. Truly.

— Charlize Theron (@CharlizeAfrica) December 5, 2013
To will.i.am's:
Nelson Mandela…I'm so sad…#theWORLDisCRYING

— will.i.am (@iamwill) December 6, 2013
Social media as a whole have used words and phrases like 'hero', 'rest in peace' and 'tribute', as people reflect on the passing of a legend: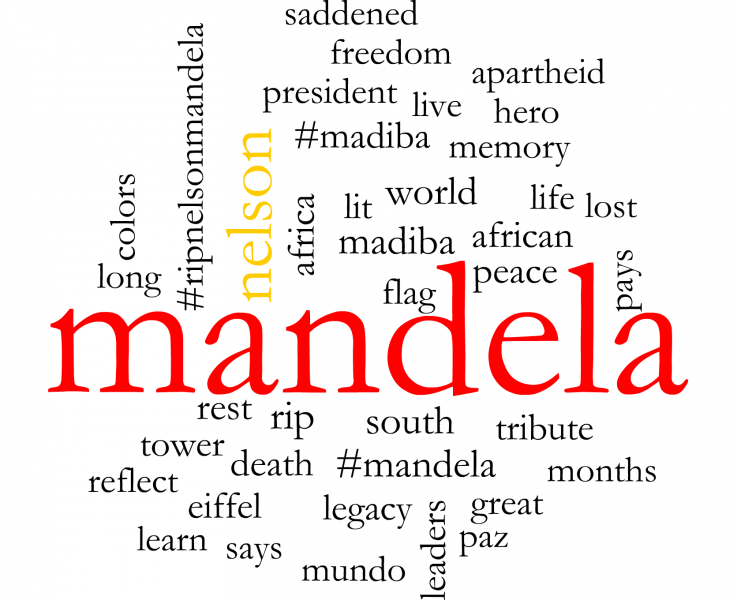 Nelson Mandela had an impact on the whole world and today, that world mourns.
Graphs and information were taken from Cision Social Media via CisionPoint.
Priyanka Dayal
https://www.vuelio.com/uk/wp-content/uploads/2019/09/vuelio-logo.png
Priyanka Dayal
2013-12-06 10:40:37
2013-12-06 10:40:37
Nelson Mandela: The World Mourns