New Lib Dem leader pledges to be the voice for nine million UK carers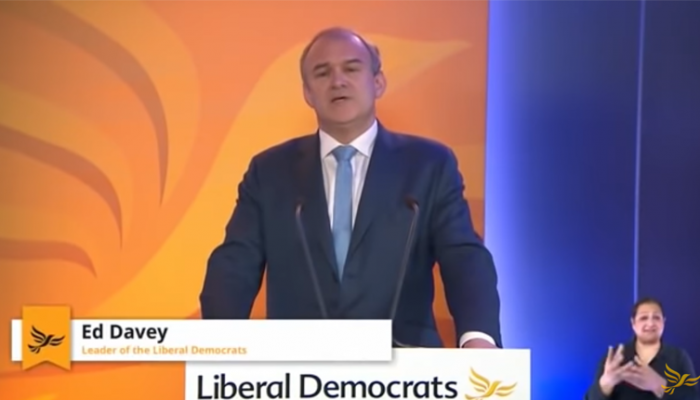 Leading a group of only 11 MPs in Westminster, and with critical elections just around the corner in May 2021, Vuelio's Sam Webber writes about Sir Ed Davey's first party conference speech as Liberal Democrat leader.
One week on from Keir Starmer's first party conference speech as Labour leader, this week was the turn of newly elected Liberal Democrat leader Ed Davey.
An MP for more than 20 years and a former Energy and Climate Change Secretary during the Coalition Government, Davey has tended to focus his attention on environmental or economic policy. He often quotes his record in Government of 'nearly quadrupling' Britain's green energy from renewable sources and ensuring that the UK is now a global leader in offshore wind. However, this conference speech was a deeply personal one.
Ed Davey used his first major speech to set out his vision for how the party could become the voice for carers across the UK. Detailing his own experience caring for his mother before she died when he was 15 years old, and now caring for his severely disabled son with his wife, he said: 'So, let me say this, to all of you who need care. To all of you who are carers. To the parents of disabled children. To the thousands of young people, caring for your mum or your dad. I understand what you're going through. And I promise you this: I will be your voice. I will be the voice of the nine million carers in our country. It's you I'm fighting for.'
Moving to the next major electoral test for the party in May 2021, when there will be elections across the country for Mayors, local councils, Police and Crime Commissioners, as well as critical elections in Wales and Scotland, Davey pointed out the significance of the Scottish parliamentary elections: 'Next May, we must get more Liberal Democrats elected to councils across England, to the Assembly in London, to the Senedd in Wales and – crucially – to Parliament in Scotland'.
'Elections often determine the future of our country, but these Scottish elections could well determine if our country has a future. Once again, the forces of nationalism threaten to tear our family of nations apart. So, it is imperative that we get brilliant Liberal Democrat MSPs elected to Holyrood in May.'
Ed Davey said his party in Scotland would seek to 'reject more division and instead put forward a positive partnership. To work for Scotland and work for a better United Kingdom.'
It is worth recognising that despite losing the East Dunbartonshire seat of the party's former leader Jo Swinson very narrowly in 2019, the Liberal Democrats were the only party in Westminster to actually gain a seat from the SNP with Wendy Chamberlain gaining North East Fife from SNP rising star Stephen Gethins.
Equally, with the next General Election not expected until 2024, Ed Davey is keen to point out in an Evening Standard interview that his party and Keir Starmer's Labour were 'not competitors' given the electoral map shows the vast majority of Liberal Democrat target seats are now held by the Conservatives. Whether this is the first sign of a pre-election non-aggression pact between Starmer and Davey, is too early to tell, but it could maximise both parties' chances of removing the Conservatives from office.
The road ahead for Ed Davey will be a challenging one, and with crucial elections only eight months away, he hasn't got long to show that the party has turned a corner and can get back to winning once again.
https://www.vuelio.com/uk/wp-content/uploads/2020/10/ed-davey-speech.png
430
760
Sam Webber
https://www.vuelio.com/uk/wp-content/uploads/2019/09/vuelio-logo.png
Sam Webber
2020-10-01 08:36:40
2020-10-02 16:44:01
New Lib Dem leader pledges to be the voice for nine million UK carers