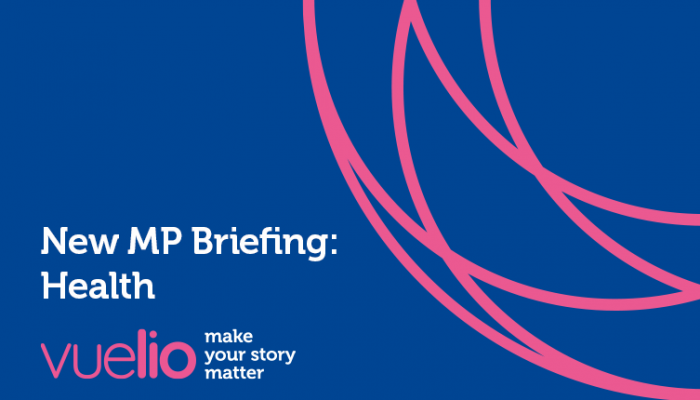 As 140 newly elected MPs return to Westminster this week, the Vuelio Political team has been getting to know the new intake for our clients and stakeholders. 
Aside from Brexit, which is clearly going to dominate this session of parliament as the UK formally leaves the EU by 31 January and begins trade negotiations, it is clear from the 19 December Queen's Speech that domestic policy will also feature much more in the coming months. 
The NHS, and ensuring it is adequately funded going forward, was a major issue of the General Election and this also featured heavily in the Queen's Speech.  
Vuelio has written profiles for the 17 MPs who have a background in health, including two Conservative MPs who served in the House of Commons previously but were defeated by Labour in 2017: Amanda Solloway and Jason McCartney.  
The NHS legislation set to be debated in this parliament, which was also listed in the Vuelio Queen's Speech Summary, includes an NHS Funding Bill, the Medicines and Medical Devices Bill and the Health Service Safety Investigations Bill. The Conservative Party election manifesto and subsequent Queen's Speech also included sections on mental health reforms and social care reform, after the latter issue dominated the previous 2017 general election and was a factor that deprived the then Prime Minister Theresa May of the party's majority.  
Boris Johnson's manifesto and Queen's Speech sought to achieve 'Cross party consensus on a long-term plan for social care reform' and as well as promising an additional '£1 billion for adult and children's social care in every year of this Parliament', the only stipulation listed was that 'Government will ensure that nobody needing care will be forced to sell their home to pay for it'. 
With such a high number of new MPs elected, the Vuelio Briefing will be useful for public affairs professionals, campaigners and politicos wishing to get up to speed on the new House of Commons, especially those with an interest or background in health. This includes the new Conservative MP for Crewe and Nantwich, Dr Kieran Mullan, who is an NHS A&E doctor and was involved in local campaigns to secure additional funding for Crewe's Leighton Hospital. The new Labour MP for Enfield North, Feryal Clark, has a local government background in health, as the Cabinet member for health, social care, leisure and parks on Hackney Council. She was also a Deputy Mayor of Hackney and her brief included responsibility for adult social care, older people strategy, health devolution and integrated commissioning and mental health. 
The new Lib Dem MP for Twickenham, Munira Wilson, succeeded the party's former leader Sir Vince Cable, and she now has the largest majority of the party's 11 MPs. Her previous role was Corporate Affairs Director for a science and technology company, focused on Brexit and health policy issues, and she has also worked within health and children's charities. The Briefing also includes newly elected SNP MP Dave Doogan, who held the Health and Social Care brief when he was leader of the opposition on Perth and Kinross Council. 
The Vuelio Briefing on MPs with a background in Education will be published later this week. 
Get in touch with the Vuelio Political Team if you have any question regarding these briefings or if we can help your organisation get to know the 2019 intake of MPs better. 
https://www.vuelio.com/uk/wp-content/uploads/2020/01/New-MP-Briefinh-Health.png
430
760
Sam Webber
https://www.vuelio.com/uk/wp-content/uploads/2019/09/vuelio-logo.png
Sam Webber
2020-01-07 15:27:20
2020-01-10 12:31:54
New MP briefing: Health