Nike, Kaepernick and reputation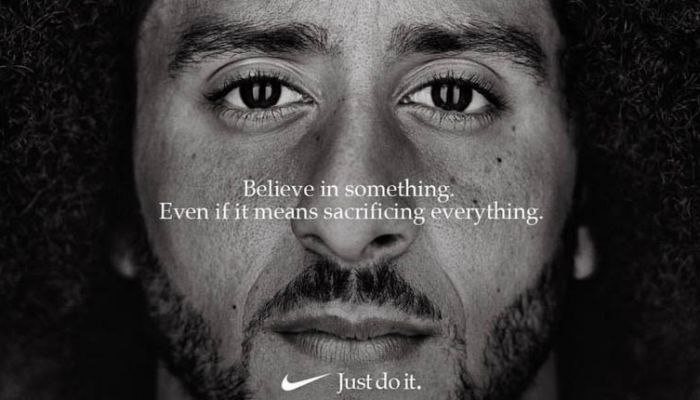 Nike has launched a new campaign, celebrating 30 years of 'Just do it'. While some of the stars in the campaign, such as Serena Williams, are unsurprising, the inclusion of Colin Kaepernick has sparked huge conversation, and in some cases backlash, online. The campaign asks a bigger question of all communications professionals: how much should you be pushing your business or clients to make political stands and talk about the issues that matter to the public?
Colin Kaepernick is famous for being the first NFL star to kneel during the national anthem, exercising his first amendment right to free speech to protest police brutality against African Americans. His protest angered many in the US, including President Trump, but other players followed suit and the issue continues to divide the nation.
As reported by the BBC, Kaepernick has not played in the NFL since last year and is suing the league, arguing that team owners have deliberately frozen him out because of his activism.
The Nike campaign has caused a backlash from some online, with the general protest against Nike's advert being to burn or destroy Nike clothing owned by the protester:
Colin Kaepernick will be featured in Nike's 30th anniversary "Just Do It" campaign, announced just days before the NFL season is set to begin

People are destroying their @Nike products in response pic.twitter.com/wcpnibBbUv

— Breaking911 (@Breaking911) September 4, 2018
Many others have pointed out that this form of protest is particularly illogical as it is actually protesting someone's right to protest:
I notice a lot of white people using their first amendment rights to protest Nike and hate on a black man for using his first amendment rights…to protest police brutality #Nike

— Francis Maxwell (@francismmaxwell) September 4, 2018
It's also burning clothing you've already paid for and explicitly making Nike true to their campaign words; Nike believes in something – even if it means sacrificing everything (or some customers).
The Nike campaign arrives on the same day as the Confederation of British Industry (CBI)'s new research tracking public attitudes towards business.
The Everyone's business tracker: Public attitudes report reveals 92% of the public want businesses to speak out on key issues impacting society. The report suggests that in UK, an increased focus on gender pay reporting, GDPR and Brexit has encouraged businesses to speak more openly about the challenges they face.
The CIPR has welcomed the report, with President Sarah Hall linking the news to Nike's Kaepernick campaign. She said: 'There is a clear demand for business to operate with social purpose. Just today we've seen Nike launch an advertising campaign with the former NFL player and civil rights activist Colin Kaepernick.
'Public relations professionals have a key role to play in guiding these decisions and encouraging businesses to align their interests with their audiences. We have the opportunity to ensure clients and businesses operate ethically and responsibly with the beneficial outcomes that result in terms of reputation and brand loyalty.'
The research also warns of the impact of high profile failures, which has tarnished the broader reputation of business, with 56% of the public believing the reputation of business is good, down 9% since October. The report suggests the collapse of Carillion and the Cambridge Analytica scandal have had a negative impact on the reputation of business and highlight the need for firms to commit to corporate governance and fulfil their social responsibilities.
Ready to fulfil your social responsibility? Or perhaps you just want help managing your reputation? Either way, Vuelio has you covered. Find out more. 
https://www.vuelio.com/uk/wp-content/uploads/2018/09/Just-Do-it.jpg
430
760
Jake O'Neill
https://www.vuelio.com/uk/wp-content/uploads/2019/09/vuelio-logo.png
Jake O'Neill
2018-09-04 14:01:35
2018-09-04 14:01:35
Nike, Kaepernick and reputation