Nitin Mantri and Israel Opayemi join the PRCA Ethics Council for 2021-22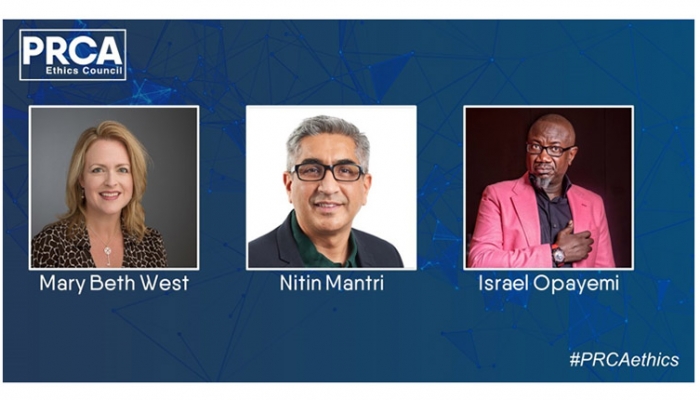 The PRCA has confirmed that Nitin Mantri and Israel Opayemi will join Mary Beth West as co-chairs of the PRCA Ethics Council for 2021-22.
Inaugural chair David Gallagher steps down from the role following 12 successful months of leading the council.
'It was a privilege to help get this discussion going internationally, but there's clearly so much more to do in practice and on the ground,' said Gallagher. 'I'll look forward to contributing however I can, and wish the new leadership and entire council continued success in this important work.'
Originally launched in May 2020, The PRCA Ethics Council aims to elevate ethical standards in PR and comms across the globe. The Council co-chairs will continue the work to dismantle the systemic organisational non-compliance with worldwide PR ethics standards.
Chain Reactions Nigeria's managing director, chief strategist and PRCAN President Israel Opayemi is one of West Africa's leading consultants, working as the Exclusive Nigerian Affiliate and Preferred West Africa's Partner of Edelman.
'This collegiate leadership is a testament to the commitment of the Ethics Council itself to widen PRCA's circle of influence and to ensure our prescriptions on standards can be heard across borders,' said Opayemi of his appointment. 'Those standards must run through the labyrinth of cultures. Without this, our noble profession will lose its soul. We are nothing without standards. Standards are nothing without their acceptance and adherence.'
Avian WE Group CEO and International Communications Consultancy Organization (ICCO) President Nitin Mantri has more than two decades of experience across a variety of sectors and was named 'Global PR Leader of the Year' at 2015's ICCO Global Awards.
'I am excited to be appointed Co-Chair of the PRCA Ethics Council,' said Mantri. 'It is not only a great honour but also a huge responsibility and I hope we will be able to fulfil the Council's aim to raise ethical standards in the global PR industry.
'The lifeblood of our profession hinges on credibility and our dedication to upholding honesty and transparency. Ethics must be the cornerstone of our work, especially in this new era when authentic, purpose-led communication is the only way forward.'
PRCA Director General Francis Ingham thanked David Gallagher for his work on the Council and looks forward to what the new co-Chairs will bring: 'I'm delighted that Mary Beth West has agreed to stay in her Co-Chair role, being joined by Nitin Mantri and Israel Opayemi. Together, their leadership, energy and breadth of international experience will enable the Council to intensify its work.'
Read the PRCA Ethics Council Annual Perspective here. For more on the aims of the council, read more here.
https://www.vuelio.com/uk/wp-content/uploads/2021/05/PRCA-Ethics-Council-Co-chairs.jpg
430
760
Phoebe-Jane Boyd
https://www.vuelio.com/uk/wp-content/uploads/2023/09/vuelio-logo-200px.png
Phoebe-Jane Boyd
2021-05-24 10:03:52
2021-05-24 10:03:52
Nitin Mantri and Israel Opayemi join the PRCA Ethics Council for 2021-22