PRFest helps drive change in our industry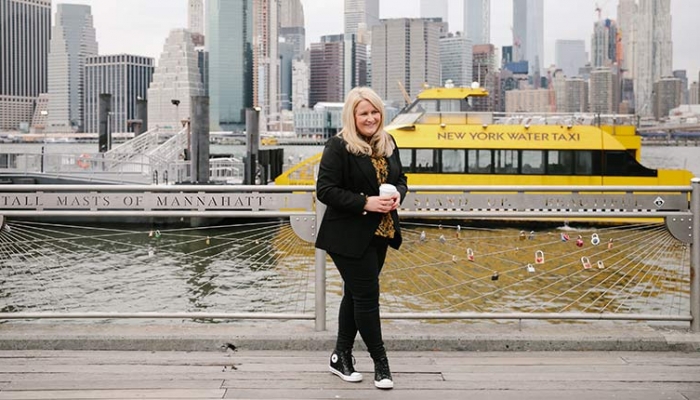 This is a guest post by Laura Sutherland, founder of PRFest and Aura PR.
Our industry can be guilty of talking inwardly and doing something because we think it's what we should be doing, not always 100% informed or part of a strategy. Bandwagoning, I think that's the term?!
PRFest, now a community of around 600 PR and communication professionals, has always been about the minds of practitioners, to let them further investigate and formulate their own ideas and thinking from sessions at the festival.
The festival was built on the idea of doing things differently to inspire practitioners to think for themselves, to think outside of the borders and put learning into practice.
PRFest also discusses topics and ideas which you wouldn't necessarily find at other PR events. Practitioners have a platform for their voices, and they don't need to have had experience speaking at other major events. Some of the attendees go on to become speakers and that's the start of their journey to having more profile and being heard. It's brilliant.
Be the change
There's always an emphasis on practicality. I'm a highly practical person. I face a challenge and need to go away and create something to help overcome it. That's how PRFest was born. The challenge was around always having big industry events in London and I went away and changed that. For years I've been the voice asking for better representation in the nations and regions. Often you need to be the change, to see the change…
Just as we expect our clients and organisations to be socially conscious and doing the right thing when it comes to diversity, inclusion, climate and sustainability, unless we ourselves are educated and armed with ideas to tackle the challenges, then how can we advise our brands and organisations to be better?
Taking your own advice
This week I did a thing. I took my own advice and nailed my colours (flag) to the mast. I re-imagined my business, one I had built over 12 years, to focus on the singular most important thing to every brand and business – stakeholder engagement. It starts way before even thinking of the comms plan. It's about getting know stakeholders, deeply. This is what gets me out of bed in the morning. This is what I've been talking about for years. Well now, this is my specialism. Why? Because everything has changed due to COVID. If everything has changed, then why wouldn't businesses adapt, too?
What does PRFest2021 look like?
This year, PRFest was built on this exact model. Look at what matters to your stakeholders and talk about the interesting and leading things they need to know about. Involve them in the conversation. Take the event to where they'll be.
The theme is looking at the sustainability of the industry, specifically the planet, work, the next generation, society and corporate social innovation. Even discussing the five pillars of the event with the PRFest steering group was exciting. Going that bit further. Going deeper into what comes before a relationship even starts.
This year's PRFest is going to be the best yet. Why? Because once again the conversations evolve, we've got a cracking line-up of speakers across the programme, we're across Zoom, Twitter and Instagram, and we've set our sights on bringing fresh voices, perspectives, opportunity and positivity to the public relations and communication industry.
Highlights announced so far
• Philippe Borremans will discuss his work during COVID advising foreign government and how risk assessments told us a pandemic was predicted
• Kevin Mtai, a Kenya environmental activist, organised a petition for the conservation of Nairobi National Park which resulted in a demand to be presented in Kenyan Parliament. We'll hear about the campaign, lobbying and amplifying local voices to achieve results despite the unique challenges he faced.
• Stephen Waddington joins Sudha Singh and Laura Sutherland to discuss working for yourself in public relations and his latest research report
• We consider the skills necessary for the future PR leader and how they may be developed. Is university adequately equipping our future practitioners? What should the industry be doing to develop and retain this talent? Panellists include Dr. Martina Topić, Professor Ioannis Kostopoulos and Jahanara Chaudry.
Ticket info
Once again, we're truly global and we'd be delighted to welcome anyone to our community. Tickets are £50 for the whole week. We're also pleased to continue our support for the Taylor Bennett Foundation, as we have pledged to donate £5 from every ticket sold.
There are eight comp tickets left for PR graduates or PR students who'd like to attend and there are ten comp tickets set aside for PRFesters who perhaps can't afford the ticket price but would like to attend.
Last year was the start of the journey to go virtual, plus look at how PRFest could more diverse and inclusive. It's been a challenge but well worth it. It shows that even in a difficult situation, if you put in the work and you're open to learning, great things can happen.
It would be my absolute pleasure to welcome you to PRFest this year. You'll be in the company of some of the best minds in our industry. Buy your tickets here.
Find out more about this year's PRFest in our previous post here. 
https://www.vuelio.com/uk/wp-content/uploads/2021/05/Laura-Sutherland-PRFest.jpg
430
760
Phoebe-Jane Boyd
https://www.vuelio.com/uk/wp-content/uploads/2023/09/vuelio-logo-200px.png
Phoebe-Jane Boyd
2021-05-24 15:01:14
2021-05-24 15:03:53
PRFest helps drive change in our industry