SEO best practice guide for PR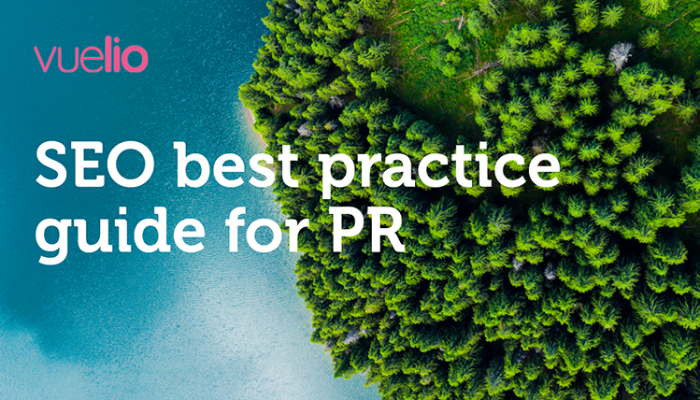 PR and SEO are more connected today than ever.
Modern PR practitioners require much more than a basic understanding of search. Yet there are very few search marketing resources specifically tailored for the PR and communications sector.
And when you Google for SEO advice, how much can you trust that what you find will contain the very latest information about what impacts search rankings?
To help address SEO knowledge gaps among PR professionals, we have published a helpful, bang up-to-date educational resource for the sector.
We asked international search expert Judith Lewis to write a free 60+ page: SEO best practice guide for PR.
Judith explains why this guide is needed: 'These days, SEO is as much a part of PR as PR is a part of SEO. SEOs and PRs are increasingly overlapping in what they do. All PR professionals can help deliver exceptional SEO by adding a small amount of additional knowledge.
'This guide was designed to help PR professionals understand the seemingly impenetrable world of SEO. It will help them better reshape and refocus their offerings to not only continue to excel at what they are already doing, but to regain ground lost to SEOs.'
Download the free SEO best practice guide for PR here
Want to learn more about SEO? Do you have questions about how to align SEO to your PR and communications strategy, or do you want to hear about Google's latest algorithm update? Judith will be on hand to answer your SEO questions in a free webinar.
Learn even more about SEO. Sign up for the 'SEO best practice for PR' webinar at 11am BST on 9 June, with Judith Lewis here.
Why is PR and SEO so closely linked, and why produce this SEO guide for PR professionals?
Two of Google's most important ranking factors are natural extensions of what most PR professionals do on a daily basis: content creation and generating coverage.
In the agency world, search marketing agencies have evolved over time, adding content marketing, social media and creative services, and wrapping this up with what many call 'Digital PR'.
Digital PR is a tactic focused on generating content and stories that will not only generate coverage online, but build links. These agencies back up that offer with measures to highlight the commercial impact of the coverage and links, such as sales, leads and other valuable and measurable 'conversions' for their clients.
As the relative importance of links to SEO has increased over the years, digital PR is a natural extension of Search Marketing or a Digital Marketing agency's services. But digital PR and content marketing is much closer to traditional PR territory than the more technical elements of SEO or Paid Search Marketing.
As a leading provider of tools and services for multichannel PR, communications and marketing professionals (Vuelio, Pulsar and ResponseSource), we've designed this free guide to cover one of the core skills required in many modern PR and communications roles – Search Engine Optimisation or SEO.
Who should read the SEO best practice guide for PR?
Developing SEO knowledge and skills is not only important for PR agencies developing a broader range of services for clients, but also for in-house communications teams.
Many companies approach SEO and public relations as separate activities. Either running activities with different teams or working with multiple agencies. For in-house PR professionals, a little knowledge of SEO can go a long way in terms of PR planning, execution and measurement aligning to marketing and digital activity in their business or organisation.
The good news is that it is easier than you might think to combine a PR and an SEO strategy.
The guide is not just an excellent primer on SEO for beginners.
For PR and comms professionals who already have a good handle on SEO, Judith Lewis provides some advanced SEO tips to help you move your knowledge on.
What does the SEO best practice guide for PR cover?
The guide covers:
What is SEO?
Information about search engine rankings, what visibility means in digital PR, and the concept of search 'demand'.
How Google works
The technical side of search engines, covering spiders, the index and how Google sees expertise, authority and trust.
How to build a PR SEO strategy
The signals search engines look for, the technical bits you need to understand and the important elements for success.
Keywords, content and on-page essentials
Delves more deeply into the kind of research currently possible to understand search demand, how to meet that demand and do it in a way rewarded by search engines.
Advanced SEO
A deeper look at advanced SEO elements that could help the content you are creating stand out in search engines.
Link building for PRs and communications professionals
One of the most popular topics in digital marketing and an area where digital marketers overlap with PR and Comms professionals.
'SEO best practice guide for PR' is free and can be downloaded here.

Learn from Judith Lewis, one of the world's leading authorities on SEO in this free 'SEO best practice for PR' webinar, 11am BST on 9 June. Register here.
https://www.vuelio.com/uk/wp-content/uploads/2021/05/SEO-guide-web.png
428
760
Michelle Goodall
https://www.vuelio.com/uk/wp-content/uploads/2023/09/vuelio-logo-200px.png
Michelle Goodall
2021-05-26 11:05:31
2021-05-26 11:11:53
SEO best practice guide for PR