Parenting Blogger Spotlight: Nigel Higgins, DIY Daddy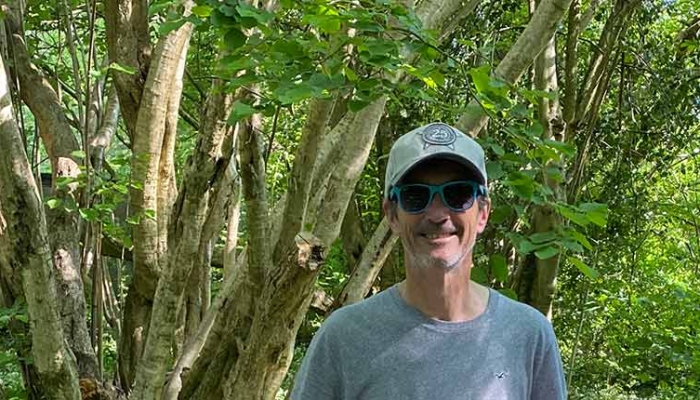 Painting, decorating, family blogging – jack of all trades (and master of parenting blogging, in particular) Nigel Higgins shares what led him to become DIY Daddy and what he thinks could be the long-term effects of lockdown on families across the globe.
How did you originally get started with writing about parenting?
I started out writing my blog about parenting literally by accident. I'm a painter and decorator and about seven years ago I fell from a ladder while working and broke my wrist in four places. After about three days at home and bored out of my brain, my wife suggested I started a blog and DIY Daddy was born.
What's your favourite thing to post about and why?
Over the years my favourite types of posts have changed, but what I've always found most satisfying are personal posts about me and the struggles I have had at different times in my life. In particular, my struggle with depression. I found a great form of therapy in writing about it and it's helped me identify when I may be heading towards a bout of depression.
How have you had to change your approach to blogging, or your content, during the COVID-19 crisis?
I haven't really changed that much. I decided I didn't want to write content that was constantly referencing COVID-19. I have had posts that were related to COVID-19 but I kept it to a minimum. My collaborations with brands didn't really slow during lockdown so I was able to mix up my content with an element of organic and paid work.
How will lockdown have the way co-parents share responsibilities – will we see more men embracing being stay at home dads?
I'm sure that many men will change the way they approach parenting, especially if they are the main breadwinner. They will have had an insight into how difficult it is to parent 24/7. I definitely don't think there will be a rise in more dads becoming stay at home dads, but hopefully they will share the family duties a bit more evenly.
How would you recommend parents balance working from home with their family duties?
Every family dynamic is different and, of course, now working from home is obviously something that has to be added into the situation as well as home schooling. For us as a family, from the beginning of lockdown we organised how everything was going to work out, but when it didn't go to plan we didn't worry about it. We would adjust our day accordingly. My advice is to be organised and just go with the flow until it settles into a routine.
Best no-fuss stress-free family meal for busy times?
Spaghetti bolognese is easy to make, can be cooked in advance, and makes for a very stress-free mealtime.
Did you get what you wanted for Father's Day this year?
I got exactly what I wanted – all of my children together for a couple of hours. It was a bit different as it was in the garden (socially-distanced, of course).
How do you collaborate with brands and which kind of brands do you really like working with?
I collaborate with brands in many different ways. It could be reviews or sponsored posts. I like to work with brands that are in keeping with my blog. The brands I prefer to work with are those that make a brief challenging and interesting.
For PRs looking to work with you and your blog/website, how would you prefer they approach you and with what kind of content?
I'm happy to be approached in whatever way suits the brand. That could be email or a phone call. I'm happy to cover any content as long as it is relevant to my blog.
What other blogs do you check out regularly (whether parenting-related or not)?
I regularly read Dad's Delicious Dinners, and I read a lot of cycling blogs. Too many too mention. However, I'm a big fan of As Easy As Riding A Bike.
https://www.vuelio.com/uk/wp-content/uploads/2020/08/DIY-Daddy.jpg
430
760
Holly Hodges
https://www.vuelio.com/uk/wp-content/uploads/2019/09/vuelio-logo.png
Holly Hodges
2020-08-24 11:27:41
2020-08-24 11:27:41
Parenting Blogger Spotlight: Nigel Higgins, DIY Daddy