Parliament Watch: Education and Skills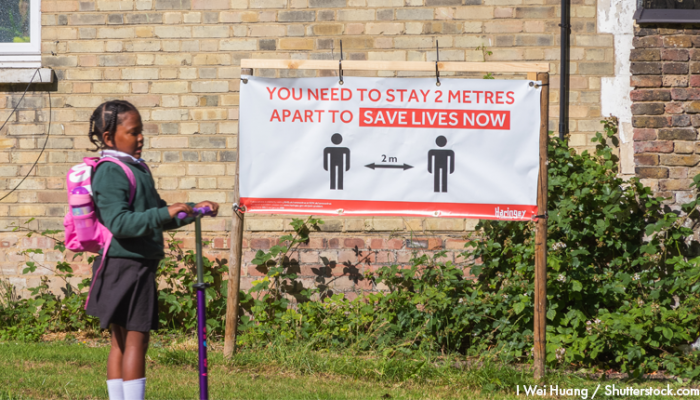 In this series, we're exploring how different sectors may be impacted by autumn policy announcements and how you can prepare for a period without physical party conferences.
The education and skills sector will be a critical one this Autumn, as it will be central to the recovery from COVID-19, and particularly important as the furlough scheme draws to a close in October. This ties into Education Secretary Gavin Williamson's announcement of an overhaul in further education in July as part of the Government's levelling up agenda. Hopefully, we will see further details of this 'fundamental change' with the publication of a White Paper in further education, as well as the implementation of Government measures to counteract the impact of the employment crisis on young people.
Opportunity Guarantee
As part of the Government's 'build back better' plan for recovery from Covid-19, Prime Minister Boris Johnson promised an Opportunity Guarantee to help young people get into work, stating in June that every young person will be given the chance of an apprenticeship or work placement. This was first mentioned by Education Committee Chair Robert Halfon and further supported by Chancellor Rishi Sunak in his Summer statement, announcing a bonus of £2,000 for firms who hire a new young apprentice aged 16-24 and £1,500 for apprentices over 25. It is unclear how successful this will be, as apprentices were made redundant amidst the wider employment crisis caused by the pandemic. Furthermore, some stakeholders have said the bonus will be wasted on larger employers who would be hiring apprenticeships anyway. Nevertheless the promise has gained traction, with many calling for the Government to publicly commit to the promise, given numerous reports that the economic consequences of the pandemic will fall heavily on young people.
T-Levels
The Government is planning to launch T-levels this autumn, despite requests to postpone the launch due to coronavirus concerns. These 2 year-courses, equivalent to 3 A levels, will be a mix of classroom learning and 'on-the-job' experience from Industry Placements, and have been introduced. The first 3 T levels will be available from September 2020 in Design, Surveying and Planning for Construction, Digital Production, Design and Development, Education and Childcare, with a further 7 courses set to be introduced in 2021.
This is a major part of the Government's plans to improve technical education in the UK and the courses are supposed to differentiate from apprenticeships, which are more heavily geared around on-the-job experience and designed for people who want to enter the workforce at 16. As opposed to a direct route to work, T levels are described by the Government as an alternative to A levels and a pathway to further study. However, the roll out is controversial as in March the awarding bodies for the first three T levels asked the Government to delay their plans, on the basis that colleges would likely be in 'crisis and recovery mode' until the Autumn term. However the Government has decided to go ahead with the initial launch date, with Skills Minister Gillian Keegan writing to providers in April about how important it is that students do not lose out on opportunities due to COVID-19.
Further Education White paper
In a speech hosted by the Social Market Foundation, Secretary of State for Education Gavin Williamson announced the publication of a White Paper this autumn which will set out 'long-term change' for further education. This will be an important step in supporting the Government's ambitions to level up the country, and address skills shortages in certain sectors which may be impacted by Brexit later in the year.
Reform in this area will also be tightly linked to recovery from the coronavirus pandemic as many will need to reskill. Although speculative, it is thought the document will focus on four 'pillars' of funding, qualifications, workforce and careers, as well as a mechanism for bringing failing colleges under state control and giving Ofqual powers to make funding decisions about different qualifications.
Schools Reopening
Over the summer the Government have been clear that Schools and Colleges will reopen fully in September, despite controversy over the safety of doing so. Plans for returning safely include staggered start times and grouping whole year groups into bubbles, with teachers moving between different groups to facilitate teaching the full curriculum. Teachers unions have expressed continuing fears over the safety of reopening, as they say Government plans rely on lower-levels of COVID-19 in the community and a fully functioning test and trace contact system. They have also called for the Government to have a 'Plan B', in case these qualifiers have not been reached. However, Education Secretary Gavin Williamson has stated that teaching unions cannot be allowed to 'dictate' when children go back to school and urged cooperation and support from the unions to get children to help the 'national recovery'. There have also been suggestions that further restrictions in other areas of the community may be necessary to allow this to happen.
Another issue is that in a deal with Government to secure a bailout package, TfL agreed to suspend free transport for under-18s from September onwards. Undoubtedly this will impact low-incomes families and young people's access to education and campaigners, including London Mayor Sadiq Khan, have called on the Government to reconsider these changes. Following Marcus Rashford's successful campaign on free school meals support for disadvantaged children, it is possible that there will be some change here, but undoubtedly will be a talking point when schools return in September.
https://www.vuelio.com/uk/wp-content/uploads/2020/08/Education.png
430
760
Lucy Grove
https://www.vuelio.com/uk/wp-content/uploads/2019/09/vuelio-logo.png
Lucy Grove
2020-08-20 16:27:41
2020-08-20 16:27:41
Parliament Watch: Education and Skills