Party political update: Time to secure an EU trade deal is running out as PM sets new 15 October deadline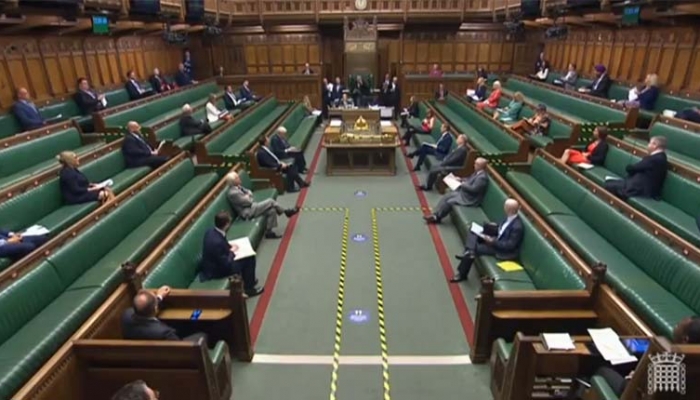 Vuelio's Sam Webber writes about the challenges for the main party leaders now parliament has returned from recess, as Brexit begins to dominate political bandwidth again, while COVID-19 remains a critical political issue following a rise in UK case numbers.
Now returned from summer recess and a long period between March and July dominated by the initial response to the coronavirus pandemic, Brexit is again the principle issue being discussed in Westminster.
This could be a tactic by the Government to take the focus away from its handling of the pandemic and a series of U-turns on school exam results, mask wearing, local lockdowns and air travel corridors, but it is also the result of the window of opportunity left to sign a deal with the European Union closing fast.
Though the UK's transition period officially concludes at the end of 2020, Prime Minister Boris Johnson has set a new deadline of the next European Council meeting on 15 October to allow sufficient time for European leaders to sign off the deal. This is, in effect, a five-week period left to prevent a no-deal exit from the European bloc, but the Prime Minister is clear that he believes this would be a 'good outcome' for the UK. It is thought that the remaining stumbling blocks preventing a deal being agreed to is an EU demand that the UK signs up to its own rules and standards as well as a dispute about fishing rights.
At a crucial set of talks between the two negotiating sides this week, tensions will be even higher than usual after a story in the Financial Times explained that the Government now intends to introduce new legislation to override key parts of the Withdrawal Agreement. This move is likely to make the chances of getting a deal agreed even more remote and EU Commission President Ursula von der Leyen has tweeted that she trusts the UK Government to 'Implement the Withdrawal Agreement, an obligation under international law & prerequisite for any future partnership.'
The Prime Minister is also finding his Conservative backbenchers are now more critical of the Government; whether its MPs demanding higher wages in the poorest areas of the UK, many of which elected Conservative MPs for the first time in 2019, or former Brexit Secretary David Davis, who has pledged to vote against any new Budget proposing tax rises.
Davis said: 'When on earth is the Treasury going to learn that putting taxes up ends up getting you less money?'. He added: 'Our economic engine is sputtering because of the crisis. We have to ensure it gets going again and runs fast otherwise we won't have the jobs, the welfare cost will be enormous […] and therefore we won't have the money to turn the economy into the sort of future-proofed economy we actually want to see post-Brexit.'
Conservative Chair of the Justice Committee Sir Bob Neill also achieved a significant answer from Northern Ireland Secretary Brandon Lewis in the House of Common. Responding during an Urgent Question on the UK's commitment to its legal obligations under the Northern Ireland Protocol, Lewis said: 'Yes, this [new legislation] does break international law in a very specific and limited way'.
This is thought to also be the reason also for the sudden resignation of Sir Jonathan Jones QC as head of the Government's Legal Department.
Labour under Starmer
Labour leader Keir Starmer has had a relatively successful few months since becoming leader of Her Majesty's Opposition and his supporters will be pleased that in at least one significant poll Labour and the Conservatives were level on 40%. Though he campaigned to reunite the party and not turn the clock back on the Corbyn era, Starmer has, however, still been able to make his mark quite significantly over the last few months. First his principle opponent in the leadership contest Rebecca Long-Bailey was asked to stand down from the Shadow Cabinet over sharing an interview on social media that contained an antisemitic conspiracy theory.
The Labour leader said: 'My primary focus is on rebuilding trust with the Jewish communities. I didn't think sharing that article was in keeping with that primary objective'.
Another Labour frontbencher, Lloyd Russell-Moyle, also stepped down from his role as Shadow Minister for the Natural Environment, after what he called a campaign waged by the 'right wing media' following two occasions when he has had to apologise for his actions.
Those in the party seeking to move to the centre and consign the Corbyn project to history might well be encouraged by these two departures, coupled with the fact Keir Starmer ensured his preferred candidate, David Evans, was appointed as the party's new General Secretary. He also ensured a small but potentially significant internal party change: Labour will now use STV (the single transferable vote system) for elections to its National Executive Committee.
Will this see a national shift away from first past the post and Labour embrace proportional representation for Westminster elections? Only time will tell, but the Electoral Reform Society warmly welcomed the move, saying it was 'A real win for members across the party: preventing one side taking 100% of seats on a minority of the vote. Now it's time for Labour to join almost every other party and get behind fair elections for Westminster, too.'
Ed Davey elected
Liberal Democrat members elected Ed Davey as the party's new leader at the end of August, after a campaign that was run purely online, with over 40 different zoom hustings.
Davey won with 63.5% of the vote on a 57.6% turnout, beating the party's Education spokesperson, Layla Moran. He has reshuffled the Liberal Democrat team of MPs with Ms Moran becoming the new spokesperson for Foreign Affairs and International Development.
Scottish politics
Scottish politics is in a febrile state in anticipation of the critical Scottish parliamentary elections in May 2021. In a shock move over the summer break, the Scottish Conservative leader Jackson Carlaw announced his resignation and former minister Douglas Ross was announced as the new leader.
Scottish Labour leader Richard Leonard's position is said to be hanging on 'by a thread' after four of his MSP's publicly called for him to go last week. Leonard has hit back in an article for Tribune threatening his colleagues before selections take place:  'The events of the past two days have sharpened my resolve that we need a new generation of Labour representatives in the Scottish Parliament. When our executive meets on September 12 to set out the process for selecting list candidates, they will no doubt reflect on this too – and so will members when they take part in that ballot.
Scotland's First Minister Nicola Sturgeon announced her Government's programme for the year ahead entitled 'Protecting Scotland, Renewing Scotland'. The First Minister also confirmed that, before the end of the Parliament, a draft Bill would be published on a new independence referendum. It would set out the terms, timing and question wording to be used by such a referendum. Vuelio's Thomas Stevenson has summarised all of the key policy announcements in the document. 
https://www.vuelio.com/uk/wp-content/uploads/2020/09/House-of-commons.jpg
430
760
Sam Webber
https://www.vuelio.com/uk/wp-content/uploads/2019/09/vuelio-logo.png
Sam Webber
2020-09-09 14:00:04
2020-09-14 14:14:51
Party political update: Time to secure an EU trade deal is running out as PM sets new 15 October deadline