Pet blog spotlight: Rachel Spencer, The Paw Post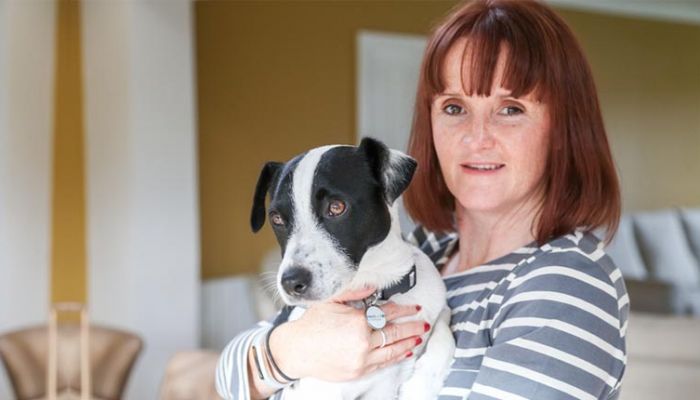 Rachel Spencer started The Paw Post in 2017 to talk about everything pet related with her dog Daisy. Sadly, Daisy passed away earlier this year. Here, Rachel has opened up about the loss of her beloved pet, how the blogging community supported her and how The Paw Post has carried on in Daisy's memory and also now features Patch.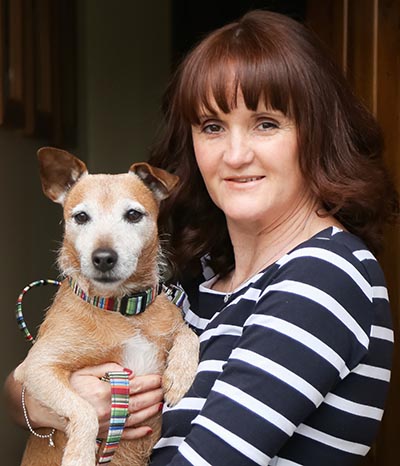 Could you tell us how things have changed recently?
We lost our dog Daisy [pictured with Rachel, right] in April this year. She was a senior dog at 13 but was always so young. In October last year she had pancreatitis and was very poorly but recovered. Then in December we started noticing changes in her. She lost her depth perception, became restless at night and started growling at sudden movements. It was out of character and she had a few accidents in the house.
When we learned she had dementia, it really hit home she was getting old. But I did lots of research and had amazing support from her vets, and we were positive about the future.
But after a few months she deteriorated, becoming anxious and started vocalising, one of the advanced dementia symptoms. We became worried about her vision as she couldn't see her favourite blue ball and kept walking into things.
The vet checked her visual field and confirmed our fears. She suspected a tumour was pressing on her optic nerve. We took some time to consider having an MRI scan to see what was there but she went downhill so quickly and we knew around the corner would be a seizure or haemorrhage which would have been terrifying and painful. We wanted her to go peacefully and in April we made the decision to put her to sleep.
What's it like having to deal with a loss so publicly?
I didn't tell anyone apart from people we knew in real life or who had grown close to on social media and in the pet world for the first couple of weeks. But I knew I had to publicly share it and it took a lot of strength to write the post saying goodbye.
Although she was old, it was a shock. Daisy was so young at heart and was still chasing sheep and squirrels just a few weeks before we lost her. Like all dog owners, I expect them to live forever.
Things escalated really quickly – she went from playing with her ball on the beach to being scared of the outside world because she could no longer see and was in pain in the space of a week.
What happened afterwards was amazing. People were so lovely and supportive and sent cards, flowers and gifts. It completely blew me away and it totally opened my eyes to the lovely community the pet blogging world is. I felt really grateful because had I not done the blog I never would have had that.
What did you think you'd do with the blog after Daisy died?
I didn't know what to do with myself at the time but after the lovely response I had, I decided to carry it on in her memory. She is still on my profile on all our social media channels – I can't bring myself to change it yet. And I decided that I'd continue to write about the things that affected Daisy, how to cope with a senior dog and how to cope with loss. I've tried to use our experience to help others.
What advice would you give anyone who loses a pet?
Nothing can prepare you for how you feel but the main thing is to give yourself time and be kind to yourself. It's ok to grieve for a pet and I even spoke to a bereavement counsellor to find out the best ways to cope, how to handle telling my partner Tommy's young daughters and things like that. I know some people might feel like it sounds a little over the top but it helped me.
Can you tell us about getting Patch?
We knew we wanted to adopt another dog rather than get a puppy. I felt we were in a situation where we could adopt – we didn't have small children and were fairly experienced with having had Daisy – so that's what we did.
We found Patch on a rehoming page for Patterdale Terriers on Facebook. I knew straight away he was the one. His family were rehoming him as his owner had died. We stay in touch with them and we're so glad to have found such a lovely dog.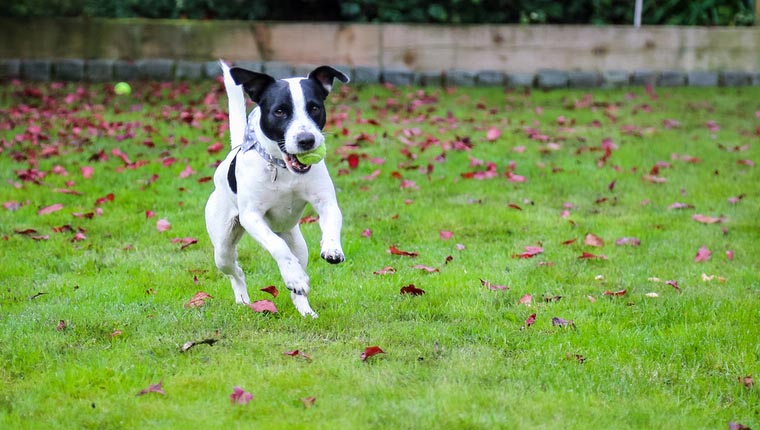 Are you conscious of Patch filling in on the blog where Daisy did before?
Yes, he's a different dog, he's only two whereas Daisy was a senior dog, so I write about him and try to put his personality across. He's in training so we're doing his training diaries, and we're looking forward to writing about his holidays, new things he's tried out and what life is like with a young dog.
But I also still write about issues affecting dogs of all ages, like anxiety and the importance of dogs being trained and well mannered. I feature Daisy whenever I can too.
Do you still work with PRs/brands in the same way?
Yes, I have a lot of PRs who come to me as a journalist first then that leads to content for my blog.
Because I have a younger dog, I can do things like 'running for dogs' and other activities that might not have been possible or appropriate for a senior dog.
I ensure my posts are well researched, produce informative posts that aim to be helpful to my readers and always meet deadlines.
I would love more PRs to approach me as a blogger – I only write about things I (or someone I know well and trust) have tried and tested and I don't use guest posts but other than that, I'm open to all kinds of ideas.
https://www.vuelio.com/uk/wp-content/uploads/2018/12/Rachel-Spencer-the-paw-post.jpg
430
760
Holly Hodges
https://www.vuelio.com/uk/wp-content/uploads/2015/10/vuelio-logo-transparent.png
Holly Hodges
2018-12-11 10:39:12
2018-12-11 11:25:22
Pet blog spotlight: Rachel Spencer, The Paw Post