Pet Blogger Spotlight: Rosemary Kind, Alfie's Diary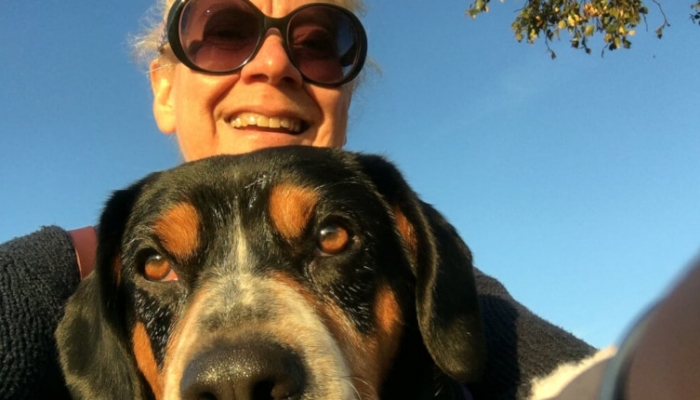 'Dogs and cats are not like cans of beans. You don't just take them off the shelf in the supermarket,' says Rosemary Kind of her love of animals and blogging about them. Alfie's Diary – written from the point of view of her canine collaborator Alfie – chronicles the adventures of her pets as well as their care. For Rosemary, the pet blogging community are a pretty good bunch, only slightly bonkers, here to help with getting the word out on how to care properly for the animal pals in your life.
We talk famous alpacas and keeping things authentic – also important: there are pictures of puppers being good boys on location with Rosemary (very important).
How did you get started with blogging about pets?
It all began as a way to discipline myself to write every day.
I'd left a 'real' job to become a full-time writer and was suddenly adrift from all the corporate structure, goals, to do lists, etc. It would have been all too easy to say I was a writer while achieving very little indeed. If I started a blog then not only would I write every day, but as we'd recently moved to live in Belgium for a short period, I could use it to keep the family posted on what we were up to.
The arrival of Alfie, as a ten-week-old puppy, into our lives gave me a fun way to approach things. Watching him looking at the world and reacting to all the new things around him just led to the obvious (to me) conclusion that I should be writing about the world through the eyes of my dog.
What's your favourite thing to post about?
Definitely travelling. Wilma, my youngest dog, is my sidekick these days and travels almost everywhere with me. We also get to go to some pretty cool places, so get some good photo opportunities.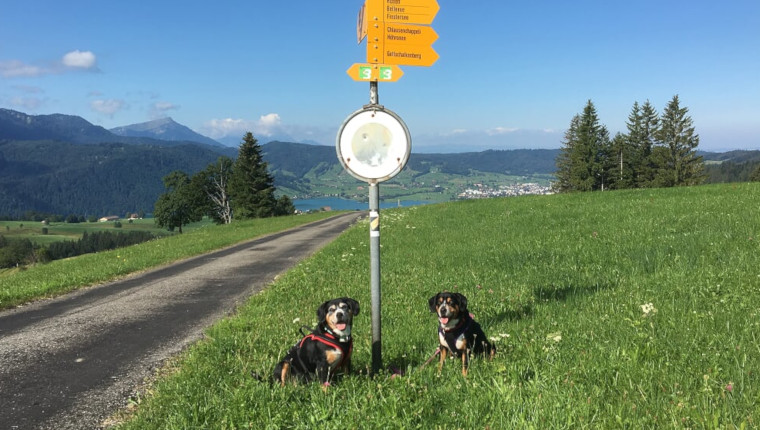 What are the best things about the pet blogging community that other blogging sectors might not have?
From the bloggers I've talked to, we all care passionately about our animals. We're probably all slightly bonkers too, but in a good way. It's easy to like people who put the needs of their pets first; in my book, they are generally a pretty good bunch.
What are your thoughts on pets/animals becoming celebrities through blogging and featuring on social media?
I've stopped being surprised by who becomes famous and why. If it's possible for humans to become famous just for being famous, then any cat or dog with that inclination should just go for it. One of my absolutely favourite Instagram accounts is Alfie the Alpaca in Adelaide – he seems none the worse for it and has a pretty good life compared to the average alpaca. It's great to see owners combining their pet's celebrity with including excellent advice on the animals. When it's clear that the animal's needs come first, that's a good thing.
Is there something you would never feature/write about on your blog?
We won't feature products we haven't actually tested. If we recommend something to our readers it has to be because we've tried it and think it's worth telling them about. It also has to be relevant to our blog.
Do you think it's necessary to have pets of your own in order to blog about pets/animals?
I've written a crime novel with a number of murders, but I've not actually killed anyone. No, I don't think having a pet would be necessary. I think you have to understand what you are writing about and if it's issue-related you need to care about the issue, otherwise you come over as inauthentic. I suspect if you approached this from a 'professional' point of view, without an interest, then that would come over to the reader. Dogs and cats are not like cans of beans. You don't just take them off the shelf in the supermarket. They are sentient beings and I think being on their wavelength makes a big difference in writing about them. I'm odd in a way as I write from their point of view. I can't do that and be distant from how they think. It wouldn't make a convincing read.
Very important question here – which are really better, cats or dogs?
Not better, just different. Cats suit some people's lifestyles better and years ago I did have cats. Now, I'd go crazy if I didn't have a dog. We have readers who have cats and I wouldn't want to upset them. Having said that, we have a dog who thinks she's a cat. I have never seen such a condescending look in a dog's eyes as Shadow can give if she's not happy about something. She makes me laugh.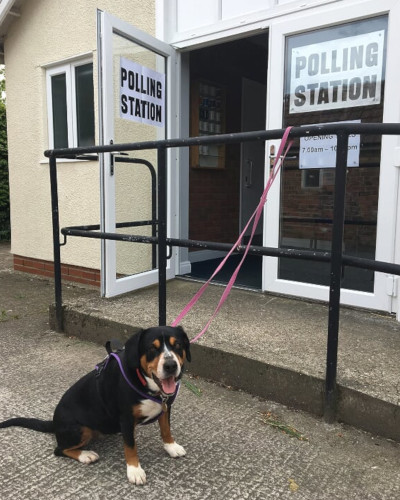 How do you work with PRs and brands – are review products and new launches useful?
Review products which are relevant are always welcome. I won't change the food my dogs are on for the sake of a review, but I can gauge their reaction to it using it as a treat. Other things we happily test, as long as we can see it. I won't take on a review that is obvious won't add any value for readers.
We don't just carry press releases which come in, unless there is a relevant angle. Too many press releases are adverts dressed up as news but without a newsworthy element.
We do like some of the infographics that come in, but again here question data and rule some out as being contrived. At the end of the day, we are interested in anything that will be of genuine interest to our readers.
For PRs looking to work with you and your blog, how would you prefer they approach you?
Always by email. Please bear in mind we can receive a lot of enquiries, so if we have not replied in five minutes that doesn't mean it will be considered helpful to send us a follow up email. I have dogs to walk and other books to write as well.
What other blogs do you read?
I dip into blogs rather than reading them religiously. They are a great source of information on a whole range of subjects, not just pets but every area of life. There are very few answers that you can't find on the internet these days.
https://www.vuelio.com/uk/wp-content/uploads/2019/11/Alfies-Diary.jpg
430
760
Holly Hodges
https://www.vuelio.com/uk/wp-content/uploads/2023/09/vuelio-logo-200px.png
Holly Hodges
2019-11-07 13:09:01
2019-11-07 13:59:58
Pet Blogger Spotlight: Rosemary Kind, Alfie's Diary