Keeping the influencer industry responsible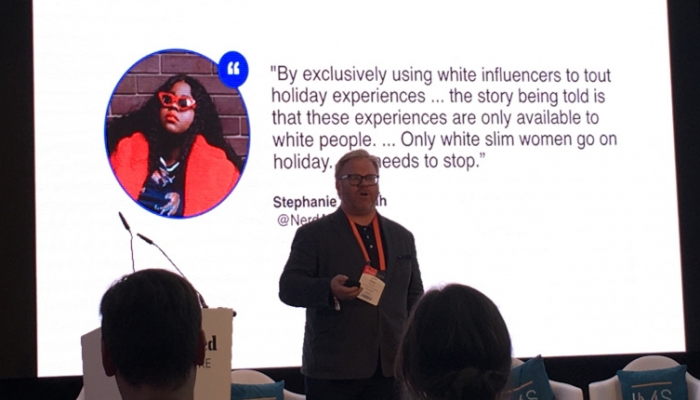 Despite growing pains and continuing flux, the influencer industry continues to expand into mainstream culture and creep its way further into marketing and PR budgets. According to a Markets and Markets report cited in the #FuturePRoof guide We're All Influencers Now, the international influencer marketing sector is predicted to grow 30% by 2024 – that's £4.5 billion to £18.4 billion.
Big money means big responsibility for an industry still catching up with the accountability that comes with success, and ethics and regulation is what many speakers at this year's Influencer Marketing Show were advocating for.
Speakers across the breadth of agency, creator, brand and tech brought up the issue of how to keep the industry accountable and ethical. For influencer marketing guru Scott Guthrie, influencers themselves have a moral obligation, as well as a legal requirement, to do the right thing by their audience.
Some obviously poor choices from those making a living from social media were highlighted by Scott – the hijacking of California wildfire hashtags by some Instagram influencers being one particularly unfortunate example. That influencers should make more ethical choices was also urged by artist and activist Alice Skinner. Fully aware of the responsibility she has to the young girls who make up a large portion of her following, she works to stay true to them as well as her own values: 'It's hard, but I want to be able to live with myself. I'm learning not to work with brands that don't align with what I make, that don't align with my beliefs and ethics'.
Working with those brands that align with their values doesn't just help influencers avoid a guilty conscience, it also helps with keeping that authentic voice necessary for holding on to an engaged following.
During the panel with Alice Skinner on re-defining influence, fellow creator Rob Eades mentioned the dwindling effectiveness of product review posts, an early mainstay of the industry that don't work as well in a post-sponcon world. In Rob's experience, 'people see through that stuff now'. After missteps like the Kardashians using their influence to advertise weight-loss teas, followers are smarter and are less likely to engage with inauthentic brand alignment or unethical promotions (which the slimming tea controversy most definitely was).
But what of the brands and agencies that work with influencers? Industry professionals certainly don't escape the blame. Being an ethical industry extends to finding influencers and high-profile voices that match with what's being promoted – actress and vocal feminist Maisie Williams working with The Body Shop on its #ForeverAgainstAnimalTesting campaign being a good example of a natural fit. A bad example was Mystery Brand working with Jake Paul, whose young audience shouldn't, ideally, be visiting gambling websites.
Agencies have a responsibility to choose the right influencers, and that includes making sure their choices and reach are diverse. Stephanie Yeboah (interviewed in Vuelio's Women of Colour series), on noticing brands choosing to only work with white influencers, spoke up about it on Twitter and wrote a Metro piece that got a lot of attention in the industry. 'Brands are actually trying', said creator Adanna David during the panel with Alice and Rob, but they need to go beyond tokenism, 'Sometimes I have been a token. But maybe it's a sign that things are changing'.
Where individual sense and conscience checking won't do it, future regulations on the influencer industry will. For Gary Csiszar, CEO and Founder of Post for Rent, speaking during a panel on creators and branded content at IMS, the future is going to bring restrictions: 'Regulation will be more strict on influencer marketing – that's what I've started to experience in different countries.' It's unavoidable, and bound to bring positive change, but self-regulation for individuals and companies working in the sphere is a good foundation. Asking: is this authentic? Is this ethical? Is this inclusive?
And not promoting gambling sites and slimming teas to children – that's a given.
For more on ethics in influence and influencer marketing governance in public relations, sign up for our upcoming webinar 'We're all influencers now with Stephen Waddington, Sarah Waddington and Andrew Terry. The guide from FuturePRoof can be read here.
https://www.vuelio.com/uk/wp-content/uploads/2019/11/Scott-Guthrie.jpg
430
760
Phoebe-Jane Boyd
https://www.vuelio.com/uk/wp-content/uploads/2023/09/vuelio-logo-200px.png
Phoebe-Jane Boyd
2019-11-06 16:10:00
2019-11-06 16:24:02
Keeping the influencer industry responsible