Pet Blogger Spotlight with Hattie Day, The Cornish Dog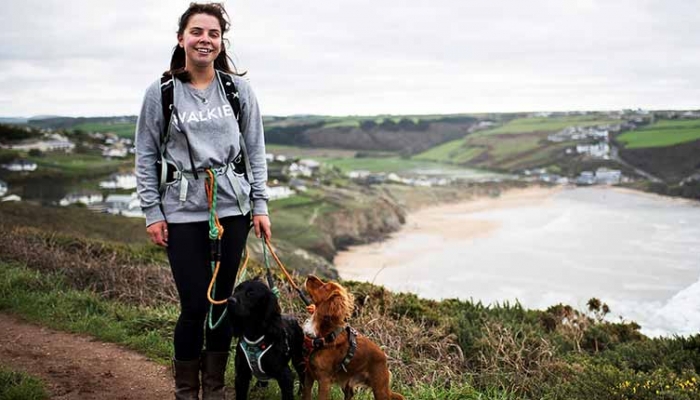 'I try my best to portray a realistic representation of owning and fostering dogs, sharing both the good and bad sides,' says Hattie Day about her aims with The Cornish Dog. 'It's all part of the fun of having dogs!'
Since 2017, Hattie has been posting about her adventures around Cornwall with dog Woody. Now also out adventuring with Hen (who joined the family in June of this year), Hattie is an expert on the best walks the area has to offer. Read on to find out how Hattie hopes to help more dogs find their forever home and what she loves best about the pet blogging community.
How did you get started with blogging about pets?
I started The Cornish Dog shortly after adopting my black working cocker spaniel Woody in 2017. He was the first dog I'd owned in Cornwall and while I knew there were so many exciting new walks to explore, I wasn't sure where they were or what to expect. In the early days, Woody's recall was unreliable and he still loves running off and exploring on his own. I wanted to know it was safe to let him off without having to worry about busy roads, fields of livestock, steep cliff falls or other hazards. I started The Cornish Dog as a way of reviewing our walks to help other first-time dog owners and those visiting Cornwall better plan their dog-friendly adventures.
What's your favourite thing to post about?
I really enjoy posting about new walks and beaches we've tried. This summer we embarked on a 125-mile hiking adventure on the Cornish Coast Path, tackling the whole of the North Coast. I can't wait to share the rest of our 300-mile adventure next year!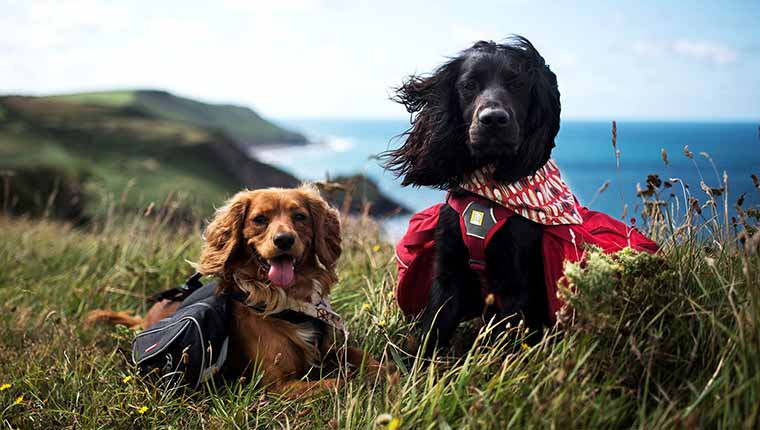 I also love sharing our experience as fosterers for Spaniel Aid UK. Since signing up in February 2019, Woody and I have fostered six dogs. Of course, we also failed as fosterers and adopted Hen (short for Henry) in June 2019. Through fostering for Spaniel Aid, I hope I inspire others to consider fostering or adopting a dog of their own. I believe every dog deserves a life full of adventure and I want to help dispel the negative stereotypes of rescue/adopted dogs while doing my bit to help them find their forever homes.
What are the best things about the pet blogging community that other blogging sectors might not have?
I really value the diversity of the industry and how approachable the community is. When I first adopted Woody, I reached out to a number of dog accounts I followed to ask all sorts of questions. Owning a dog can feel daunting at first but knowing I had friends to turn to online to help me through was really reassuring.
I also love how adventurous the community is and I'm so grateful to be a part of it. I've made friends with owners across the UK through The Cornish Dog and have been on so many incredible adventures. There's no way I would have climbed Snowdon, visited The Cotswolds or hiked the Coast Path had I not started The Cornish Dog.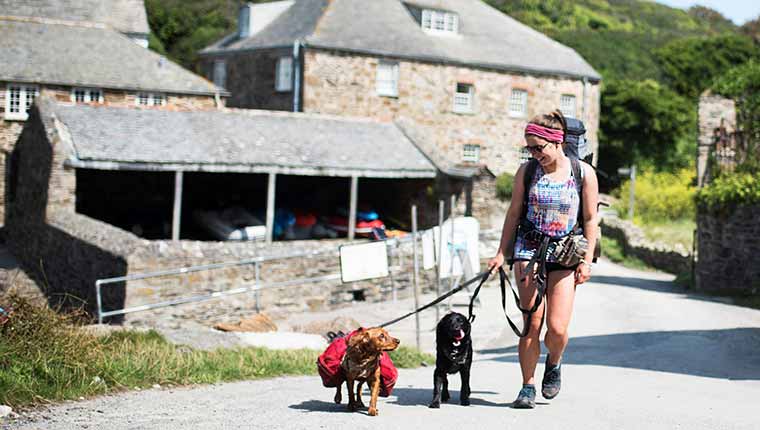 What are your thoughts on pets/animals becoming celebrities through blogging and featuring on social media?
I don't consider Woody and Hen as celebrities and it definitely wasn't my aim when starting The Cornish Dog. I do worry that the rise in pet influencers could negatively contribute to the number of dogs being surrendered to rescue centres and organisations every year. I'm very conscious of this and try my best to portray a realistic representation of owning and fostering dogs, sharing both the good and bad sides. After all, neither Woody, Hen nor any dog is perfect; they've all got their quirks and some days are definitely better than others. It's all part of the fun of having dogs!
I would never advise getting a dog based solely on accounts you follow on Instagram and it's incredibly important to thoroughly research every aspect of dog ownership. Different breeds have different needs and it's vital you choose a dog that fits into your lifestyle – and remember owning a dog is often a ten plus year commitment.
Is there something you would never feature/write about on your blog?
The Cornish Dog is all about inspiring others to get outside adventuring with their dogs and my website attracts readers with similar aspirations. I often discuss difficult topics on my blog, particularly surrounding sustainability and the dog industry, and am always open to new topics and projects. However, I would never write a feature that doesn't align with my audience, their aspirations and outdoorsy lifestyle. My readers always come first and I often turn down partnerships that I feel aren't relevant or in alignment with The Cornish Dog's brand.
Do you think it's necessary to have pets of your own to blog about pets/animals?
Not necessarily, but it definitely helps. It depends what your niche is and the topics you choose to discuss. I found Rachel from The Paw Post's articles about losing her dog Daisy really insightful and reassuring, as it's something I definitely worry about as an owner.
For me personally, I know The Cornish Dog wouldn't exist if I didn't have dogs of my own. Having Woody and Hen helps me tailor my content to other dog owners and really relate to their experiences and struggles. Walking is so different when you've got a dog in tow and both Woody and Hen's quirky personalities definitely bring added charm to the articles and features I write.
Which are better, cats or dogs?
Seeing as I'm allergic to cats, I'm going to have to say dogs!
How do you work with PRs and brands – are review products and new launches useful?
I often work with PRs and brands to promote dog friendly things to do in Cornwall. We've been invited on a number of complimentary stays across the Duchy in exchange for blog posts and features on social media. Occasionally we receive products to review too, with a particular focus on sustainability and eco-conscious brands.
I am also a photographer by trade, working with dog businesses to shoot product and lifestyle photography for their websites and social media. I'm very grateful for every opportunity the dogs and I receive and enjoy hearing how our projects positively impact businesses and brands.
For PRs looking to work with you and your blog, how would you prefer they approach you?
Email is the best way to contact me if you're interested in working together. My portfolio contains examples of my work, as well as testimonials and case studies from previous clients.
What other blogs do you read (whether pet-related or not)?
I enjoy reading blogposts about outdoor adventure, both in the UK and abroad. I love learning about climbing, long distance hiking, water sports and (of course) adventuring with dogs. Some of my favourite accounts include @ace_the_jrt, @cockapoomarley, @mywhiskeygirl, @mycaninelife, @roman.around.scotland, @trailsandbears, @theadventuresofjosieandedie and @jessyyandthewonderdogs.
https://www.vuelio.com/uk/wp-content/uploads/2019/12/The-Cornish-Dog-Featured.jpg
430
760
Holly Hodges
https://www.vuelio.com/uk/wp-content/uploads/2019/09/vuelio-logo.png
Holly Hodges
2019-12-13 12:03:50
2019-12-13 12:03:50
Pet Blogger Spotlight with Hattie Day, The Cornish Dog