PMQs: Theresa May's word cloud – 21 February 2018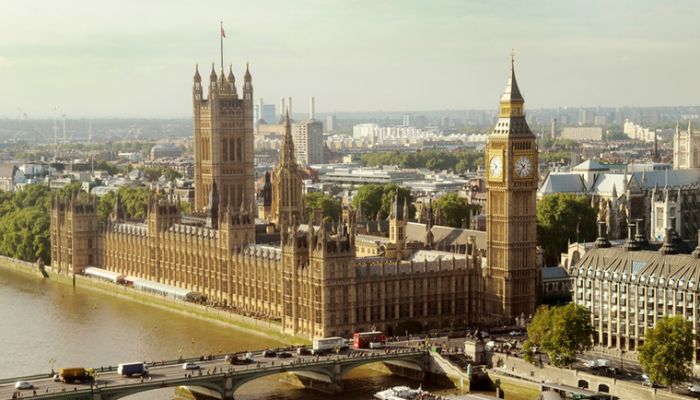 During this week's PMQs, the Speaker John Bercow was forced to intervene on several occasions in what was a particularly rowdy session (as it always is after half term). The questions this week focused on Brexit, crime and the NHS. We present the world cloud for Theresa May's answers during PMQs on 21 February 2018: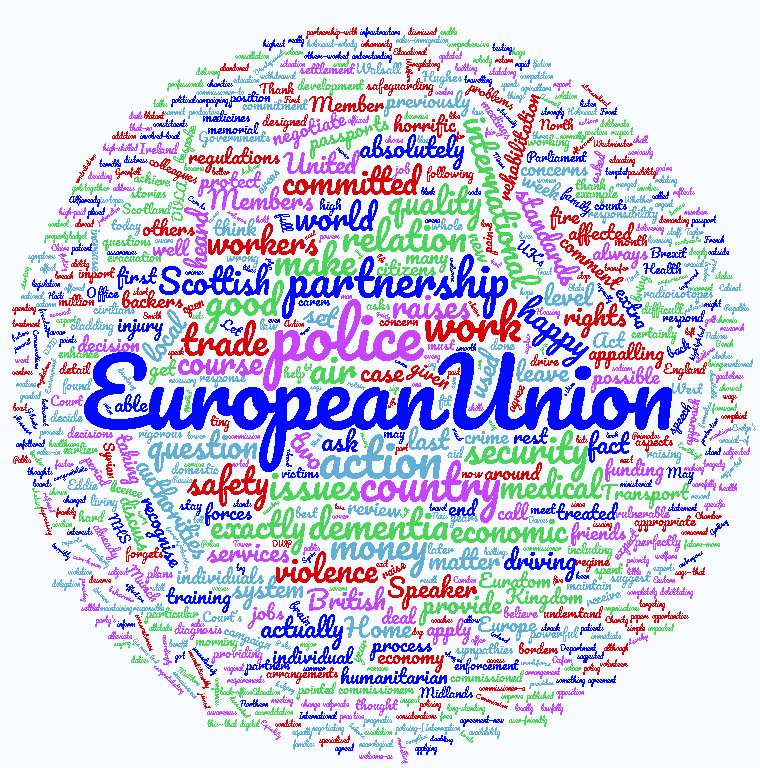 Brexit
In the past, Corbyn has received criticism for avoiding Brexit at PMQs. This week, he devoted all six of his questions to the subject. In a typical battle of soundbites between the two-party leaders, Corbyn accused the Government of 'waffle and empty rhetoric'. His first question was on David Davis' speech yesterday, in which the Brexit Secretary reassured the country that leaving the EU would not turn the country into a Mad Max-style dystopia. He asked the PM if the bar could be set 'just a little bit higher'. May took a swipe at Labour's shifting position on Brexit, saying that the only fiction is coming from Labour, which cannot decide what its policy is.
Corbyn ploughed on with his attack on the Government's apparent divisions over Brexit and criticised the PM over the protection of workers' rights and the environment. Corbyn made a reference to a letter published in The Telegraph today, in which 62 Brexiteer Tories outlined what they wanted from Brexit in favour of weakening protections. May insisted that she desires a 'bespoke economic partnership' with the EU. Corbyn also attacked Boris Johnson, criticising him for neglecting to mention Northern Ireland in his 'road to Brexit' speech last week and said, 'this Government isn't on the road to Brexit, Mr Speaker, it's on the road to nowhere'.
May hit back with her own gag about the allegations over Corbyn's contacts with a Czech spy in the 1980s. She said, 'normally he stands up and asks me to sign a blank cheque, I know he likes Czechs but really that is terribly depressing.'
Policing
Conservative MP Eddie Hughes, asked about the need to see more police on the streets, asking the Prime Minister to join him in urging the Labour police and crime commissioner in his constituency to put more police on the streets. May said that she is keen to ensure that police are out there, not in back-office jobs.
She said that the funding settlement for next year provides extra money for policing. Labour MP Anna Turley asked about the rise in crime and antisocial behaviour in her constituency, commenting on the cuts to Redcar's local police budget. May assured the house that extra funding is being provided for police forces.
Health & NHS
Labour's Tulip Siddiq argued that the UK's decision to leave nuclear regulatory treaty Euratom when it leaves the EU will limit our access to vital cancer treatments, arguing that if medical isotopes used in radiotherapy treatments are delayed, 'they could be deemed useless on arrival'. May accused her of being wrong on two accounts and said the Government wants to continue freedom of trade with the EU and insisted that the import of radioactive isotopes will not be affected.
Conservative MP Sir Mike Penning, asked if the Prime Minister has any 'good news' for people who have suffered side-effects from the pregnancy drug Primodos. May said that concerns raised by campaign groups have shown there is an issue with our regulatory healthcare system and that there needs to be a 'faster, more understanding response' to people who raise concerns. She informed the house that Health Secretary Jeremy Hunt will be setting out plans for a review in this area later today.
Vuelio's dedicated political services team can provide intelligence on topics and areas vital to your business, find out more here. 
https://www.vuelio.com/uk/wp-content/uploads/2017/08/Parliament.jpg
439
760
Jake O'Neill
https://www.vuelio.com/uk/wp-content/uploads/2019/09/vuelio-logo.png
Jake O'Neill
2018-02-21 15:46:28
2018-02-21 15:51:57
PMQs: Theresa May's word cloud – 21 February 2018