Today's Political Headlines – 21 February 2018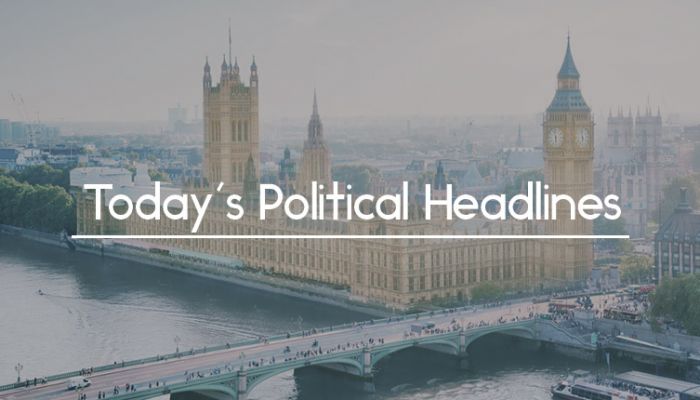 Today's Political Headlines include Tory MPs' demands for a harder Brexit, Corbyn attacking the press, the continuing Oxfam scandal and Diane Abbott calling for fairer immigration for families.
Over 60 Tory MPs write to May demanding harder Brexit
The Times reports that over 60 Conservative MPs have written to Theresa May, telling her they will no longer support her Brexit plans if the Cabinet agrees to keep the UK too closely aligned to the EU. Their demands would make it impossible for the UK to stay in EU agencies, and reject the transition period unless a trade deal is agreed by next March, which the paper reports that 'experts believe is all but impossible'. The Daily Telegraph claims that Boris Johnson has told German officials that the negotiations are 'a mess.'
Corbyn attacks press over spy accusations
As the BBC reports, Jeremy Corbyn has warned the press that 'change is coming' and accused the media of publishing 'lies and smears' about his contact with a Czech spy in the 1980s. In a statement, The Sun said that it would 'keep asking' questions. According to The Guardian, intelligence experts who have seen Czechoslovakian files say that there is no evidence that Jeremy Corbyn was a spy or agent of influence.
Oxfam accused of being 'quite possibly deliberately' misleading by minister
The Times reports that International Development Secretary Penny Mordaunt accused Oxfam of 'quite possibly deliberately' misleading governments, the police, and the public over sexual exploitation by its staff in Haiti in 2011. Meanwhile, Save the Children has apologised to three women who raised concerns about its former chief executive, Justin Forsyth.
Diane Abbott to call for fairer immigration for families
Diane Abbott will announce a pledge to end 'family break-up through the immigration system' in a speech today, The Guardian says. She will renew Labour's commitment to scrap the Government's migration target, allow parents or carers of admitted child refugees to come to the country, and end the practice of deporting children without entitlement to be in the UK once they turn 18 even if their parents are entitled to be here.
New FCA and Charity Commission chairs face criticism
Two public appointments came under scrutiny in the House of Commons yesterday. The Financial Times says that Charles Randell, incoming chairman of the Financial Conduct Authority, was questioned over his use of a film partnership accused of being a tax-avoidance scheme. The Guardian reports that the Digital, Culture, Media and Sport Committee has unanimously refused to endorse Baroness Stowell of Beeston as chair of the Charity Commission because she lacked 'any real insight, knowledge or vision'.
Committee launches investigation into social media's impact on children
According to the Daily Mail, the Commons Science and Technology Committee has opened an investigation into the effect of social networks on children. Norman Lamb, the committee's chair, said 'Social media and smartphones are increasingly being used by children and young people. It is vital that we understand the impact this is having on them – the benefits as well as the risks.'
Labour and Lib Dem peers should resign to cut size of Lords, says Prime Minister
Theresa May is calling on Labour and the Liberal Democrats to encourage their peers to retire in order to cut the size of the House of Lords, claiming that the Conservatives were better at 'embracing retirement at the appropriate time', the BBC reports.
Lib Dem spokesperson steps down over sex for favours accusation
In an exclusive, The Sun says that Lord Lester has stood down as a Liberal Democrat spokesperson over a sex for favours scandal. A female campaigner has launched a complaint alleging that the peer tried to grope her when she approached him for help to pass legislation, and offered support in return for a sexual relationship. Lester denies the claims.
Find out more about Vuelio Political services, which are bespoke for your needs.
https://www.vuelio.com/uk/wp-content/uploads/2018/01/Vuelio-Political-News.jpg
430
760
Thomas Stevenson
https://www.vuelio.com/uk/wp-content/uploads/2023/09/vuelio-logo-200px.png
Thomas Stevenson
2018-02-21 09:26:48
2018-02-21 10:20:12
Today's Political Headlines - 21 February 2018