Today's Political Headlines – 20 February 2018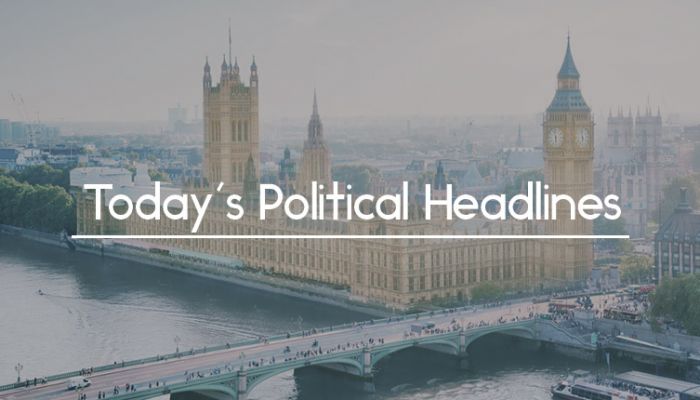 Today's Political Headlines include Brexit Britain NOT being a Mad Max-style world, Michael Gove paying farmers for looking after animals, Corbyn to rethink the financial sector and Academics planning to escalate strike action.
David Davis: Brexit Britain will not be a 'Mad Max-style world'
David Davis is to tell business leaders in Austria that fears that Brexit will turn the UK into a 'Mad Max-style world borrowed from dystopian fiction', are unfounded The Guardian reports. He will say that the UK will continue to uphold high standards and say 'fears about a race to the bottom are based on nothing'. The Financial Times says that Theresa May will keep cabinet ministers at a meeting at Chequers on Thursday until they have agreed a Brexit plan with a high level of alignment between EU and UK rules.
Michael Gove announces farmers will get paid more cash for looking after animals better
Michael Gove is to address the National Farming Union today, outlining his plans for agriculture after Brexit, according to The Daily Telegraph. He will say that farmers will be given larger subsidies for taking better care of livestock, as will landowners who encourage people to be more 'connected' to the countryside and increase understanding of farming.
Corbyn to call for 'fundamental rethink' of the financial sector
Jeremy Corbyn will call for a 'fundamental rethink' of the financial sector when he addresses the EEF manufacturers' organisation today, the BBC reports. Corbyn will say that finance should be 'the servant of industry, not the masters of us all' and promise new powers for the Government to prevent hostile takeovers.
Academics announce plan to escalate strike action
Academics have announced plans to escalate strike action, The Times says, with as many as 42,000 staff walking out on Thursday and Friday in the first of 14 days of strikes, with further dates being planned. Separately, The Guardian reports that Theresa May admitted in her speech yesterday that the education system was failing to serve the 'needs of every child'.
Oxfam executives to be questioned by MPs
Senior Oxfam executives are to be questioned by the Commons International Development Committee today, as the BBC reports. Those giving evidence include chief executive Mark Goldring and chair of trustees Caroline Thomson, as well as Kevin Watkins of Save the Children and Matthew Rycroft, Permanent Secretary of the Department for International Development. The Times reveals that Goldring is under investigation by Oxfam for his handling of a sexual assault case.
24 smart meters need to be installed every minute to reach target
The Times reports that analysis of official figures by Which? shows that energy companies would need to install 24 smart meters a minute to meet the deadline of installing one in every home by 2020. Which? says that this is 'unlikely given the current pace of installation'.
Aid review warns of prioritising 'short-term and immediate results' over 'lasting change'
A report by the Independent Commission for Aid Impact warns that foreign aid risks making countries dependent on handouts by prioritising 'short-term and immediate results' over 'lasting change', The Daily Telegraph reports. The Department for International Development was criticised for not measuring long-term transformative change and not reflecting its commitments on development effectiveness in its value for money approach.
Documents covering Corbyn spy accusations revealed
The Daily Mail has seen secret papers which show that Czech secret agent Jan Sarkozy told his bosses that Jeremy Corbyn had 'an active supply of information on British intelligence services'. The Mirror reports that Conservative MP Ben Bradley has deleted a tweet making accusations against Jeremy Corbyn after Corbyn threatened to take legal action.
Do you need Vuelio Political services? They're available on a bespoke basis. 
https://www.vuelio.com/uk/wp-content/uploads/2018/01/Vuelio-Political-News.jpg
430
760
Thomas Stevenson
https://www.vuelio.com/uk/wp-content/uploads/2019/09/vuelio-logo.png
Thomas Stevenson
2018-02-20 09:27:59
2018-02-20 09:43:22
Today's Political Headlines - 20 February 2018