Politics on Sunday – 18 February 2018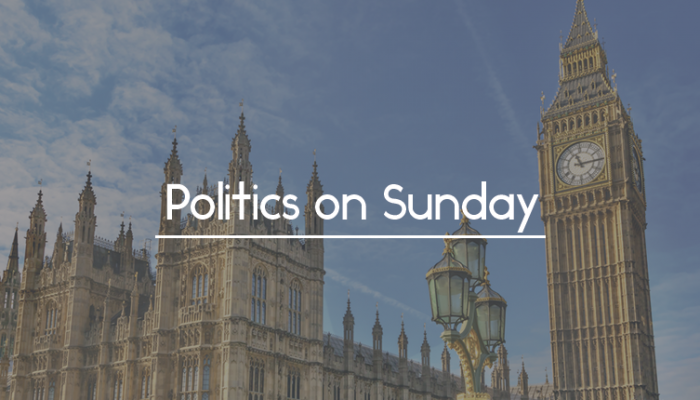 The Sunday political shows continued despite Parliament being in recess for the last week. To quote a former Prime Minister, the focus was 'education, education, education'.
The Education Secretary, Damian Hinds was out to represent the Government; his position was that courses that cost less to run could come with lower fees as he conceded that the Government expected more variety in tuition fees under the current system. Unsurprisingly, Hinds was not supportive of the Labour policy to scrap tuition fees.
Shadow Education Secretary Angel Rayner also appeared on Marr's show, arguing that the reintroduction of the maintenance grant is needed. Rayner did not express any hope in the review due to be conducted – she said, 'another review really isn't going to solve the problem'. When questioned about the policy the Labour Party put forward before the election to wipe out student debt, Rayner switched focus and said the priority for the Labour Party is making sure that schools are safe.
Robert Peston made sure his show would not be outdone on education with Justine Greening and Lord Willets appearing. Before leaving the Cabinet, Greening said she wanted to make sure the cost of education was not just continuously looked at as action needed to be taken – implying that the review may be more inaction. Greening also pointed out that cutting fees for subjects in the arts or social sciences may lead to students from poorer backgrounds not applying for STEM subjects.
There was mention given to Brendan Cox's decision to step down from the charities formed in memorial of his late wife, after allegations of his behaviour towards women in a previous role. The scandal around charity abuse was something focused on by Ruth Davidson who said the abusers are in the 'lowest circle of hell'. She also said the scandal has made it much harder to make the case for UK aid, which is much needed.
It wouldn't be Politics on Sunday without Brexit being mentioned and Andrew Marr interviewed Guy Verhofstadt, the European Parliament's representative in the Brexit negotiations. Verhofstadt does not think that the UK will be able to get a deal like Canada with additional benefits. He also said Theresa May should think twice before she thinks she can pick and choose which EU regulations the UK adopts once it leaves the EU.
Check out the dedicated Canvas of political coverage by clicking here or on the image below.
Find out how you can make a canvas for any type of story, campaign or coverage.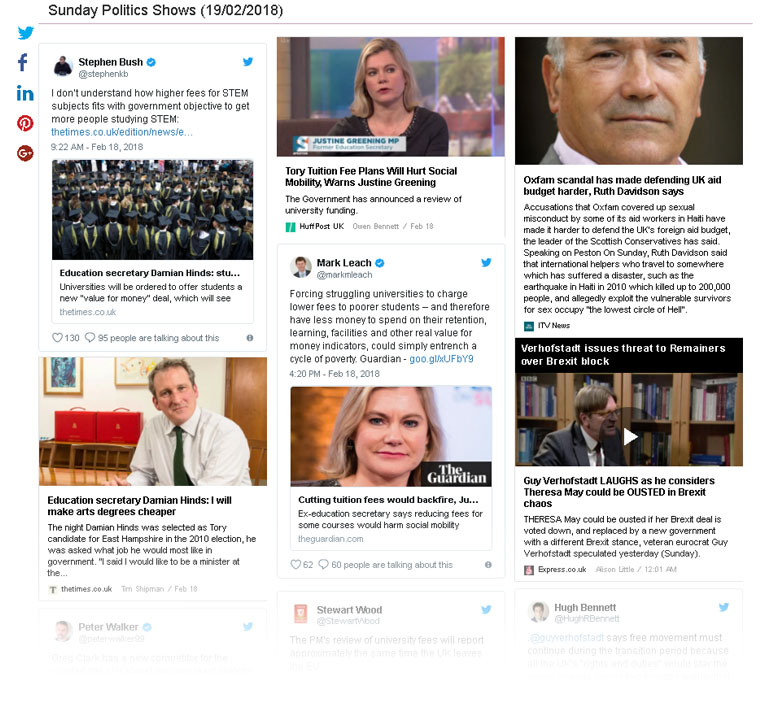 https://www.vuelio.com/uk/wp-content/uploads/2017/11/Politics-on-Sunday.png
430
760
Daniel Loman
https://www.vuelio.com/uk/wp-content/uploads/2019/09/vuelio-logo.png
Daniel Loman
2018-02-19 10:45:38
2018-02-19 10:57:28
Politics on Sunday - 18 February 2018