Today's Political Headlines – 19 February 2018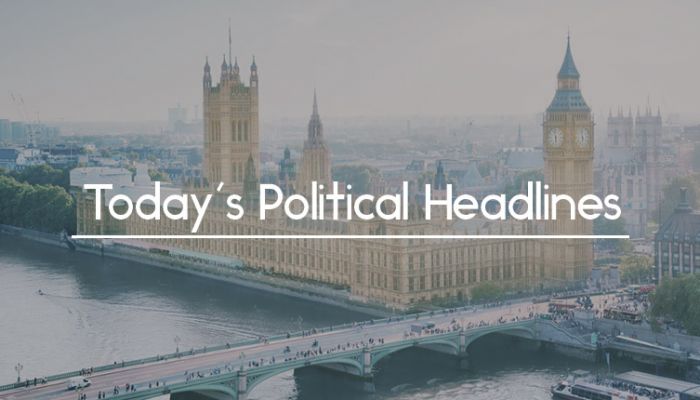 Today's Political Headlines include the Education review, the visa cap limit being repeatedly met, Labour not compensating PFI investors and the MPs' report on Carillion.
Education review
Theresa May is to claim that too many people go to university and pay too much for their courses The Daily Telegraph says. She will announce a year-long review of tertiary education and university funding, with the paper suggesting that cuts to fees for arts and social science courses and improved vocational education are favoured. The Times warns that May's plans have already come under attack, with Justine Greening, the former Education Secretary, claiming that they risk damaging social mobility and Mark Leach, chief executive of the think tank Wonkhe saying that the proposals 'simply don't add up'.
Visa cap hit for unprecedented third month
The Guardian reports that the UK has hit its cap on visas for skilled non-European workers for an unprecedented third month and that this is deepening the staffing crisis in the NHS. Danny Mortimer, chief executive of NHS Employers, said NHS organisations were 'increasingly concerned at their inability to obtain permits for essential medical colleagues'.
Labour might not compensate PFI investors
John McDonnell, the Shadow Chancellor, has suggested that some investors in private finance initiatives might not receive compensation if Labour renationalised contracts, the Financial Times reports. Addressing a meeting of Labour activists, McDonnell said 'Parliament will determine the value of every industry and sector that we nationalise' and told the paper that 'Some of the schemes we know could well be in perilous difficulty, so it's almost like handing them back rather than us giving compensation'.
MPs publish report on Carillion
A joint report published today by the Commons Work and Pensions and Business, Energy and Industrial Strategy Committees finds that Carillion's annual reports were 'worthless', that investors were fleeing the firm and that one major investor had considered suing the company, the BBC reports.
Corbyn to disappoint Labour MPs by not committing to customs union
According to The Times, Jeremy Corbyn will disappoint Labour MPs today by not making a clearer commitment to remaining in a customs union with the EU following Brexit. The paper said that backbenchers had expected Corbyn to make the commitment following a meeting of the shadow cabinet's Brexit sub-committee today.
May to resist pressure to abandon plan to reduce the number of MPs
The Times says that Theresa May is to resist calls to abandon plans to cut the number of MPs to 600 from the current 650. Today the Commons Public Administration and Constitutional Affairs Committee will call on the Prime Minister to accept that MPs are unlikely to vote for the change and put in place arrangements for a new boundary review. May is apparently confident that she will win the vote in September, as the DUP is no longer opposing it.
James Brokenshire returns to Parliament after lung surgery
James Brokenshire, the former Northern Ireland Secretary, has announced that he is to return to frontline politics, The Daily Telegraph says. He stepped down to have lung surgery, but says that he is 'recovering strongly' and will return to Westminster on Tuesday.
Labour MPs paid up to £10,000 to meet spies during Cold War
The Daily Mail reports comments by Jan Sarkocy, a former Czech spy, that Labour MPs were paid up to £10,000 to meet Eastern Bloc agents during the Cold War. Jeremy Corbyn has denied Sarkocy's claim that he was a paid informant of the Czech secret police.
Do you need Vuelio Political services? They're available on a bespoke basis. 
https://www.vuelio.com/uk/wp-content/uploads/2018/01/Vuelio-Political-News.jpg
430
760
Thomas Stevenson
https://www.vuelio.com/uk/wp-content/uploads/2019/09/vuelio-logo.png
Thomas Stevenson
2018-02-19 09:27:14
2018-02-19 09:27:14
Today's Political Headlines - 19 February 2018