Political Headlines – breast cancer screenings, Windrush, Sajid Javid and the customs union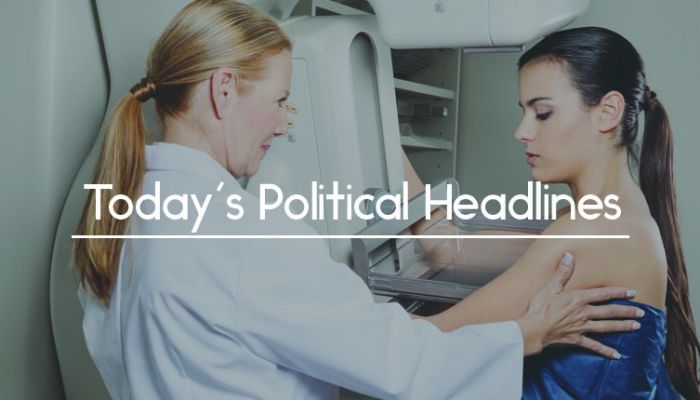 Today's Political Headlines include breast cancer screening failures, Government blocking Windrush disclosures, Sajid Javid siding with the Brexiteers and May's ultimatum over the customs union. 
NHS breast cancer screening error
In a statement made yesterday by Health Secretary Jeremy Hunt, it was announced that around 450,000 women in England missed out on breast cancer screening due to a technical error. The Telegraph has reported that a nurse has accused the NHS of a 'cover up' after she and thousands of others fell victim to the biggest cancer scandal in the health service's history. 
MPs vote against Windrush disclosures
The Guardian reports that the Government has defeated a Labour motion in the Commons seeking access to documents laying out the policies behind the Windrush crisis. Labour had hoped to force the Government to release documents about its immigration policy relating to people who came to the UK from Commonwealth countries. The Financial Times reports that the Prime Minister has announced an inquiry into what went wrong with the Windrush scandal, promising a review with 'full access to all relevant information in the Home Office'.
Sajid Javid sides with hard-Brexiteers over the PM's customs union plan
New Home Secretary and Remain voter Sajid Javid has switched sides to join Boris Johnson, Michael Gove and other Brexiteers in arguing that Mrs May's preferred option for a customs deal should be 'killed off'. The Telegraph reports that Theresa May has conceded that her plans for a customs partnership with the EU are 'dead' after senior Cabinet ministers turned on her during a crunch Brexit meeting.
May is being given an ultimatum by MPs over customs union
Sky News is reporting that Theresa May is facing huge pressure from pro-Brexit MPs as her feuding Cabinet ministers prepare to meet in a ferocious showdown on Government policy on customs. The Prime Minister's so-called 'Brexit war cabinet' is meeting to attempt to reach a deal on whether the UK should leave Europe's customs union or enter a 'customs partnership'.
May and Corbyn clash over council tax bills ahead of local elections
The BBC reports that the two party leaders clashed yesterday over council tax bills ahead of today's local elections. At Prime Minister's Questions, Jeremy Corbyn said residents 'paid more and got less' from Conservative councils. But May said some residents in Labour-run Lambeth were paying twice as much council tax as those living in neighbouring Conservative Wandsworth.
Sajid Javid challenges Corbyn to condemn hard-left activists 
The Telegraph reports that Javid has challenged Jeremy Corbyn to 'stamp on' racist abuse coming from the hard left after the new Home Secretary was subjected to racially-charged abuse following his appointment, including being called a 'coconut' and an 'uncle Tom'. 
PM calls for an investigation into claims of bullying by House of Commons speaker John Bercow
The Guardian reports that John Bercow, has come under mounting pressure after the prime minister called for new claims of bullying against him to be formally investigated. Bercow's former private secretary alleged in a TV interview that the Speaker was prone to angry outbursts and obscene language.
TSB chief Paul Pester to forfeit £2m bonus in wake of IT meltdown
The Independent has reported that the Chief Executive of TSB will forfeit a £2m bonus payment in the light of an IT failure that left thousands of customers locked out of their accounts. Pester, as well as the bank's chairman Richard Meddings, appeared before the Treasury Select Committee saying that they had received 40,000 complaints about the outage but did not know exactly how many of the bank's 1.9 million online customers had been affected.
Vuelio political services can help you with your political needs.  
https://www.vuelio.com/uk/wp-content/uploads/2018/05/Breast-cancer-screening.jpg
430
760
Jake O'Neill
https://www.vuelio.com/uk/wp-content/uploads/2019/09/vuelio-logo.png
Jake O'Neill
2018-05-03 08:50:17
2018-05-03 08:50:17
Political Headlines - breast cancer screenings, Windrush, Sajid Javid and the customs union