Political Headlines – Brexit dominates following last night's votes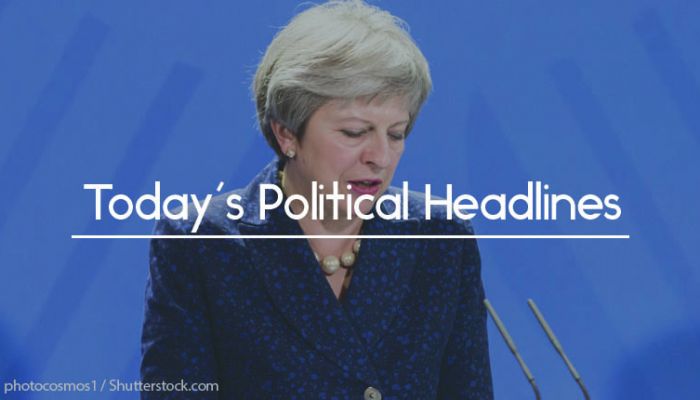 Today's political headlines follows last night's Brexit chaos and includes all the latest after MPs reject no-deal Brexit and prepare to vote on extension. 
MPs reject no-deal Brexit and prepare to vote on extension
As the BBC reports, MPs will vote later today on whether to ask the EU for permission to delay Brexit, following their decision to reject a no-deal Brexit in a non-binding vote last night. Thirteen ministers rebelled against the whip, abstaining against Government attempts to keep a no-deal Brexit on the table. Work and Pensions Minister Sarah Newton resigned and voted against the Government. Theresa May said that she would hold a third vote on her Brexit deal, which would require a short extension, but otherwise MPs will need to request a long extension and the UK would have to take part in the European Parliament elections.
Labour to hold cross-party talks to find Brexit compromise
The Daily Telegraph reports that Labour leader Jeremy Corbyn has announced cross-party talks to find a 'compromise solution' on Brexit and reach a 'consensus' amongst MPs. The paper adds that Chancellor Philip Hammond and Environment, Food and Rural Affairs Secretary Michael Gove have each appeared to endorse indicative votes to solve the impasse.
Government in talks with Brexiteers over deal
The Guardian says that the European Research Group and the DUP have re-entered talks with the Government as it bids for their support ahead of the next vote on the deal. They want more clarity from Attorney General Geoffrey Cox's legal advice on the UK's right to withdraw from a treaty under the Vienna Convention.
Brexiteers try to block People's Vote
The Sun reports that Conservative, DUP and Labour opponents of a People's Vote, led by the European Research Group, are joining forces to table an amendment to today's vote which would rule it out. It claims that a second referendum would be 'divisive and expensive' and that the result of the first should be 'respected'.
Hammond promises end to austerity, if MPs back deal
The Financial Times says that Chancellor Philip Hammond used yesterday's Spring Statement to promise an end to austerity, so long as MPs back Theresa May's Brexit deal. He said that growth forecasts have been downgraded for this year, but increased for 2021. Announcements included a £3bn affordable homes guarantee scheme, ending fossil-fuel heating in new houses, free sanitary products in schools and £100m to tackle knife crime.
Amesbury apologises for sharing antisemitic image
The Sun says that Labour's Shadow Employment Minister Mike Amesbury has apologised after it emerged that he had shared an antisemitic image and referred to the 'illuminati' conspiracy theory on Facebook in 2013. He originally denied sharing the post, but later said that he had forgotten doing so and was 'mortified' by it.
Lord Steel admits to believing abuse allegations against Cyril Smith but doing nothing
The Guardian reports that the former Liberal leader Lord Steel has told the independent inquiry into child sexual abuse that he believed that allegations against Sir Cyril Smith were true but that he did nothing to assess if Smith was still a risk to children and allowed him to continue in office.
Johnson criticises spending on historic child abuse allegations
The Daily Mirror reports that Boris Johnson used an interview with LBC yesterday to claim that money spent on investigating historic child abuse allegations had been 'spaffed up a wall'. Labour's deputy chair Ian Lavery said the remarks were 'an insult to every survivor of child sex abuse', while the NSPCC described them as 'an affront to victims'.
Vuelio Political Services clients were updated with vote results and Sarah Newton's resignation as they happened.
https://www.vuelio.com/uk/wp-content/uploads/2018/07/Theresa-May-looking-down.jpg
430
760
Thomas Stevenson
https://www.vuelio.com/uk/wp-content/uploads/2019/09/vuelio-logo.png
Thomas Stevenson
2019-03-14 17:28:21
2019-03-14 17:28:21
Political Headlines - Brexit dominates following last night's votes