Political Headlines – Brexit latest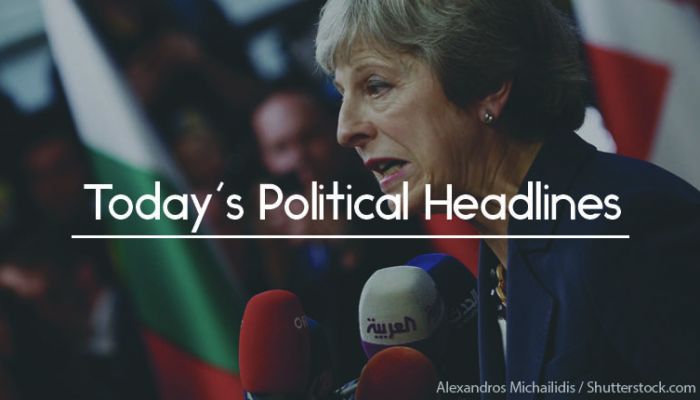 Today's political headlines include May discussing Brexit plans with union leaders, Barnier's warning that no-deal is still the default, Minister meet secretly to stop no-deal and Dutch in effort to lure British companies. 
May to discuss Brexit plan with union leaders
The BBC says that Theresa May is to meet the leaders of Unison, the TUC, Unite and the GMB in an attempt to discuss her Brexit plan today. Yesterday she met the leaders of the devolved administrations, but Nicola Sturgeon, the Scottish First Minister, said that there 'wasn't much indication that the Prime Minister is listening' while Welsh First Minister Mark Drakeford claimed that May 'repeated many of her red lines'.
Barnier warns that no-deal Brexit is still the 'default'
The Guardian reports that Michel Barnier, the EU's chief Brexit negotiator, has warned that Yvette Cooper's plan to stop a no-deal Brexit will fail as this was the 'default' unless there was 'a positive majority for another solution'. The paper adds that Labour 'looks set' to whip its MPs to support Cooper's amendment in order to rule out a no-deal scenario.
Ministers meet secretly to stop no-deal Brexit
The Daily Telegraph reveals that almost 20 ministers, including five Cabinet members, have been holding secret meetings to discuss preventing a no-deal Brexit. One member refers to the group as the 'hair-shirt club'. Those attending include Philip Hammond, Amber Rudd, Greg Clarke, David Gauke and Claire Perry, as well as business minister Richard Harrington, who told the paper that his 'clear objective is to stop the nonsense of a hard Brexit.'
Dutch in effort to lure British companies after Brexit
According to The Times, the Dutch investment agency has announced that it is talks with over 250 British companies about relocating to the Netherlands after Brexit. The country has tax-breaks for newly arrived workers and foreign banks who relocated could avoid a cap on bonuses. The Financial Times reports that Airbus Chief Executive Tom Enders has used a video to warn people not to 'listen to the Brexiteers' madness which asserts that, because we have huge plants here, we will not move and we will always be here. They are wrong'.
Rees-Mogg suggests Queen should shut down Parliament
The Sun reports that Jacob Rees-Mogg has called on Theresa May to ask the Queen to progue Parliament if MPs vote to prevent a no-deal Brexit, although he claimed that he wanted to avoid a 'constitutional crisis'. He confirmed that he could not vote for the deal 'as long as the backstop is there'. Tory MP Nick Boles accused Rees-Mogg of a 'coup'.
Corbyn attacks Government over Davos attendance
The Guardian says that Labour leader Jeremy Corbyn has accused the Government of wasting time at a 'billionaire's jamboree' after it emerged that a quarter of the Cabinet are attending the World Economic Forum at Davos this week. In its defence, Downing Street said that the event was 'an opportunity to discuss investment opportunities into the UK'.
Hancock unveils plan to tackle antibiotic resistant infections
The Times reports that Health and Social Care Secretary Matt Hancock will use today's launch of a 20-year plan to fight antibiotic resistant infections to announce that the NHS will pay companies up front for producing an effective new drug, in a commitment which could cost the public purse millions of pounds. Hancock said that this would make firms 'more likely to invest the more than a billion dollars it costs to bring a new drug to market'.
JCB hires Davis for £3,000 an hour
The Mirror reports that JCB has employed former Brexit Secretary David Davis as an advisor, paying him £60,000 for 20 hours work. The Labour MP Ian Murray said this was 'an absolute insult to the people of the UK who have been left facing deeper austerity and increased living costs as a result of the calamitous Brexit he campaigned for and still supports.'
Want to keep up to date with Brexit? Or maybe all the other political news affecting you every day? You need Vuelio Political Services.
https://www.vuelio.com/uk/wp-content/uploads/2018/10/Theresa-May-press-conference.jpg
430
760
Thomas Stevenson
https://www.vuelio.com/uk/wp-content/uploads/2019/09/vuelio-logo.png
Thomas Stevenson
2019-01-24 10:19:59
2019-01-24 10:19:59
Political Headlines - Brexit latest