Political Headlines – Companies activate no-deal plans and Brexit delay 'most likely'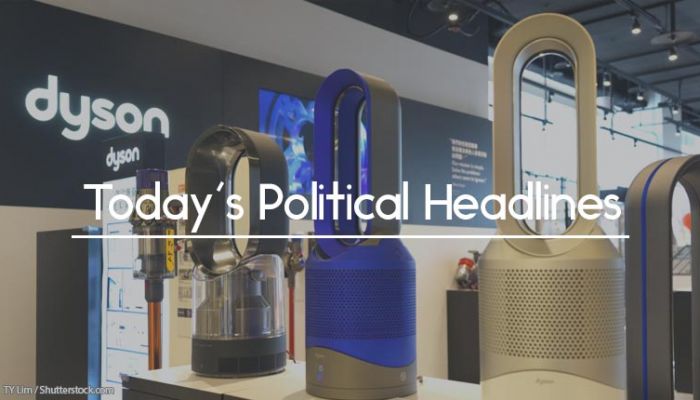 Today's political headlines include companies activating no-deal plans, Osborne says Brexit delay is most likely scenario, European Commission warns no-deal could result in a hard border between ROI and NI, and May facing 'disaster' if she calls an election. 
Companies activate no-deal plans amid 'panic'
The Guardian says that 'the scale of no-deal panic gripping major companies' has been revealed by a series of announcements, including P&O re-registering its ships in Cyprus, Sony moving its European HQ to Amsterdam, and Bentley, Dixons Carphone and Pets at Home announcing plans to stockpile and secure supplies. Despite Sir James Dyson's backing of Brexit, his firm is to relocate its HQ to Singapore, although it denies that this is Brexit-related.
Osborne says that Brexit being delayed is 'most likely' scenario
Former Chancellor George Osborne has told the BBC that he believes that Brexit being delayed is now the 'most likely' scenario. He warned that the prospect of a no-deal Brexit meant a gun is being 'held to the British economy's head' and called on Theresa May to say that it was not a possibility. Shadow Chancellor John McDonnell has confirmed to the BBC that Labour is 'highly likely' to support an amendment which would suspend Article 50 process for leaving the EU if a deal is not reached by the end of next month.
European Commission warns that no-deal Brexit could result in hard border in Ireland
The Times reports that the European Commission admitted yesterday that a no-deal Brexit could result in a hard border in Ireland. A spokesperson warned that a no-deal Brexit would put 'the Good Friday agreement, support to peace and trans-border co-operation' at risk. Meanwhile the Irish Taoiseach Leo Varadkar warned that this scenario would leave Ireland with 'very difficult choices', and it might try to negotiate an agreement with the EU.
May faces 'disaster' if she calls election, party officials warn
In an exclusive, The Sun says that Conservative officials have warned Theresa May that he could face 'disaster' if she calls a snap general election, with an internal assessment showing that the party's grassroots is demoralised and its data is out of date. The paper has also seen research conducted by Will Tanner, May's former adviser, for the thinktank Onward which shows that it would take only a 'tiny swing' for Labour to become the largest party.
Court IT system collapses and could see prisoners released
The Times says that it has been warned by lawyers that a nationwide IT breakdown at courts could lead to criminals being freed. The collapse of the main computer system used by courts in England and Wales has forced trials to be adjourned and delayed, while a secure email system used by lawyers and judges has also been affected.
Healey blasts Grenfell-style cladding as 'cause for national shame'
The Daily Mirror says that Shadow Housing Secretary John Healey used a Commons debate to describe the paper's revelations of an attempt to cover-up unsafe Grenfell-style cladding on a Manchester tower block as a 'cause for national shame'. Housing Minister Kit Malthouse said that the block in question was 'safe' and that 'more assertive measures' of tacking outstanding problems with cladding were under consideration.
MPs call for Government to improve governance of academies
The Financial Times carries details of a new report by the Commons Public Accounts Committee that calls on the Government to improve the governance and oversight of academy trusts. It finds that the collapse of a number of trusts has been costly and damaged pupils' education, and that some had misused public money and overpaid staff.
Charities call for reform of benefits for the terminally ill
The Daily Express uses its front page to call for reform to the way the benefits system treats those with serious illnesses. Currently people get fast-track access to Personal Independence Payments at the highest rate if they are given less than six months to live by a nurse or doctor, but charities such as Marie Curie and the Motor Neurone Disease Association are campaigning for this limit to be axed, allowing doctors to use their judgement.
Don't panic, get Vuelio Political Services.
https://www.vuelio.com/uk/wp-content/uploads/2019/01/Dyson.jpg
430
760
Thomas Stevenson
https://www.vuelio.com/uk/wp-content/uploads/2019/09/vuelio-logo.png
Thomas Stevenson
2019-01-23 10:42:13
2019-01-23 10:42:13
Political Headlines - Companies activate no-deal plans and Brexit delay 'most likely'