Political Headlines – Brexit, prisons, crime and the pairing row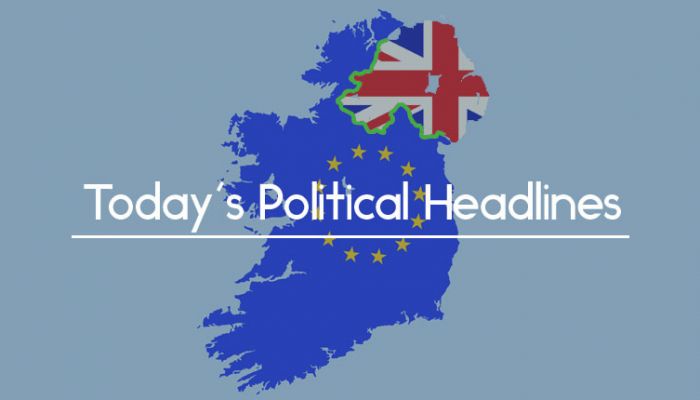 Today's Political Headlines includes the latest Brexit discussions, Gauke's call for prison rehabilitation, crimes leading to charges and calls for two Tories to quit in pairing row. 
May to call on EU to 'evolve' its position
The BBC has details of a speech to be given by Theresa May in Belfast this morning, in which she will warn that she cannot accept the 'economic and constitutional dislocation of a formal 'third country' customs border within our own country' and call on the EU to 'evolve its position in kind'. The Times adds that EU chief negotiator Michel Barnier used remarks before his first meeting with the new Brexit Secretary, Dominic Raab, yesterday to warn that that it would be a 'challenge' to find common ground between the two sides. The Mirror says that Irish Taoiseach Leo Varadkar warned yesterday that a 'no deal' Brexit would leave planes unable to fly between the two countries.
Gauke calls for prisons to focus on rehabilitation
Justice Secretary David Gauke has told The Daily Telegraph that prisons should 'change lives' and give prisoners 'hope' rather than focusing on retribution and that the prison service would 'struggle' to cope with significant increases in the number of prisoners. He claimed that short sentences should only be a 'last resort' as they don't reduce reoffending.
Over 90% of crimes do not result in a charge
The Times says that new Home Office crime figures show that just 9.1% of crimes in England and Wales last year resulted in any charges, a fall from 15% three years ago. Separate figures showed an increase in violent crime and the lowest level of police officers in 22 years. Police Minister Nick Hurd claimed that the Government was 'taking decisive action'.
Calls for Conservative chief whip and party chair to quit over pairing row
The Guardian reports that the Conservatives have admitted that the Chief Whip, Julian Smith, asked MPs to breach pairing agreements during a series of Brexit votes on Tuesday. Only party chair Brandon Lewis, paired with Lib Dem Jo Swinson who was on maternity leave, followed the instruction. Labour has called for both Lewis and Smith to resign.
MPs criticise Director of Public Prosecutions over disclosure failings
The Daily Telegraph carries details of a report by the Commons Justice Committee into the Crown Prosecution Service's failures to disclose evidence in court cases. The committee's chair, Bob Neill, said that if the Director of Public Prosecutions, Alison Saunders, had not already announced her departure, he would be asking her 'to consider her position'. The report claims that she lacked 'focus and leadership' in tackling the issue.
Border taxes to be relaxed if 'no deal' Brexit happens
The Financial Times reports that Mel Stride, Financial Secretary to the Treasury, told a House of Lords sub-committee that the Government will tell officials to relax measures to collect taxes in order to help keep traffic flowing at borders in the event of a 'no deal' Brexit. However, Stride added that the Government would 'not compromise on security'.
McVey admits universal credit problems
The Guardian says that Work and Pensions Secretary Esther McVey, admitted to problems with universal credit and suggested that further changes will be made, including debt repayment, supporting the self-employed and benefit payment cycles for working claimants.
Hancock tells doctors to 'throw away their pagers'
The Daily Telegraph reports that Matt Hancock is to use his first speech as Health and Social Care Secretary to call for doctors and nurses to 'throw away their pagers' and use smartphone apps instead. Speaking at West Suffolk Hospital, he will outline three early priorities: 'technology, the health and care workforce and prevention'.
Need help navigating the political landscape? Find out more about Vuelio Political Services and how they can help you. 
https://www.vuelio.com/uk/wp-content/uploads/2018/04/Irish-border-Brexit.jpg
430
760
Thomas Stevenson
https://www.vuelio.com/uk/wp-content/uploads/2019/09/vuelio-logo.png
Thomas Stevenson
2018-07-20 09:30:28
2018-07-20 09:34:40
Political Headlines - Brexit, prisons, crime and the pairing row