Political Headlines – Brexit white paper, illegal customs plan, Carillion collapse and Windrush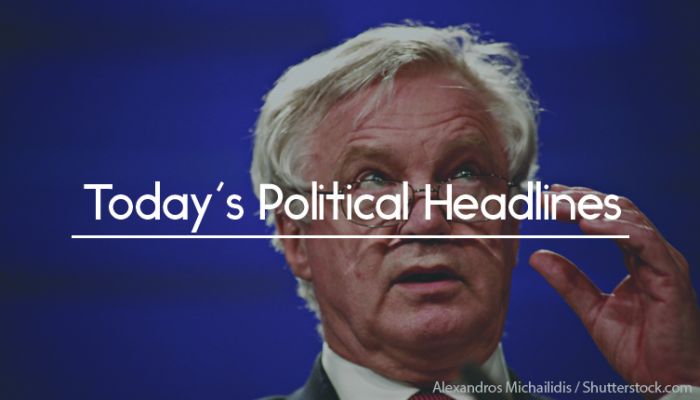 Today's Political Headlines include the promise of a Brexit white paper, a potentially 'illegal' customs plan, the Carillion collapse and the Windrush scandal. 
Government promises 'significant' Brexit white paper
The BBC reports the Government has claimed a new white paper on Brexit to be published before the EU summit in June will be its most significant publication on the EU since 2016. David Davis has told colleagues that it will include 'detailed, ambitious and precise explanations of our positions'.
Customs partnership plan might be illegal
The Times claims that David Davis has told Theresa May that her preferred plan for a customs partnership with the EU could be illegal under international trade law. The Attorney-General will provide an urgent legal opinion to the Prime Minister before the Cabinet makes its final decision and will also consider the alternative 'max-fac' proposal, which critics have claimed the WTO might also challenge.
Carillion collapse blamed on 'rotten corporate culture'
The BBC says that a report has blamed the collapse of Carillion on a 'rotten corporate culture' for which its board is culpable. The report by the Commons Work and Pensions and Business, Energy and Industrial Strategy Committees also calls for the break-up of the 'big four' audit firms.
63 wrongful removals linked to Windrush scandal
The Guardian reports that Home Secretary Sajid Javid told the Commons Home Affairs Committee yesterday that his department had identified 63 cases of wrongful removal connected to the Windrush scandal, and that this number could increase.
Scotland denies consent for EU (Withdrawal) Bill
As the Financial Times reports, yesterday the Scottish Parliament voted to deny consent for the Government's EU (Withdrawal) Bill. Government compromises were enough to win support for the bill in the Welsh Assembly. The Government has made clear its intention to override Scottish objections.
Committee reports criticise Government energy policy
The BBC says that two committees have criticised the Government's energy policies. The Commons Environmental Audit Committee found that investment in clean energy has dived, while the Commons Public Accounts Committee has found that policies to encourage clean heat have failed and often produce dirty heat.
Gove says that Conservatives need to find new economic arguments
The Daily Telegraph reports that Environment, Food and Rural Affairs Secretary Michael Gove told a Centre for Policy Studies event that the Conservatives need to find new economic arguments to win over young people, rather than relying on Thatcher's reforms and comparing Corbyn to Venezuela.
Johnson claims Iranian nuclear deal still 'has value'
According to The Sun, Foreign Secretary Boris Johnson claimed last night that the nuclear deal with Iran still 'had value', as he held crisis talks with European and Iranian counterparts in an attempt to save the agreement after the USA pulled out.
Find out more about the benefits of Vuelio political services.
https://www.vuelio.com/uk/wp-content/uploads/2018/05/David-Davis.jpg
430
760
Thomas Stevenson
https://www.vuelio.com/uk/wp-content/uploads/2019/09/vuelio-logo.png
Thomas Stevenson
2018-05-16 08:28:34
2018-05-16 08:28:34
Political Headlines - Brexit white paper, illegal customs plan, Carillion collapse and Windrush