Political Headlines – EU Withdrawal Bill, Northern Rail and Heathrow Airport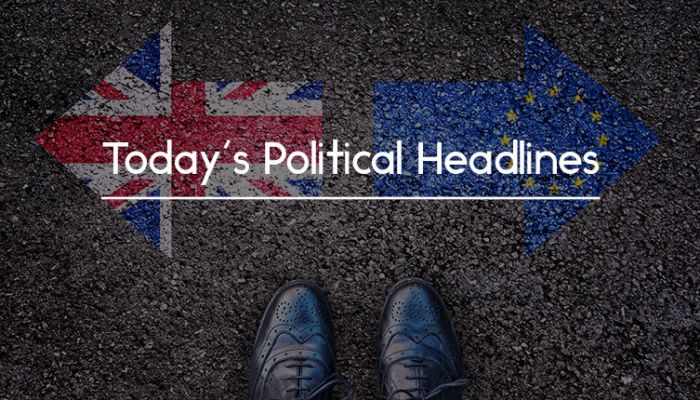 Today's Political Headlines include amendments to the EU Withdrawal Bill, Northern Rail chaos, and plans for a third runway at Heathrow Airport. 
MPs to vote on amendments to EU Withdrawal Bill as Brexit white paper is postponed
The Times reports that the Government has scheduled votes by MPs on the House of Lords' amendments to the EU Withdrawal Bill for next Tuesday, giving it a week to win over potential rebels. The paper adds that the twelve backbenchers who are threatening to rebel on customs arrangements doubt that the Government will be able to reach a satisfactory compromise. The Financial Times claims that the Government has abandoned plans to publish a white paper on the future UK-EU relationship ahead of this month's European Council meeting and it will now be published at a later date.
May under pressure over Northern rail chaos
The Guardian says that Theresa May is coming under further pressure to act on the rail chaos in Northern England, as 25 newspapers across the region united to call for an emergency summit to find a solution and a review of rail franchising. Facing questions from MPs yesterday, Transport Secretary Chris Grayling announced an inquiry into the problems.
Heathrow plans to be approved by cabinet sub-committee
The BBC reports that the Cabinet's economic sub-committee is expected to approve plans for a third runway at Heathrow today. The plans will then be sent to full cabinet, with MPs expected to vote on them in 'the coming weeks'. Foreign Secretary Boris Johnson has previously said that he would 'lie down in front of bulldozers' to stop the proposal.
Government announces action plan for carers
The Daily Mail says that the Government is to announce a series of measures to support informal carers today. The care action plan, published by six Government departments, includes flexible work hours, paid 'carers' leave', and emotional support, and is being led by care minister Caroline Dinenage.
Government sells shares in RBS at £2.1bn loss
The Financial Times reports that the Government has sold a 7.7% stake in Royal Bank of Scotland, making a loss of £2.1bn, and that further shares could be sold later this year. Chancellor Philip Hammond has argued that public ownership is a drag on the firm, but as the paper adds, both Shadow Chancellor John McDonnell and Lib Dem leader Sir Vince Cable have criticised the Government for making a loss on the sale.
Government considers investment in Welsh nuclear plant
The Times reports that the Government is considering investing billions of pounds in a new nuclear plant in Wales, which could deliver cheaper electricity than Hinkley Point. Sources suggest that the Government could invest £1-2bn in the Wylfa plant, near Anglesey, with equal investments by Hitachi and the Japanese government, with the rest of the £15bn cost met by Government-guaranteed loans.
Committee criticises aid spending in China
The Daily Telegraph says that the Commons International Development Committee has released a critical report on aid spending in China. The committee warns that spending aid on projects to develop the Chinese film industry and reduce Chinese children's salt intake risks 'undermining faith in UK aid'.
Brown calls for NI increase to fund NHS
According to the Daily Mirror, Gordon Brown has made a 'dramatic intervention' in the debate about NHS funding, calling for a 1p increase in National Insurance to help meet funding pressures. He has warned that the service is currently in 'mortal danger'.
Vuelio Political Services are available for custom political intelligence. Find out more.
https://www.vuelio.com/uk/wp-content/uploads/2018/06/political-headlines.jpg
430
760
Thomas Stevenson
https://www.vuelio.com/uk/wp-content/uploads/2019/09/vuelio-logo.png
Thomas Stevenson
2018-06-05 16:38:59
2018-06-05 16:38:59
Political Headlines - EU Withdrawal Bill, Northern Rail and Heathrow Airport